Can I recover data after infected Trojan virus?
"I am a professional photographer. My desktop PC was infiltrated by hackers and infected with Trojan Win32/FakeSysdef virus. And now, all my data including working files and personal data like music, photo files are inaccessible. Is there any way to decrypt or recover files from Trojan virus? The data is important to me. Please help!"
A malicious program infects your PC and makes your documents and other important files inaccessible, You've got a ransomware infection, and that isn't good.
Some Trojan virus/malware will infect your computer and delete, modify, encrypt or hide your files, and then it pops up a message demanding money to get the files back. When it attacks, how can you recover virus infected files? And sometimes, Trojan virus can infect removable USB drive such as flash drive, pen drive, memory card, thumb drive, external hard drive and make those drive not be able to be opened, or turns the device, files, or folders into the shortcut. Then how can you open shortcut files on the pen drive? In this page, we will show you two reliable virus file recovery solutions.
Two ways to recover files from Trojan virus:
Before you recover data, you'd better look at this tip below carefully.
Tip: Remove Trojan from PC before restoring lost fil
To remove Trojan from PC will protect your present files and system from being attacked by Trojan and prevent data loss issues from happening again. Here are the detail steps:
Backup all your present data to an external hard drive.
Download an anti-virus or anti-Trojan software on your PC.
Disconnect the internet connection, run the anti-Trojan or anti-virus software to remove or clean up all virus including malware, spyware or Trojan from PC.
Turn on Windows Defender.
Reconnect computer to the internet and run anti-virus or Trojan cleaning software to scan and clean up the left virus or Trojan again.
Reboot PC and restore backups to PC.
After all these, now you can follow or try below-offered data recovery solutions to restore lost files from Trojan attack with ease.
How to recover files from Trojan virus using CMD
1. Plug in your hard drive, memory card or USB drive to your computer. Press Windows + R and type: cmd.
2. Type: chkdsk E: /f and hit Enter. (Replace E: with the drive letter of your device where you lost or deleted files.)
3. Type: Y and hit Enter.
4. Type E: again and hit Enter. (Replace E: with the drive letter of your device where you lost or deleted files.)
5. Type: attrib -h -r -s /s /d *.* and hit Enter.
Waiting patiently until Windows finished to repair the virus infected hard drive, memory card or USB drive. It usually needs one or more minutes. And after that, you can go to your drive or card to check if all the Trojan virus infected files are retrieved and accessible. If it is not helpful, please try to recover files from Trojan virus with third-party data recovery software.
How to recover files from Trojan virus with EaseUS recovery software
When you failing to recover files from Trojan virus using CMD, EaseUS file recovery software becomes a nice alternative solution. The program is a professional recovery software for the hard drive and all external storage devices. With its powerful file recovery capacity, it can effectively recover deleted, corrupted or hidden files from virus infected hard drives, memory cards or USB drives. And the virus file recovery process is extremely easy. You just need to answer two simple questions and the program will do all the best job for you. For a step-by-step tutorial, please refer to EaseUS data recovery software user guide.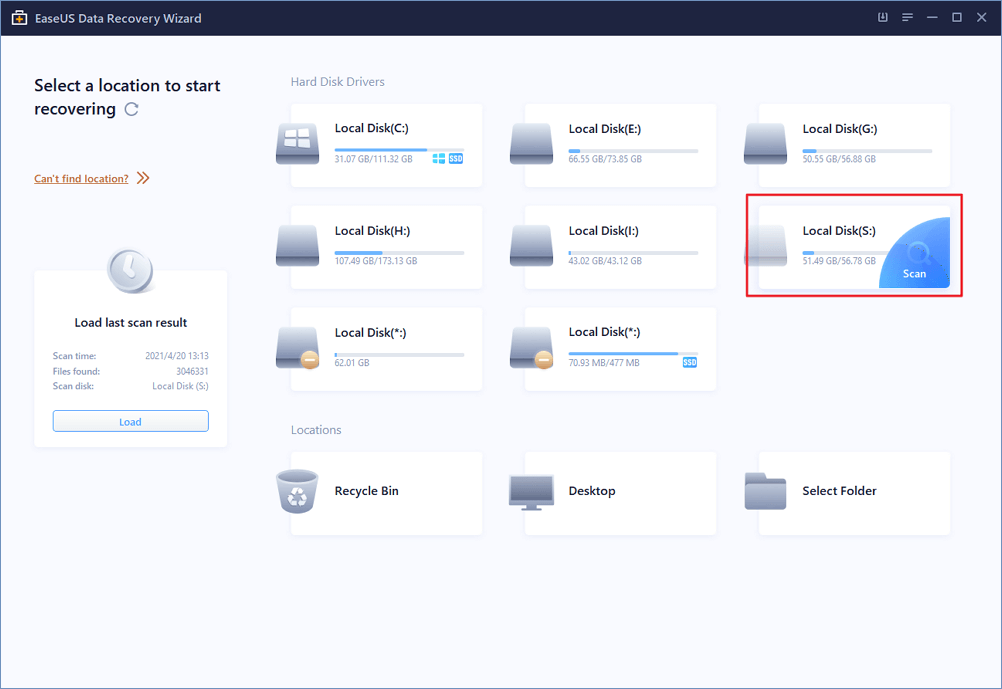 At most times, Trojan virus is difficult to recognize. And, except for data loss disaster, it can also bring various other problem, for example, distract the performance of the computer, disrupt the computer network, damage computer system, and many others. So we recommend you to regularly backup your computer with reliable backup utility. Being free and efficient, EaseUS free backup software is recommended. Try it to create a full backup of your computer. And then you can easily and quickly restore your system and data when something bad happens unexpectedly.