Can you recover corrupted audio files from an SD card
"I have deleted my SD card with the formatting option of my camcorder. Horrible! I saved my voice recording file on it, which is for my thesis interview. Whenever I plug in the SD card on my computer, an error pops out which tells me the card has corrupted. Oh my gosh, does my computer tear my voice recording apart? First, I need to get my audio file back, and second, would you tell me how do you recover corrupted audio files from an SD card? Any efficient SD card recovery solution available? Just in case, I'm afraid my voice recording has corrupted just the same as the SD card."
Indeed, there're some workable ways to recover corrupted audio files from an SD card. Using EaseUS file recovery software can be one of them, which should be your first option.
How to recover corrupted audio files from an SD card
Download EaseUS Data Recovery Wizard and launch it on your computer. Insert the formatted SD card and let the software examining it. Technically speaking, corrupted SD card resulting in formatting errors is easy to handle with EaseUS SD card data recovery software. After performing the third step of "choose the recoverable audio file to restore", you can tell whether it has been well restored or needs a tougher work.
 Notice:

Once you deleted audio files, stop using the device immediately. Otherwise, new data will overwrite old data so it can't be retrieved completely.
Step 1: Run EaseUS audio files recovery software.
Step 2: Scan and find lost audio files.
Wait for the program to scan the selected drive to find lost files. After that, you can preview the found audio files by double-clicking them.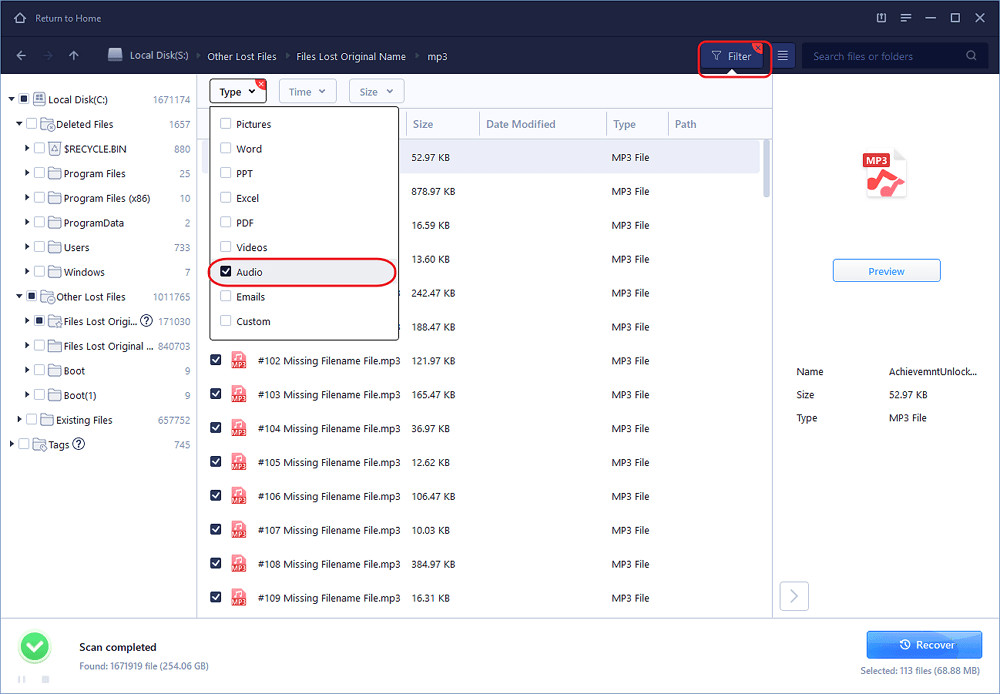 Step 3: Recover audio files.
What can you do if you can't open the recovered audio file?
There are some useful tools for repairing files that have been corrupted by a virus attack, network interruption, or some other unforeseen event. Those tools can repair a variety of different file types including audio files, fix files that can't be opened, scan the corrupted file, and extract recovered data into a new file. But the requisite here is that you need to use EaseUS data recovery software to find and recover these files.