File Explorer Keeps Opening by Itself
Have you ever experienced this kind of thing? Every time you try to close file explorer, it keeps opening automatically. When you type something on your document, file explorer keeps popping up, interrupting your typing. It's very frustrating. You have scanned for the virus but nothing found.
It is indeed frustrating if you are faced with this situation. However, you are not alone. Most computer users have complained about this file explorer error. There are two causes of this situation:
There is something wrong with the file explorer or the file explorer is crashing
The system files have missing or corrupted
According to the two reasons above, we have two methods for you to fix this issue.
Two Methods to Fix File Explorer Keeps Popping up Without Losing Data
If the file explorer keeps crashing and popping up, the first thing you can do is to manually fix the file explorer's error and restart your computer.
Method 1. Manually Fix the Automatically Opened File Explorer
Press hold the Ctrl + Alt and Delete key on your keyboard to open task manager.
Click on Details, select explorer.exe and click End Task at the bottom-right of the screen.
Click File and click Run new task.
Type explorer.exe and click on OK.
Restart your computer.
If this issue still persists, kindly follow method 2 provided below, to restore and repair missing or corrupted system files.
Method 2. Restore and Repair Missing or Corrupted System Files
First, repair missing or corrupted system files
SFC (System File Checker) is a command-line utility in Windows that allows users to scan for corruptions in Windows system files and restore corrupted files. Here's the guide about how to use it to repair missing or corrupted system files in Windows 10:
1. Right-click the Start button and select "Command Prompt (Admin)".
2. Type "sfc /scannow" into the Command Prompt window and press Enter to run a full system scan.

Leave the Command Prompt to run – this may take between 5-10 minutes. After the process is finished at 100%, if everything goes well, you would get the message 'Windows Resource Protection did not find any integrity violations.' If you see a message 'Windows Resource Protection found corrupt files and successfully repaired them', it tells you that you have successfully repaired missing or corrupted system files in Windows 10 with SFC.

Second, recover files after using SFC
If you accidentally lose files or data by following the two methods above, never hesitate to recover lost files with the help of EaseUS's free file recovery software.
As a professional, easy-to-use and user-friendly data recovery software released by EaseUS, Data Recovery Wizard could successfully recover data and it is completely compatible with various operating systems.
Keep Noted:
First, please keep in your mind that once you lost files, stop using the device or folder immediately.
Second, try to find the lost files in your Recycle Bin if the lost files were saved on the desktop.
Third, turn to the professional file recovery software for help if nothing is found.
Step 1. Connect your device to PC.
If you lost files on an external storage device, connect the storage device to your computer firstly.
Step 2. Run this software and scan the lost file.
Run EaseUS file recovery software - Data Recovery Wizard on your PC, specify the location where you lost files and click "Scan" to scan those lost files.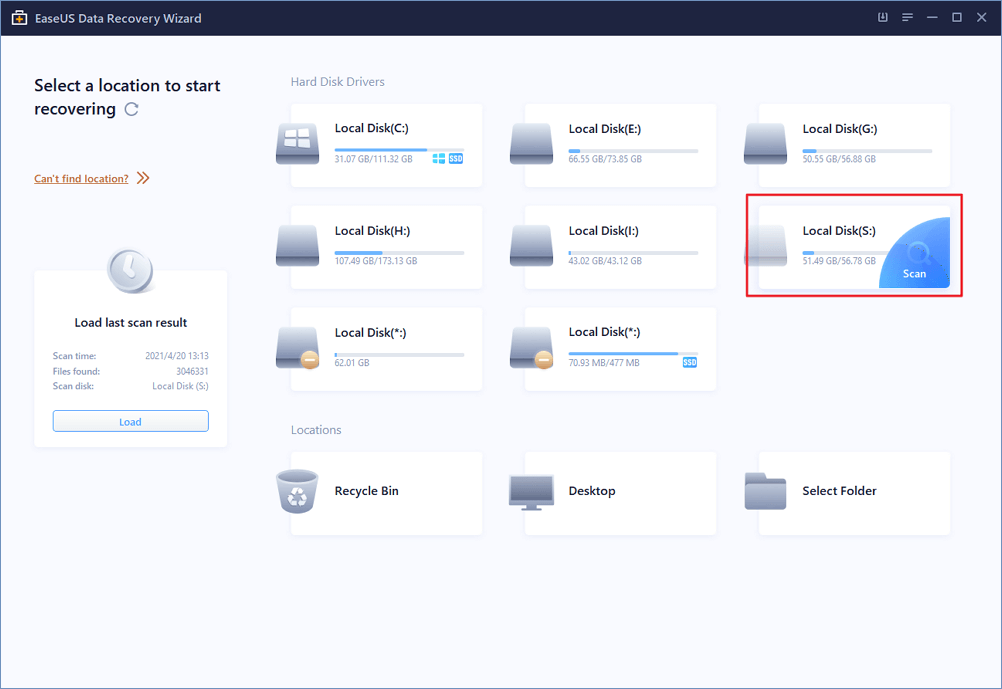 Step 3. Preview and restore file.
After the scanning, you can find and double-click to preview your lost files here:
Delete Files: All your deleted files are listed here.
Drive (with your device name): It loads all lost files here.
Lost Partition Files: Check first if your hard drive is formatted or partition gets deleted.
Extra Files: All files that lost names or paths on your drive can be found here.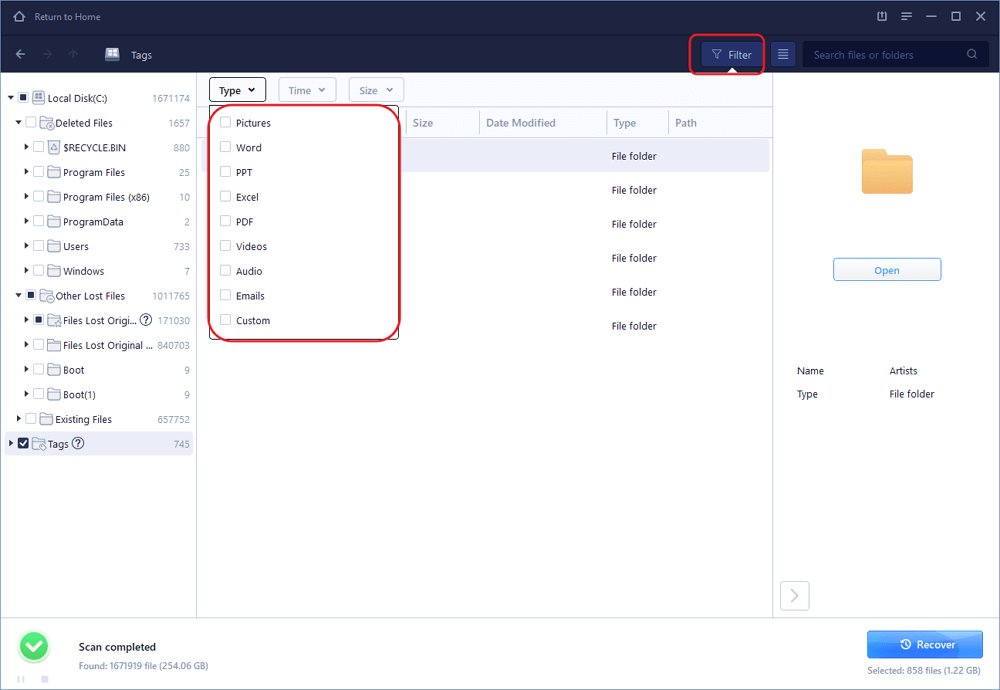 Step 4. Choose and restore files.
Finally, select the found files, click "Recover" and navigate to save them to a secure location on your PC or another external storage device.