Summary
If you have a blue screen of death error on your PC, relax! Several effective solutions are available here to help you fix BSOD issue on Windows without losing any files. Besides, download the best data recovery software to quickly recover all lost files after blue screen of death.
What Are the Main Causes of Blue Screen of Death
The Blue Screen of Death, also known as BSOD Error, Blue Screen Error, or STOP Error, is an error screen displayed on a Windows computer system after a fatal system error. Once this error occurs, your system may stop responding and fail to boot, and all data stored on your computer become inaccessible. BSOD mainly results from a system crash, driver problem, and hardware failure. And other likely causes are listed below.
Software incompatibilities
Incompatible versions of DLLs, low-level software running in the Windows kernel
Virus attack or malware infection that may cause MBR or system files damaged
Boot BCD error
Low disk space in C drive
Power supply issues
When your Windows crashes and stops working with a blue screen, you may ask that does blue screen damage the computer? The answer is NO. The blue screen of death arises because of a computer problem. The computer problem is the cause, and the blue screen is the result.

Does Blue Screen of Death Delete Files
This is another most concern for many users. Although the blue screen error itself will not delete files, when the question appears, you cannot access the data on your computer. And if the BSOD error is related to system problems or hardware issues, you may face the risk of losing data. Therefore, before fixing the blue screen problem, you should first find a way to restore your computer data.
Can You Recover Files from Blue Screen of Death
Yes, you can recover data from the blue screen of death with the help of professional data recovery software. EaseUS Data Recovery is a top-notch file recovery tool that enables you to recover files from HDD, SSD, USB flash drive, external hard drive, SD card, and other devices in complicated scenarios. For example, system crash, virus attack, hard drive corrupted/damaged, hard drive formatting, partition loss, RAW partition, etc..
How to Recover Files after Blue Screen of Death
Now, let's discuss two ways to recover data after BSOD error by using this proficient data recovery software.
Method 1. Perform Blue Screen Recovery with EaseUS Data Recovery Wizard
Before you make a PC data recovery, you need to do first remove your hard drive from the original computer with the blue screen of death and then connect it to a new computer running normally as a second hard drive. Then, download and install EaseUS Data Recovery Wizard on the computer to recover data from the hard drive.
Step 1. Choose the file location to scan.
Run EaseUS Data Recovery Wizard on your computer. Choose the drive where you lost files and click "Scan". If you lost files were on an external storage device, connect it to your computer firstly.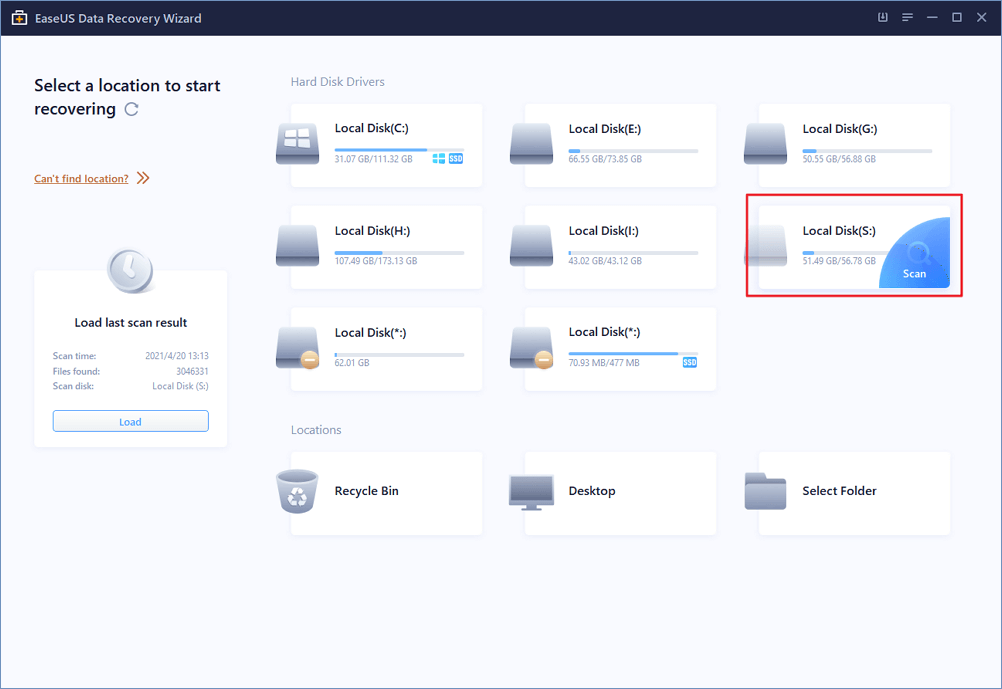 Step 2. Scan the lost files.
The software will start immediately a quick scan for deleted files, and later a deep scan will launch to scan more lost files all over the selected drive. After the scan, you can use the Filter to quickly filter a specific file type.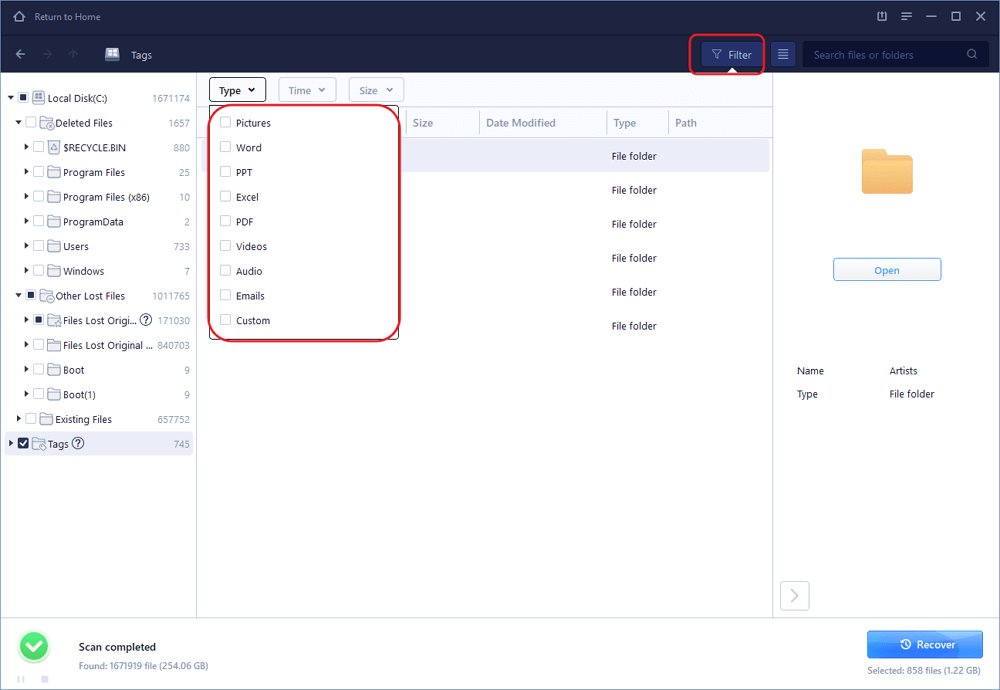 Step 3. Preview and restore files.
Double-click on a file allows for a full preview. Finally, select the desired files, click "Recover" and browse a location to save all the files at once.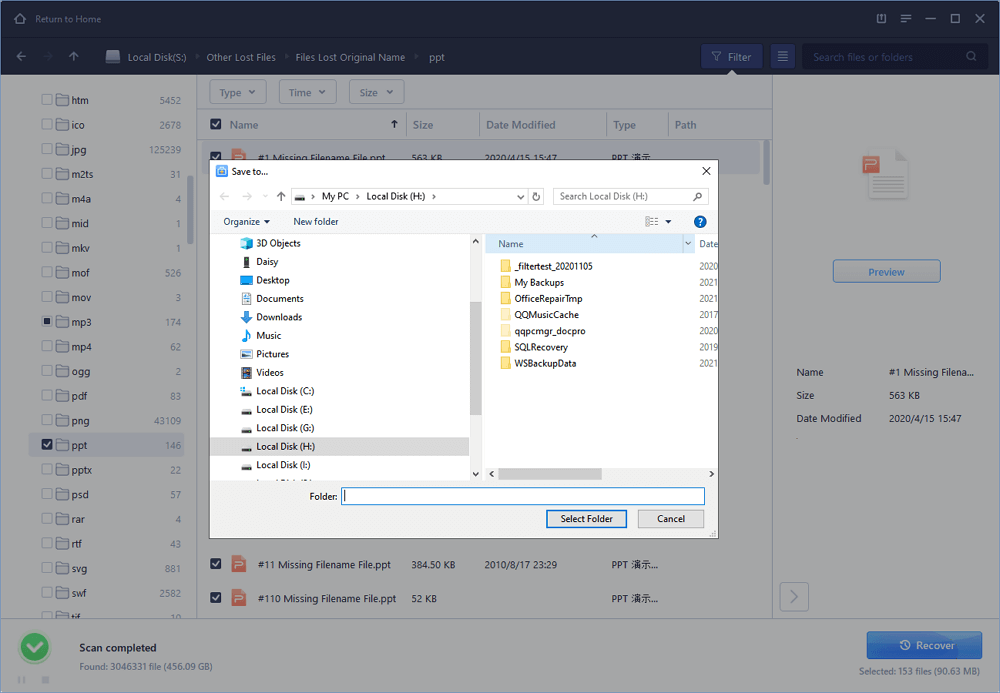 Method 2. BSOD Recovery via EaseUS Data Recovery Wizard with Bootable Media
If you don't want to or don't know how to remove the hard drive, you can still recover data from your problematic computer directly by using EaseUS Data Recovery Wizard Pro with Bootable Media.
NOTE: If the BSOD is caused by hardware damage, you cannot recover data with bootable media, which can't start your computer either in this case. To recover data, you have to remove your hard drive and use Method 1 to troubleshoot.
Step 1. Create a bootable disk.
Prepare an empty USB. If you have important data on it, copy the data to another device. When you create a bootable disk, the data on the USB will be erased. EaseUS Data Recovery Wizard WinPE Edition will help you create a bootable disk. Connect the USB drive to PC, launch EaseUS Data Recovery Wizard WinPE Edition. Select the USB drive and click "Proceed" to create a bootable disk.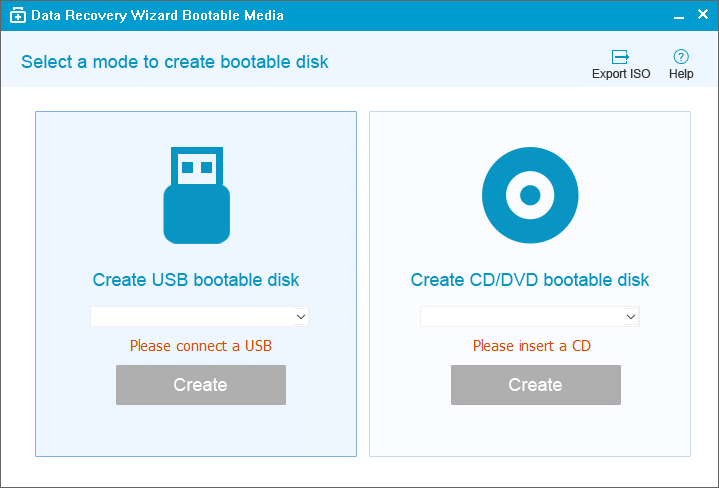 Step 2. Boot from the bootable USB.
Connect the bootable disk to PC that won't boot and change your computer boot sequence in BIOS. For most users, it works well when they restart their computer and press F2 at the same time to enter BIOS. Set to boot the PC from "Removable Devices" (bootable USB disk) or "CD-ROM Drive" (bootable CD/DVD) beyond Hard Drive. Press "F10" to save and exit.
Step 3. Recover files/data from a PC/laptop hard drive that won't boot.
When you boot from the USB, you can run EaseUS Data Recovery Wizard from the WinPE bootable disk. Select the drive you want to scan to find all your lost files.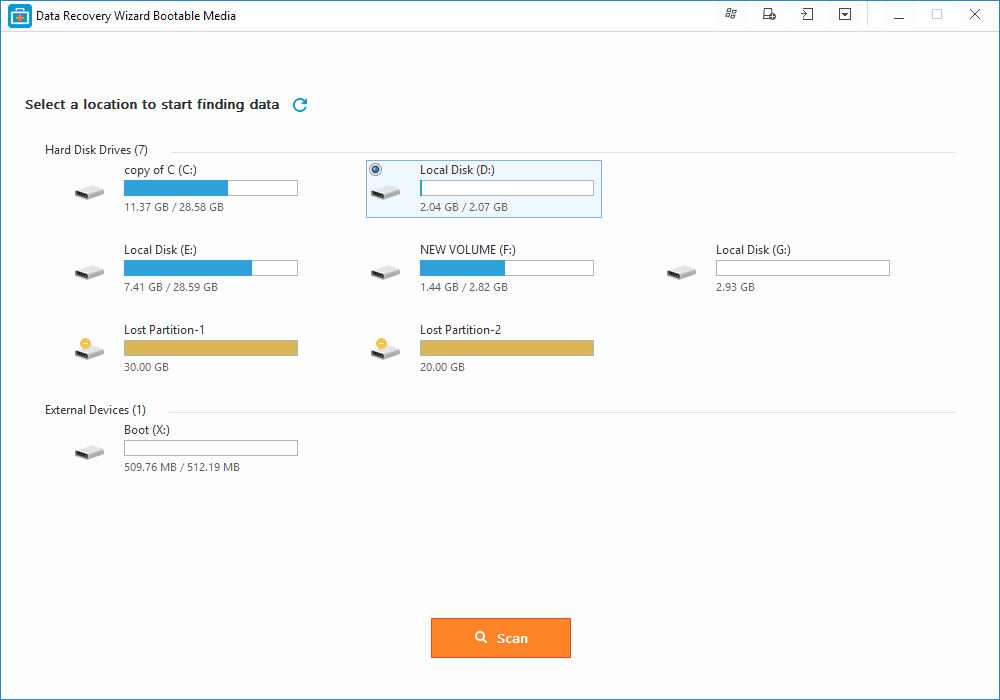 Click Scan to start the scanning process.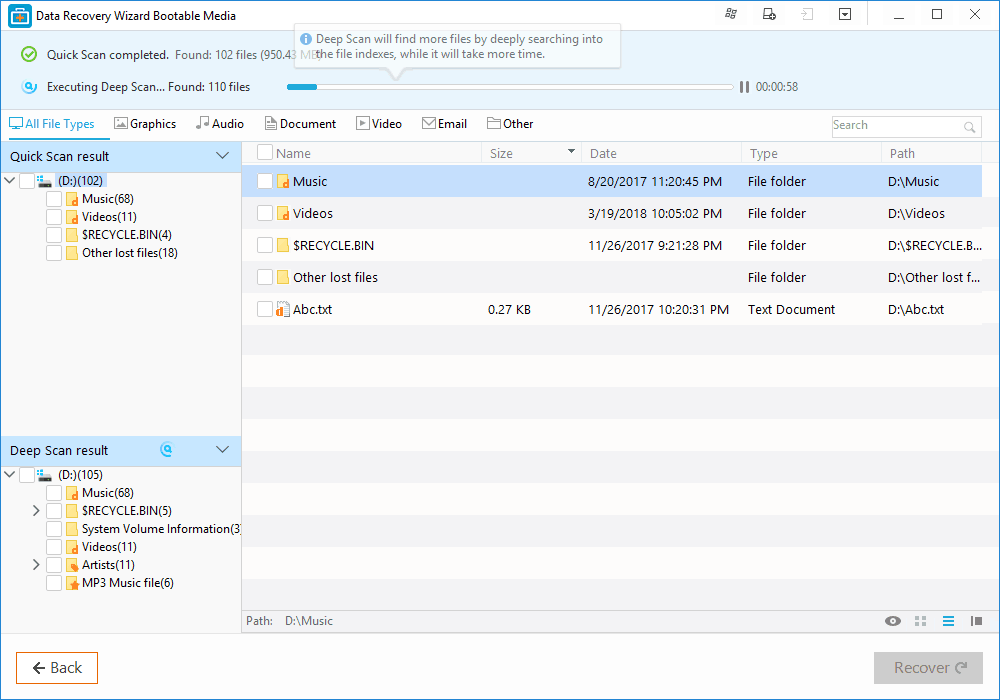 Recover data from the computer or laptop. After the scan completed, you can preview all recoverable files, select the targeted files, and click the "Recover" button to restore your files. You'd better save all of the recovered data to another place to avoid data overwriting.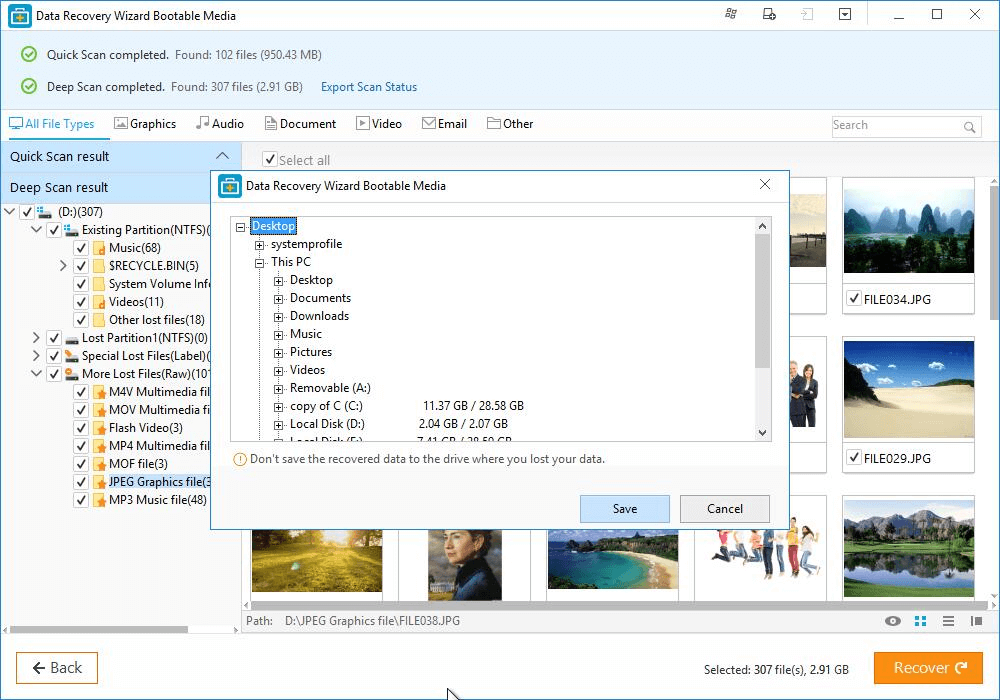 Conclusion: When you have a blue screen issue and cannot access your files, don't panic. You can try EaseUS Data Recovery Wizard or its bootable disk to restore data at a high recovery rate. In addition to the powerful recovery feature, EaseUS Data Recovery Wizard is also a JPEG repair tool that supports repairing corrupted JPEG/JPG files for free.
How to Fix Blue Screen of Death Error
After recovering data from the blue screen, it's time for you to fix the error. Rebooting your computer is certainly the first attempt. If you fail, do as what shows in the video tutorial to fix BSOD caused by MBR/system file error, BCD error, or driver issue of hardware.
If the problem remains unsolved when all three approaches have been tried, go on using the following solutions to fix the BSOD error.
1. Use System Restore to undo changes
The BSOD error may occur after you install a new program/hardware, update a driver, or install a Windows update. If so, you can fix the issue by undoing the change you made. You can use System Restore to roll its system software back to a previous state. Or you can roll back the device driver to a version prior to your driver update.
2. Ensure enough space on the C drive
Check that there's enough free space left Blue Screen of Death and other data corruption issues can happen if there's not enough free space on the drive Windows is installed on. Thus, clear up hard disk space and make sure it is at least 15% of a drive's capacity free at all times.
3. Scan for virus or malware
As mentioned before, the virus and malware might infect the master boot record and Windows kernel at a low level to cause system instability, so you can start your PC in safe mode and run the antivirus software for a full system scan.
4. Install the latest drivers for hardware
An incorrectly installed or outdated driver can lead to a system crash. Download and install the latest drivers for your computer's hardware from the computer manufacturer's website. This may fix BSOD caused by driver problems.
5. Apply available Windows service packs and updates
Microsoft regularly releases patches and service packs for their operating systems that may contain fixes for BSOD error.
6. Check the system and application logs
You can check the System and Application logs in Event Viewer for errors or warnings that might provide useful clues on the cause of the BSOD. So that you can fix the problem pertinently.
7. Return BIOS to default settings
An overclocked or misconfigured BIOS can cause all sorts of random issues, including BSODs.
Go to C: > Windows > Software Distribution > Download and delete all the files stored in this folder. Also, delete the $Windows.~BT folder located in the root directory of "C:".
After deleting these files, reboot your computer. Go to the BIOS (press the F12 or Delete key while booting up) and enable UEFI Boot.
Disable all overclocking options for your processor, if you have set it higher than default values.
8. Reinstall Windows
If all the above methods cannot help you solve the Stop Error, you can try resetting Windows or performing a clean install. Make sure that you have backed-up all important data to an external hard drive before doing reinstalling Windows.
100% of people found this article helpful.
Frequently Asked Questions
1. Why choose EaseUS Data Recovery Wizard?

"EaseUS Data Recovery Wizard is the best we've seen. It's far from perfect, partly because today's advanced disk technology makes data-recovery more difficult than it was with the simpler technology of the past, but it's fast and efficient..." —PCMag

"The first thing you'll notice about EaseUS Data Recovery Wizard Pro is that its interface is very clear and uncluttered, with only a small collection of self-explanatory controls. You won't find lots of extra options hidden in a system of hidden menus, either; what you see really is what you get." —techradar

"Recover lost files, even after deleting a partition or formatting your drive." —Macworld
2. Why cannot I recover 2GB data for free?

It is recommended to check the version installed is Free or Trial because they are different versions.

Trial has data preview function but cannot save any files, while the Free version enables to recover 2 GB files. The default free space is 500 MB and you may share the product on social media to get another 1.5 GB.
3. Why cannot the recovered files be opened?

A file is saved as 2 parts on the storage device: directory info (which is comprised by file name, time stamp and size info, etc.) and data content.

If the files with original file names and folder structures cannot be opened, one possible reason is the corrupted directory info. There is still a chance to recover the data content with the RAW Recovery method in our software.
4. Why isn't it suggested to recover the files back to the original drive?

The storage structure of the lost files would be altered or damaged by any changes on the drive. If you save the recovered files back to the same drive, the original data structures and data content would be corrupted or overwritten, which causes permanent data loss. So you should prepare another disk to save the files.
5. How can I check whether my data is recoverable or not before purchase?

The Free version helps you save 2GB files to better verify the recovery quality of our product before purchase.
6. How long does it take to scan the drive?

It strongly depends on the capacity of your hard drive and the performance of your computer. As reference,most drive recoveries can be completed in around 10 to 12 hours for a 1-TB healthy hard drive in general conditions.
About Data Recovery Wizard
It's super easy to recover 250+ types of files after deletion, disk formatting and virus infection. Click the links and compare the difference of each version.