Excel crashes when saving, what to do?
"I got this problem that the Excel file suddenly crashes when I was trying to save it as a file in Windows 10.
All data and files all disappeared. All my hard works and saved data on the Excel file were all gone. This is really a tragedy and I need a reliable way to get lost Excel file back and restore all data. How? Does anyone know how to get lost Excel back when it suddenly crashes in Windows 10?"
If Excel 2016, Excel 2013/2010 or 2007 suddenly crashes on your PC while saving it as a file, don't worry. Here below in this article, you'll find 5 methods for Excel file recovery and you may follow any one of the offered methods to restore crashed Excel file. Follow to see how to restore crashed Excel file on your own now:
Method 1. Repair installation of Office/Excel to restore crashed Excel file in Windows
1. Reboot Windows PC and right-click on Windows Start button, select Control Panel;
2. Click Programs and Settings, then find and click Office;
3. Right-click on Change, a repair option dialog will appear;
4. Select Quick Repair and open Excel to see if problems got fixed or not;
5. If not, select Online Repair and wait for the repair process to complete.
After this, you can open the crashed Excel file and it shall work by then.
Method 2. Restore crashed Excel by Open and Repair
1. On the File tab, click Open;
2. In Excel 2016 or Excel 2013, click on the location where the spreadsheet is loaded, and click Browse;
3. In Open dialog, select the corrupted or crashed Excel file that you want to open;
4. Click the arrow next the Open button, and then click Open and Repair;
5. If you want to recover as much of Excel data as possible, click Repair;
6. If you want to extract values and formulas from the Excel when an attempt to repair the Excel is not successful, click Extract Data .
Method 3. Restore crashed Excel from AutoRecovery
If you've turned on the AutoRecovery feature in Excel, you can then restore crashed Excel file or spreadsheet from AutoRecovery in your PC:
1. Open a new Excel file in Windows 10 or Windows 8/7;
2. Click File, and select Recent;
3. Then check recent used Excel document and find the exact one - unsaved Excel document;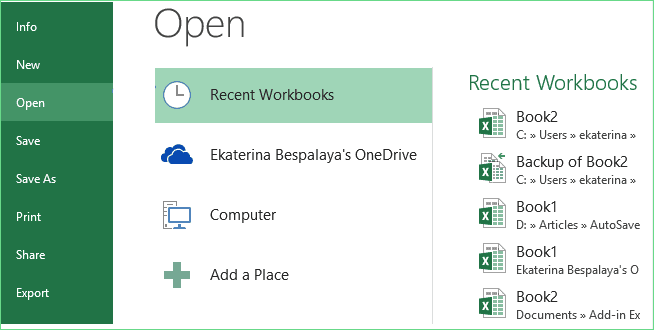 4. Click Recover Unsaved Workbooks and wait to let the program recover crashed Excel document;

5. Then Open dialog will pop up and you can then open the exact crashed Excel file and click Save AS to save the Excel as a new file to a safe location on your PC.

Method 4. Retrieve lost/crashed Excel from Temp file or previous version
You may also find lost Excel file from the Temporary file folder or previous version when the Excel file crashes:
Recover crashed Excel from Temporary folder:
1. Follow the temporary file folder location on your PC and find the crashed or unsaved/lost Excel document:
C:\Users\\AppData\Local\Microsoft\Office\UnsavedFiles
C:\Users\name\AppData\Roaming\Microsoft\Excel\
2. Check and select the unsaved Excel file which crashed and copy it to Windows PC desktop and save it as a new file.
Restore crashed Excel file from Previous Version:
1. Create a new Excel file and name it with the same file name of the crashed Excel document;
2. Right-click on the Excel and select Properties;
3. Go to Previous Versions, find and select the latest version before Excel crashes, click Restore .
Then you'll get the crashed Excel file back.
Method 5. Restore lost/unsaved Excel file after crashing with file recovery software
The last way that you can refer to is to let professional Excel file recovery software help. EaseUS Data Recovery Wizard Free Edition will help to fix this problem and you can directly scan and find lost Excel file within 3 simple steps in Windows PC:
Step 1. Launch EaseUS file recovery software and select location of lost Excel file and click "Scan".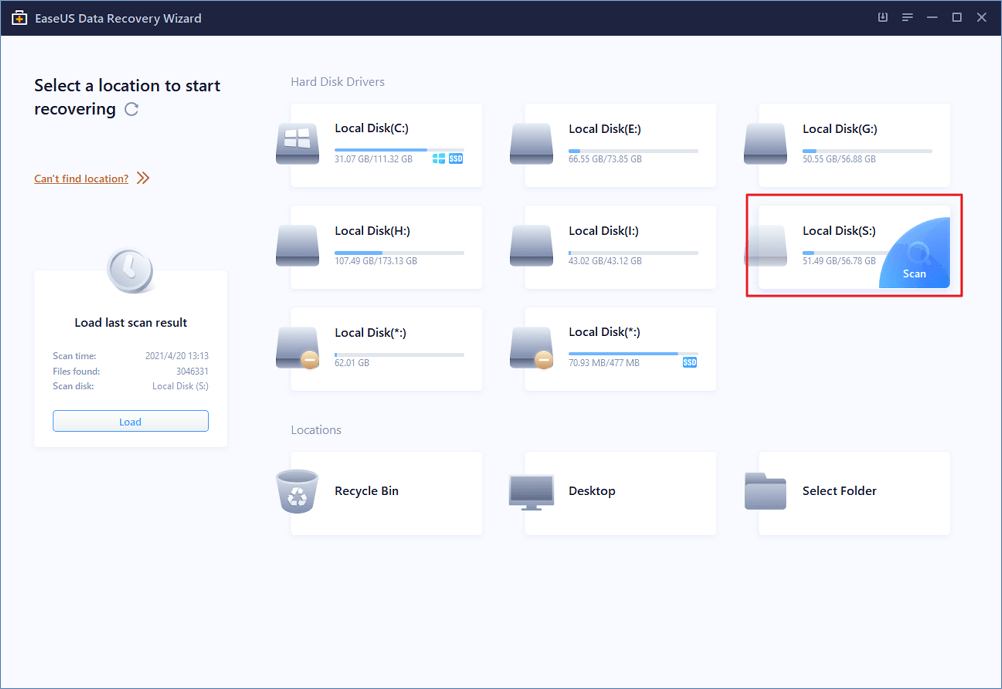 Step 2. EaseUS Data Recovery Wizard will start a quick scan to find deleted files such as Excel file;
After the quick scan, a deep scan will automatically start to find more lost files and data;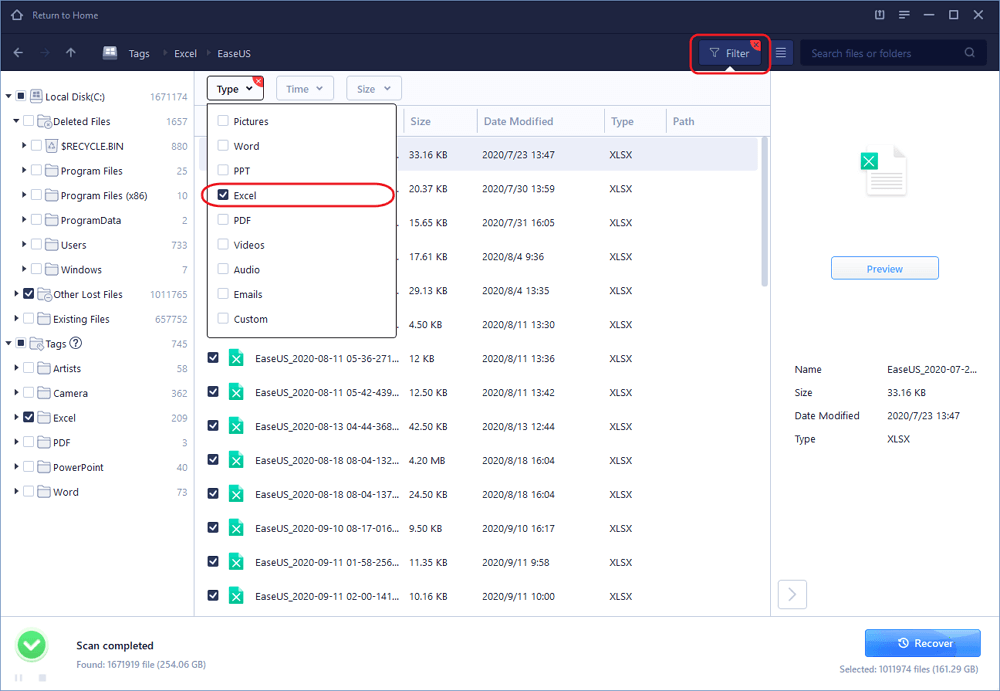 Step 3. Preview and restore lost Excel files;
You can preview found data by file types, select found Excel files and click "Recover" to save them to another safe spot in PC/storage device.