Creating a bootable CD/DVD
The Disk Copy software package contains an .exe installation file. After installing it to Windows based operating system, you can run this software to create a bootable disk. Here are the steps: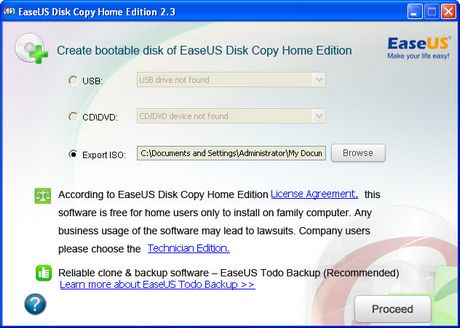 Run Disk Copy 2.3.exe and select one option (USB or CD/DVD) to create the bootable disk.
Click 'Proceed' to begin the process after you choose the proper device in the dropdown list.
Write to the device.
You can also export the so-called ISO image by 'Export ISO' option. Select this option and click 'Browse' to specify a location for the ISO file storage. The ISO file can be used to create a bootable Disk Copy CD with any operating system using CD writing software of your choice as far as it supports creating bootable disk from an ISO image.
After having accomplished these steps you have created a bootable Disk Copy disc. From this disk you can start Disk Copy on any PC with a bootable CD/DVD or USB drive as described in Booting from the bootable CD/DVDs.
Note: Generally the instructions provided above for creating a bootable CD using the ISO image can also be adapted to DVDs.
How to export ISO file of EaseUS Disk Copy?
1. Select Export ISO.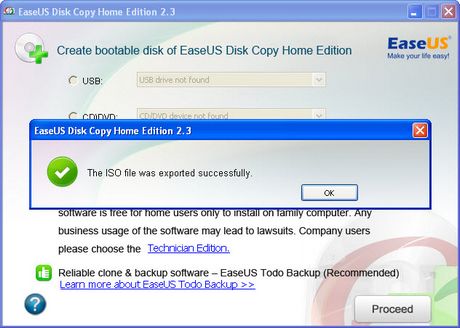 2. Click Browse to select the path to save the ISO file.
3. Click Proceed to export ISO file of EaseUS Disk Copy.