PAGE QUICK NAVIGATION:
If your computer storage gets full easily; if your hard drive fails frequently, causing you to lose data; if you need to carry around a high-performance laptop for easy file transfer; if you're looking for a high-capacity storage device for your home computer or a reliable way to store your data on the go, you'd better change your hard drive to a larger one or upgrade to SSD. A Silicon Power HDD or SSD is a good choice. It is more durable and reliable than traditional hard drives, making it ideal for storing important data. It's also faster and more energy-efficient, making it perfect for use in laptops and other portable devices.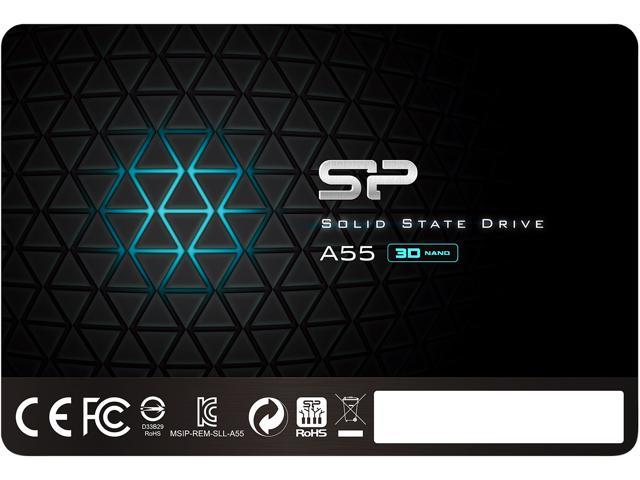 How can you easily and efficiently migrate your original files, data, systems, etc. to a new Silicon Power HDD or SSD? We will provide you with the following two options:
Top 2 Silicon Power Cloning Software in 2023
1. EaseUS Disk Copy
EaseUS Disk Copy is a professional tool that performs well in making a full copy of the hard drives, migrating files, applications, and operating system to another hard drive without losing data, and upgrading to SSD smoothly. On top of that, it can help you upgrade your disk without reinstalling Windows, which saves you an amount of time and energy. If you want to make sure of the data security, EaseUS Disk Copy is the best choice for you.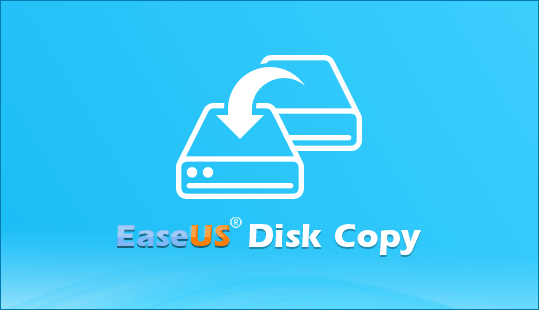 Pros and Cons of EaseUS Disk Copy
1. Simple and clean interface
2. Support a wide range of file systems
Only supports Windows
A paid software but not expensive
2. Echo System Cloning Software
Echo System Cloning Software is a powerful tool that can help you quickly and easily clone your system. It has a simple, easy-to-use interface that makes it easy to get started. This is a cooperative product between SP and NTI to help users make an exact copy of  HDD to another HDD or SSD. It can be used to clone your entire system, or just selected files and folders.
1. One to One:Retain the original hard drive's partition structure and size
2. User Defined:Allow users to adjust the size of the partitions on the new drive
3. Dynamic Resize:Automatically resize the original drive's partitions to fit onto a smaller or larger replacement drive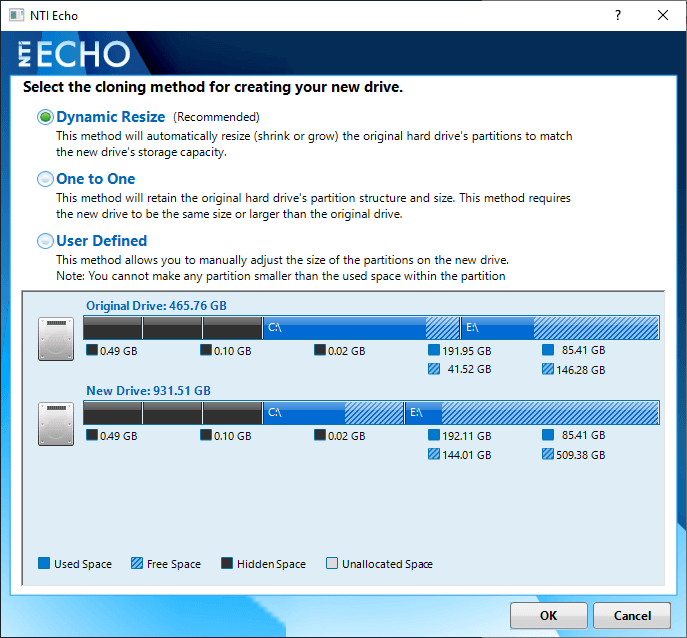 Cons of Echo System Cloning Software
1. The free version does NOT support RAID type
2. Do NOT support Microsoft Surface devices
3. A one-to-one drive cloning utility (It is not intended to work with Dynamic Disks)
How to Clone Silicon Power HDD or SSD with EaseUS Disk Copy
EaseUS Disk Copy provides a user-friendly interface that allows you to clone your disk with just a few clicks:
Prior Notice:
The "Sector by sector copy" asks the size of your destination disk to be at least equal to or larger than that of the source disk. Leave this feature unchecked if you wish to clone a larger hard disk to a smaller hard disk.
All data on the destination disk will be completely erased, so take care.
Step 1. To start copying/cloning an entire disk to another, choose this disk as the source disk under "Disk Mode" and click "Next".
Step 2. Choose the other disk as the destination disk.
Step 3. Check the disk layout of the two disks. You can manage the disk layout of the destination disk by selecting "Autofit the disk", "Copy as the source" or "Edit disk layout". 
"Autofit the disk" makes some changes by default on the destination disk layout so that it can work at its best status.
"Copy as the source"does not change anything on destination disk and the layout is the same as source disk.
"Edit disk layout" allows you to manually resize/move partition layout on this destination disk.
Tick the "Check the option if the target is SSD" option to put your SSD in its best performance.
A message now appears, warning you that data will be lost. Please confirm this message by clicking "OK" and then click "Next".
Step 4. Click "Proceed" to officially execute the task.
Conclusion
In this post, we have provided two Silicon Power cloning software, which are two of the best on the market nowadays. However, we recommend EaseUS Disk Copy because it is easier to use and less restrictive. Click the download button below and give it a try.
Was this page helpful? Your supoport is truly important to us!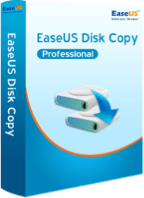 EaseUS Disk Copy
EaseUS Disk Copy is a well designed and very easy-to-use HDD/SSD cloning and migration tool, a tool which should be ideal for anyone wanting to quickly and easily migrate an existing system disk to a new disk (or newly installed SSD drive) with the minimal of configuration required.
Updated by

"I hope my articles can help solve your technical problems. If you are interested in other articles, you can check the articles at the bottom of this page, and you can also check my Facebook to get additional help."…

Read full bio

Written by

Jean is recognized as one of the most professional writers in EaseUS. She has kept improving her writing skills over the past 10 years and helped millions of her readers solve their tech problems on PC, Mac, and iOS devices. …

Read full bio