Overview of Disk Clone
We are often concerned when it boils down to data loss, as most of us depend on computers and drives for various operations. Every year the possibilities for system loss of sensitive information or theft increase, and it wouldn't be excellent if we could not retrieve the information stored in such computers. It doesn't matter how often you make use of your computer. It's devastating once you encounter data loss and fail to recover those data. To ensure your files are secured with an effective backup strategy, disk cloning is the best way to go.
Disk cloning or drive cloning transfers all information virtually from one hard drive to another. Disk cloning lets you create an original copy of your hard disk drive (HDD) or solid-state drive (SSD) without losing any information. You get to recover every bit of your data with a cloned hard drive.
If your primary drive fails or gets lost, you can easily replace it with a cloned external drive. You have assured peacefulness with the awareness that your information is protected from external threats and system crashes.
However, Windows does not have a built-in disk clone feature. It's recommended for you apply third-party software. This article will examine two recommended software that you can employ to clone your system hard drive.

Clone VS Image | What's the Difference?
Want to know what's the differences between disk clone and disk image? When to use disk clone or when to use disk image? This post will explain what is clone and image, the differences between clone and image.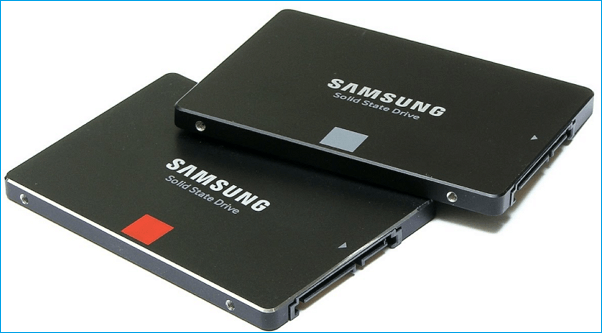 Macrium Reflect vs Samsung Data Migration
Windows don't possess a built-in clone feature, so for you to clone your computer hard drive, you'll need a third-party tool. We'll be considering two of the most recommended software that you can utilize to give the desired backup for all data you have on your computer.
Macrium Reflect
Macrium Reflect is a reliable backup solution software for personal and business use. It is employed globally to secure data, documents, and operating systems. It is designed with advanced disk cloning technology that can enable you to transfer data from one disk to another.
Macrium Reflect offers users the avenue to instantly clone multiple disks with their content divided into suitable folders to facilitate quick file search. It guarantees the safety of your device against any malware, has a user-friendly interface, and offers you the avenue to schedule backups at your convenience.
Macrium Reflect is priced based on its user's preference. For personal use, it has a price of $69.95 for a single-user license and $139.95 for multiple users. For business purposes, the pricing differs as regards the plan. There's a price plan of $608 for the workstation and $489 for the starter plan. However, Macrium Reflect has a 30-day free demo plan that includes many unique features to give users a functional experience.
Samsung Data Migration
Samsung Data Migration is created to assist users in seamlessly and safely transferring their data, including their current OS, user's data, and application software from an HDD to their new Samsung SSD. 
Samsung Data Migration is developed exclusively for Samsung SSD products such as the 470 series, 830 series, and 840 series. The software isn't compatible with other producers' SSDs and only supports the Windows OS outlined in the user manual. It's only functional if the source disk has an installed operating system. So if your source disk lacks an operating system installation, the Samsung Data Migration software won't work.


All Around Disk Clone Software - EaseUS Disk Copy
Both Macrium Reflect and Samsung Data Migration has their own limitations. You need to take some time to learn how to clone with Macrium Reflect, and Samsung Data Migration only works on specific Samsung SSDs. Is there any specific disk cloning software? Yes, here we recommend EaseUS Disk Copy. It is designed exclusively for disk cloning and the operation is simple and clear. Even if you are a novice user, you can get along with this software in no time. Unlike Samsung Data Migration, EaseUS Disk Copy supports all brands of HDDs and SSDs. No matter which brands your hard drive is, you can use EaseUS Disk Copy freely and easily.
Note: Please activate EaseUS Disk Copy for a smooth disk copying or cloning process.
Step 1. Download, install and run EaseUS Disk Copy on your PC.
Click Disk Mode and select the source disk that you want to copy or clone. Click Next to continue.
Note: The destination disk should be at least the same big or even larger than the source disk if you want to copy or clone the source disk sector by sector.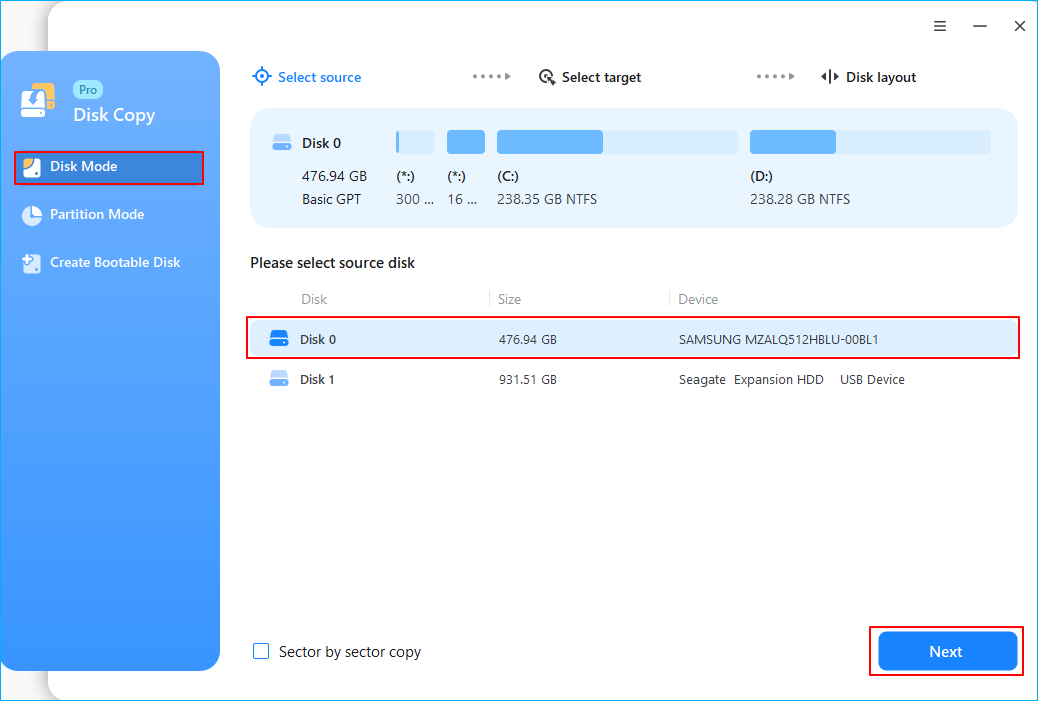 Step 2. Select the destination disk where you want to clone/copy the old disk and click Next to continue.
Click OK to confirm if the program asks to erase data on the destination disk.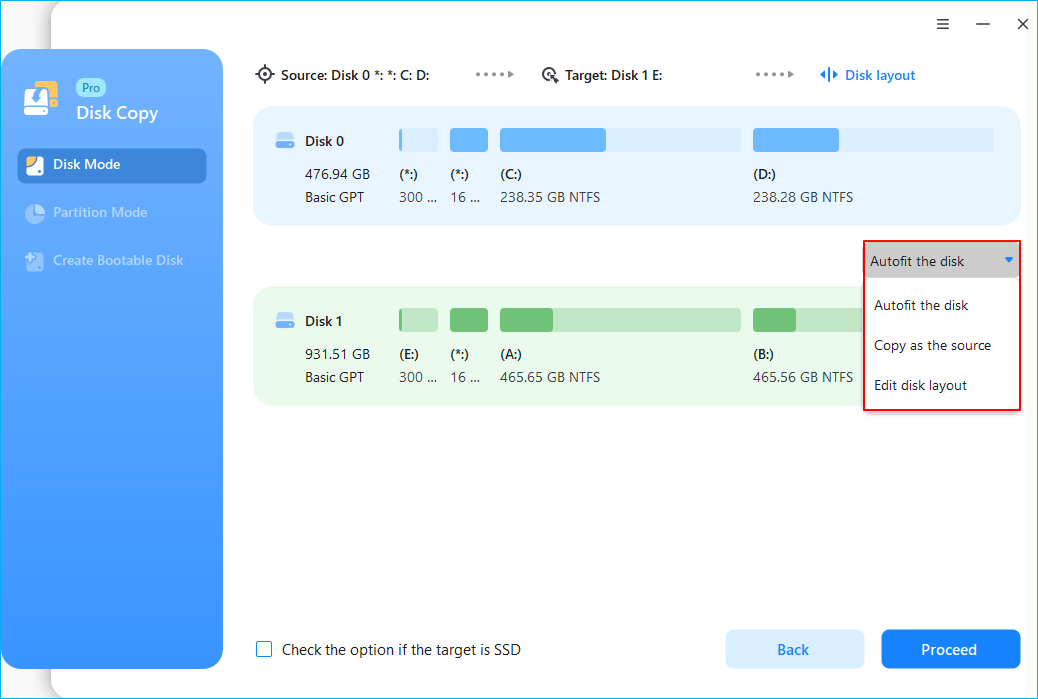 Step 3. Check and edit the disk layout as Autofit the disk, Copy as the source or Edit disk layout.
Autofit the disk is recommended.
Copy as the source option will copy/clone the same layout of partitions on your source disk to the destination disk.
Edit disk layout allows you to manually resize or move partition layout on the destination disk.
If your destination disk is an SSD drive, do remember to tick Check the option if the target is SSD.
Click Proceed to start the disk cloning or disk copying process now.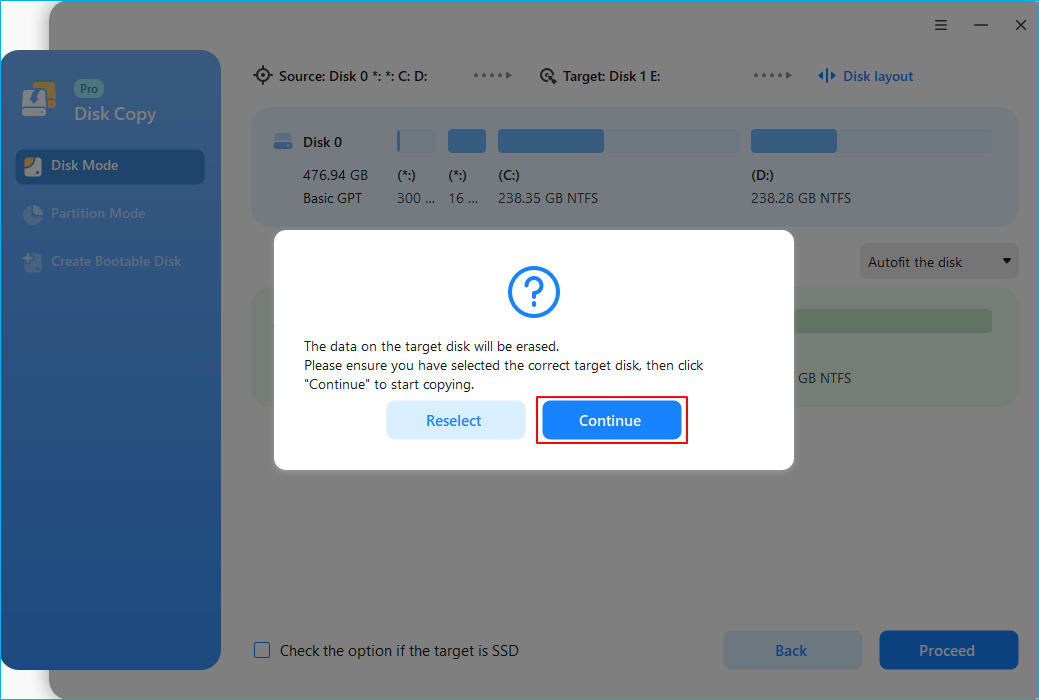 Final Thoughts
Disk cloning your hard drive is the surest way to give yourself a peaceful mind knowing that all data on your computer are successfully secured and can be retrieved at any given time. Now you are left with selecting the right software to employ for the cloning operation. We've outlined two software you can utilize to carry out the process, choose one that seems best for you and go ahead to clone your hard drive to a new SSD.
EaseUS Disk Copy
Clone an old disk to a new one
Clone a small disk to a large one
Clone HDD to SSD
TRY IT NOW
Video Tutorial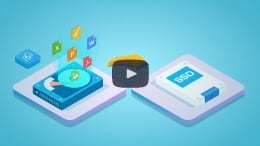 How to Clone HDD to SSD on Windows 10/8/7