Why Do We Need Cloning Software?
Cloning disks can be helpful in many situations. It can be a real savior when the computer is not booting, or it is dead entirely. Ideally, if the disk is not cloned, everything is gone once your system is dead, your data, and your OS settings. But, if it is cloned to a disk, you definitely have a chance to recover it. A disk cloning software is going to replicate the complete image of the hard drive. This includes the partitions, drives, software & drivers installed, along with the operating system. With disk cloning, you can not only fix a dead computer. But, you can also upgrade your hard drive, perform multiple installs with the same images, and even fix software errors.
Macrium Reflect Free
When it comes to disk cloning, there is no doubt that Macrium Reflect Free is one of the best software that is available in the market. It can be used for cloning, backing up the disk, or even imaging the disk. The best part is, as they say, "It's a no-cost solution". Yes, it is free, and you can avail all these rich features free of cost. That is why we call it no-frill software. It makes use of the Macrium Backup engine for data backup as well as OS cloning and imaging. Apart from being free, it is efficient as well as fast. Macrium was the first software company to release a completely free backup software; however, being free, it has fewer features compared to licensed cloning software. At best, it can be used for quick imaging of the disk and quick restoration whenever required.
Why Macrium Reflect
One of the key reasons why you should go for Macrium Reflect Free is it is free. So, if your requirements are basic and minimal, and you don't want to spend much, then obviously, this software is made for you. The user interface is simple and has got a conventional look. It is clutter-free, with very limited features. This works well with a novice user as well, who is not much familiar with this application.
Cons of Macrium Reflect
With Reflect, you can only image the partitions or the disks. So, no file backup or real cloning is available. Having said that, it provides the option to select the partitions from where the Windows operating system needs to be restored. So, here is the catch, if you want to backup your folders, then you have to shell out $70 more, and it's not free. Even the paid version also lets you back up only the folders and not the files. So, whichever file needs to be backed up, ensure that they are present in the folder which you are backing up.
Reflect Free allows the creation of backup schedules with its scheduling options. It also allows defining the retention rules. So, you can define what to keep and what not to keep. You can also decide for how long a particular should be kept. This will also help in managing the disk space. In the paid version, you get password protection. You can also set email notifications with the paid version.
This application supports both the GPT Disks as well as the MBR disks. It also provides the option to create boot media for Windows PE.
Being free is one of the biggest pros of this software, but in other terms, it can be the biggest con as well. That is because, for free, you get only basic features. For additional features, you have to get the paid version. So, if you are looking for enhanced features for personal as well as commercial usage, then the free version may not be the right choice for you. As mentioned, it's only for the basic use of individuals. One more downside of this application is its performance. The performance is a bit slower in comparison to other cloning software available in the market.

Clonezilla
If you are still into those DOS days and completely fascinated by command-line utilities, then Clonezilla is made for you. It is free, and it's open-source software, which means you can customize it if you are a developer. It supports different operating systems. This includes Chrome OS, Windows, Mac, and Linux. The user support in the case of Clonezilla is limited, which is a drawback, but it has got features that make it a top draw amongst the cloning software. It can perform disk cloning as well as image cloning. Apart from this, Clonezilla can be used for taking system backups, drive cloning, system deployment, and many more tasks. One of the best parts of this software is, it supports multiple file systems and different kinds of bootloaders as well. Normally, most cloning applications support only MBR & GPT, but that is a defined case here.
Why should you go for Clonezilla?
One reason is, Clonezilla is free. It is open-source, so developers can access and customize the source code. But, apart from this, it is a complete feature-rich software package. It runs independently and is not dependent on the host operating system. The reason behind this is, it comes on a CD/DVD or a USB stick. However, you can run it as a server utility with the Clonezilla server. It has got a reliable backup engine and different cloning options that can be used by the system administrators. Since it supports multiple file systems, it can be used on any system. One can execute backup from CLI with a few simple commands. Backups can be automated and can be done unattended. It uses a compression algorithm to compress the cloned or backed up data, which ultimately saves space. Clonezilla allows using a single image to restore multiple devices.
Cons of Clonezilla
It is heavily built around its CLI platforms, which is apt for system administrators. With commands and switches, you can almost get a workaround for every task. Hence, it's complex and not for normal users. Also, the features in the free version are basic; you need to pay for enhanced features.
Clone Software Alternative: EaseUS Disk Copy
Besides Macrium Reflect and Clonezilla, you have another choice - EaseUS Disk Copy. It is an exclusive cloning tool with a simple and clear interface. It supports performing a sector-by-sector clone, clone from HDD to SSD, and adjust disk layout according to your needs. What makes Disk Copy stands out is it's simple enough. You don't need to spend much time learning how to use it, you will not have problems finding any buttons. What's more, it's also well-functioned. What Macrium Reflect and Clonezilla can do, EaseUS Disk Copy can also do for you.
Download and see how EaseUS Disk Copy clone a hard drive.
Activate EaseUS Disk Copy for a smooth disk copying or cloning process.
1. Download, install and run EaseUS Disk Copy on your PC.
Click Disk Mode and select the source disk that you want to copy or clone. Click Next to continue.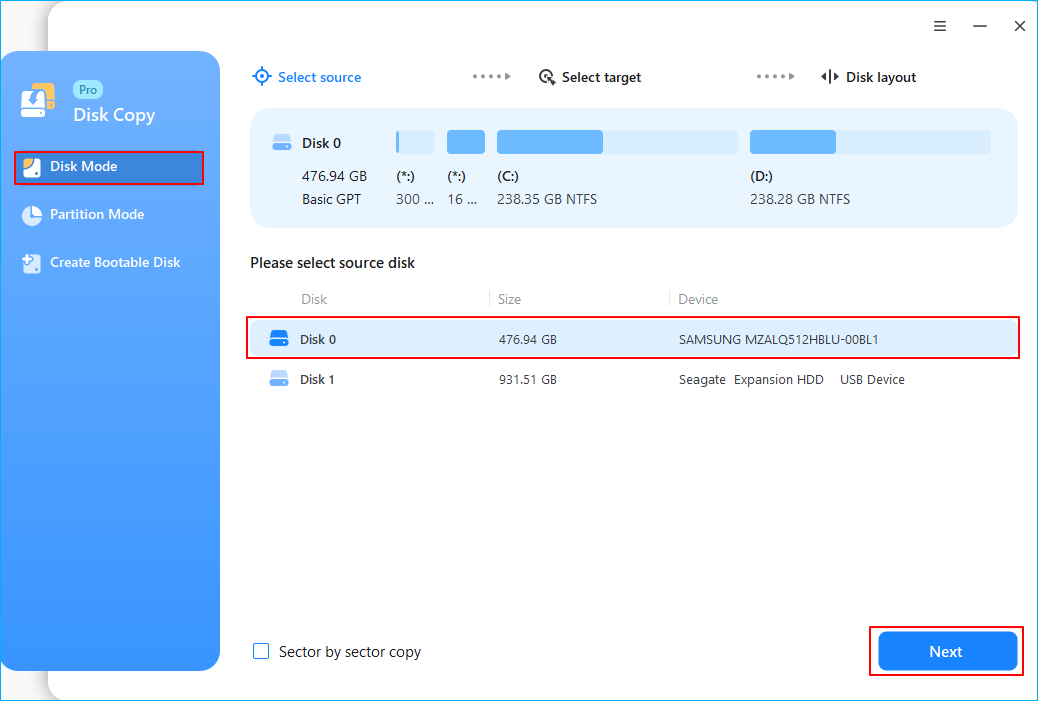 2. Select the destination disk where you want to clone/copy the old disk and click Next to continue.
Click OK to confirm if the program asks to erase data on the destination disk.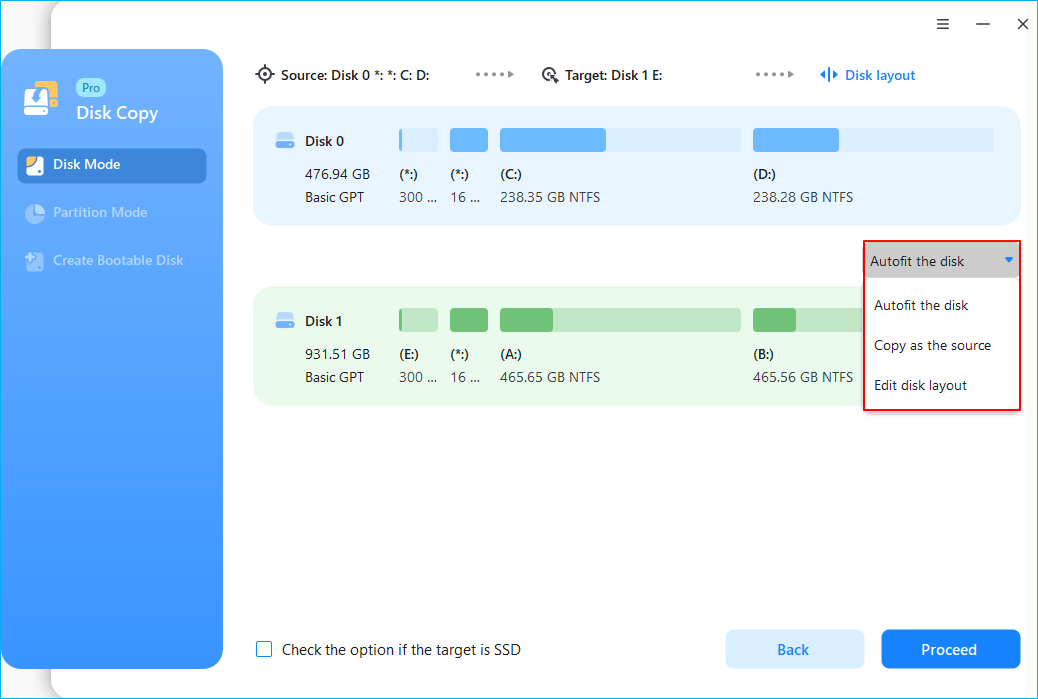 3. Check and edit the disk layout as Autofit the disk, Copy as the source or Edit disk layout.
Autofit the disk is recommended.
Copy as the source option will copy/clone the same layout of partitions on your source disk to the destination disk.
Edit disk layout allows you to manually resize or move partition layout on the destination disk.
If your destination disk is an SSD drive, do remember to tick Check the option if the target is SSD.
Click Proceed to start the disk cloning or disk copying process now.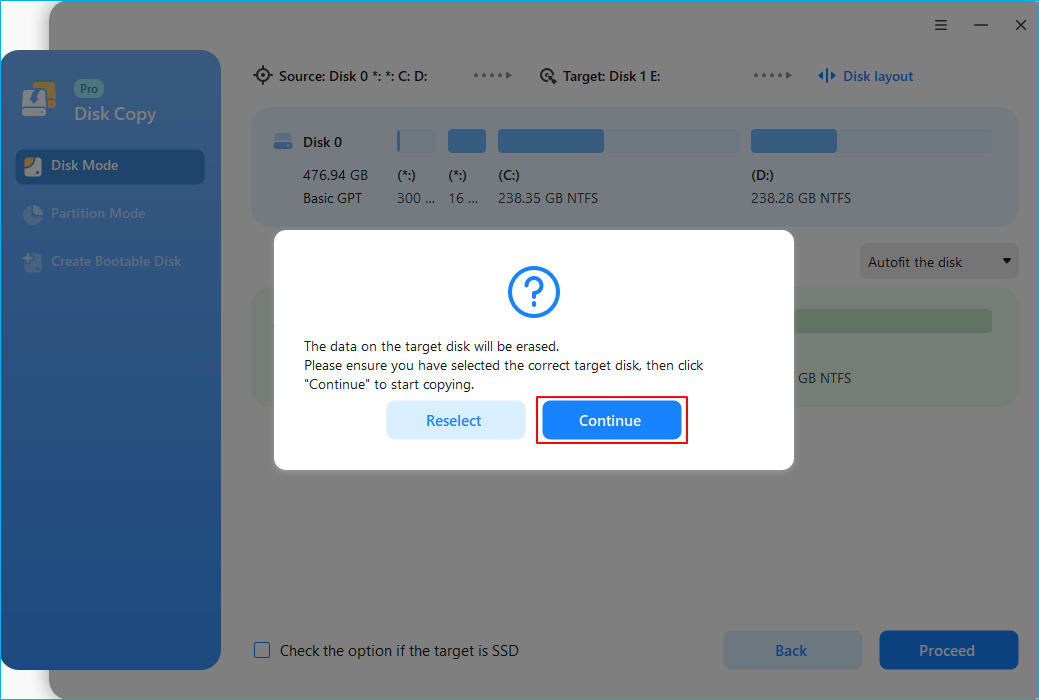 Conclusion
Macrium Reflect Free is for basic usage, and even with the paid version, the features are pretty basic. However, with an old-school UI, it's easy to use and navigate. On the other hand, Clonezilla with CLI options can be complex and more meant for system admins who want to tweak or run batch jobs. For both, the free version offers limited features, and one needs to pay for getting additional features.
EaseUS Disk Copy
Clone an old disk to a new one
Clone a small disk to a large one
Clone HDD to SSD
TRY IT NOW
Video Tutorial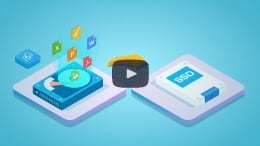 How to Clone HDD to SSD on Windows 10/8/7