You may want to replace the hard drive on your laptop in some cases. For example, you should replace the old hard disk when you notice any hard drive failure symptoms to avoid losing existing data. However, the operating system remains an issue.
This post offered by EaseUS will tell how to replace laptop hard drive and reinstall operating system. In addition, another simple way to replace the laptop's hard drive without reinstalling Windows will also be introduced.
Why Do You Need to Replace the Laptop's Hard Drive
You might need to replace your hard disk whether you use a desktop computer or a laptop. When you are in one of the situations below, it is time to replace your hard drive.
You want to improve your computer's performance by replacing the HDD with an SSD because the system runs slowly.
You need to upgrade to a bigger hard drive because the current one is running out of space.
If your computer is in signs of hard drive failure, replacing it before it completely breaks would be best.
After changing the old hard drive with a new one, the operating system comes as a top priority. This is because your laptop will not function without an operating system.
Do not worry. In the following part, you can learn how to replace the laptop's hard disk and reinstall the operating system. Keep Reading!
How to Replace Laptop Hard Drive and Reinstall Windows
This part will describe how to install Windows after replacing laptop hard drive. There are several steps to achieve that. Therefore, you should follow the instructions below carefully just in case something goes wrong in the process. Let's come to the details.
Part 1. Backup Data Before Replacing Hard Drive
Before replacing the laptop's hard drive, one of the most critical things to do is to back up your files, including documents, photos, music, videos, program installation files, and more.
Part 2. Create a Windows Installation Disc or Bootable USB Drive
You should create an installation disc or USB flash drive to let your laptop run from it and reinstall Windows.
Visit the Windows website to obtain the ISO file depending on different versions. After replacing your hard drive, you can use the Windows Media Creation tool or a professional tool to create a bootable USB from ISO to reinstall Windows 10. Ensure the disk space on your USB device is adequate.
Part 3. Remove the Old Disk From the Laptop and Install the New Drive
It is time to remove the old drive and replace it with a new one after completing the necessary preparations. Before starting, make sure your laptop is off and disconnected. Then, carry out the following steps:
Remove the screws to open the laptop case.
Find the hard drive and remove the disk's power cables and data wires.
Pull the old hard drive out after removing the screws.
Simply reverse the steps to install the new drive. Insert the disk in its original place, attach the data and power connections, secure the new hard drive with screws, and close the case.
 Notice:

The operations vary depending on the manufacturer. You can look up the user manual or in-depth instructions for a specific brand online.
Part 4. Reinstall Windows Operating System After Replacing Hard Drive
After replacing the old drive, you can start the process of reinstalling an OS on a laptop computer. The steps below show how to install Windows after replacing a hard drive. Take Windows 10 as an example:
Step 1. Insert Windows 10 installation disk into your laptop and boot from it. For that, you can press a specific key to enter the BIOS menu and then change the boot order to run the computer from the installation media.
Step 2. Select your Language, Time, and Keyboard, and click Next.
Step 3. Click Install now.
Step 4. The Windows Setup program will ask you to enter Windows 10 product key. Click on I don't have a product key, and Windows will be activated later on by itself.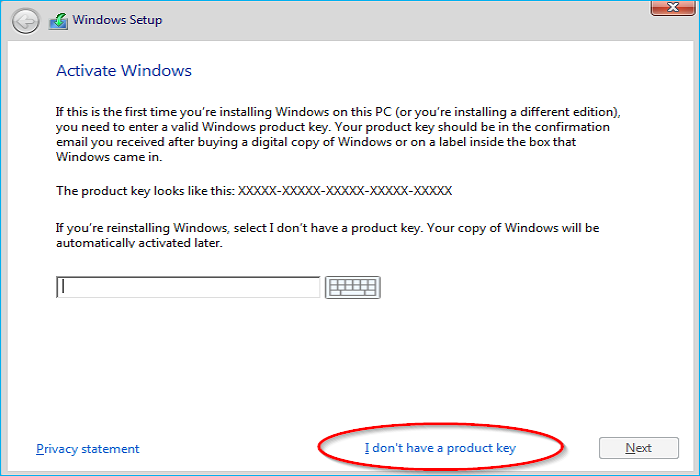 Step 5. The Setup program will also prompt you to choose the edition you have a license for. Please be careful to select the correct edition. Then, accept the license terms and click on Next.
Step 6. Click Custom: Install Windows only (advanced) to proceed with the installation.
Step 7. Choose the unallocated drive, click New, Apply, and then Next.
 Tip

Instead of seeing an unallocated disk, if numerous partitions are shown, you can pick each one (beginning at the bottom) and click Delete to convert them to unallocated space.
Step 8. You will have new partitions. Choose the primary partition and click Next.
Step 9. The Setup tool will start to install the operating system. This could take a while.
After the installation, you'll go to the Out of Box Experience page, where you can customize specific Windows settings, such as setting up a user account, establishing privacy preferences, installing applications, etc.
Here is also a video tutorial about replacing a hard drive and reinstalling Windows on your laptop.
If you like this post and find it helpful, you can share it on social platforms.
Better Way: Replace Laptop Hard Drive Without Reinstalling Windows
As mentioned, you must reinstall the required apps and the Windows operating system to use the laptop normally. This is troublesome because it is time-consuming. Are you wondering how to replace hard drive and keep operating system? So, is there a way to replace a laptop's hard drive without reinstalling Windows and its programs?
The answer is in the affirmative. You can clone your old hard drive to a new one to avoid reinstalling Windows and applications. Cloning allows you to copy data from one hard drive to another, including Windows files, system settings, programs, documents, etc.
To clone your old hard disk to a new one, you must use professional cloning software because Windows does not have a built-in tool with a cloning feature. In that case, EaseUS Disk Copy, a professional disk cloning tool, comes to help.
EaseUS Disk Copy is a multi-functional cloning program for Windows 11/10/8/7. It allows you to clone your system, disk, and partition. And it enables you to clone a hard drive with bad sectors thanks to its sector-by-sector clone technology. In addition, it lets you migrate the operating system from HDD to SSD and SSD to SSD and transfer the C drive to a new SSD without reinstalling Windows and applications.
You can perform the following steps to clone your old hard disk to a new one.
Prior Notice:
The "Sector by sector copy" asks the size of your destination disk to be at least equal to or larger than that of the source disk. Leave this feature unchecked if you wish to clone a larger hard disk to a smaller hard disk.
All data on the destination disk will be completely erased, so take care.
Step 1. To start copying/cloning an entire disk to another, choose this disk as the source disk under "Disk Mode" and click "Next".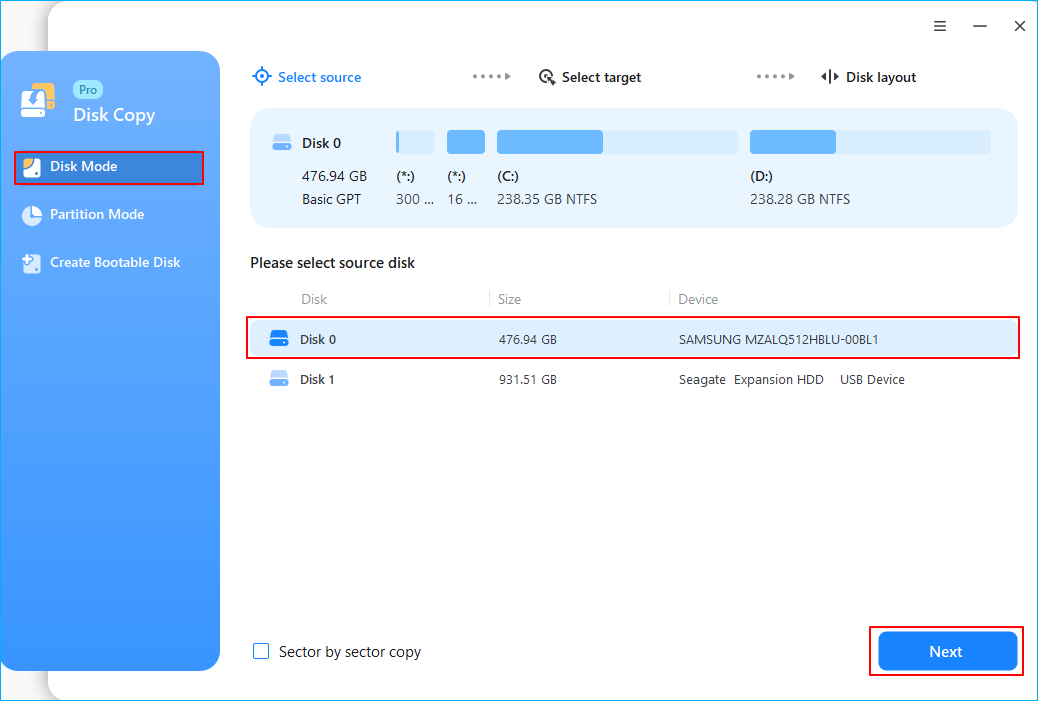 Step 2. Choose the other disk as the destination disk.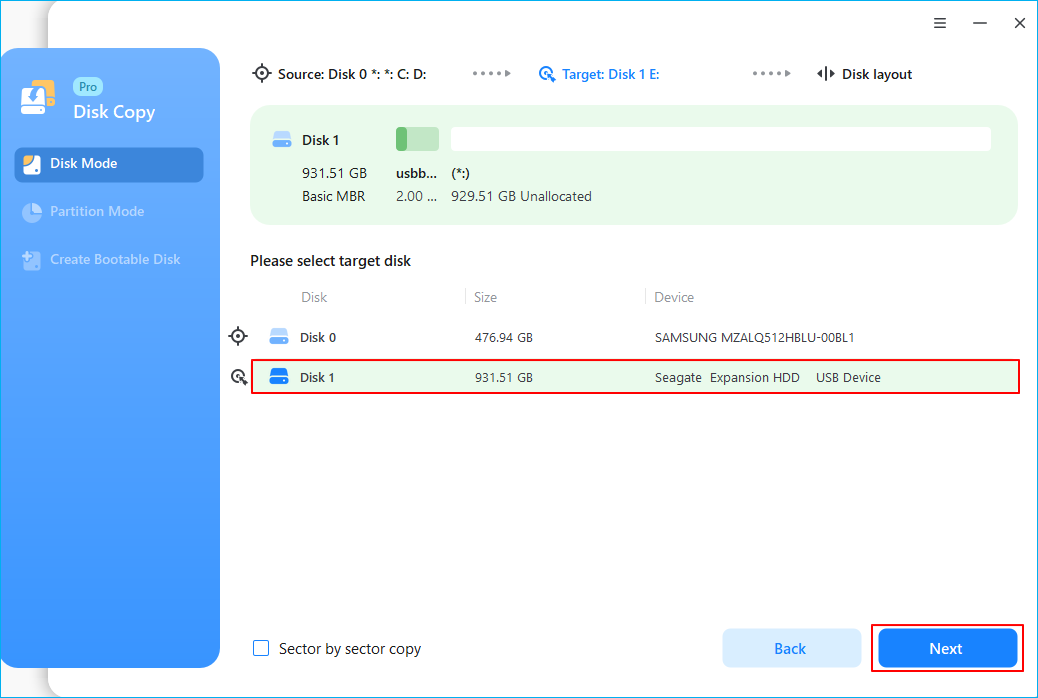 Step 3. Check the disk layout of the two disks. You can manage the disk layout of the destination disk by selecting "Autofit the disk", "Copy as the source" or "Edit disk layout".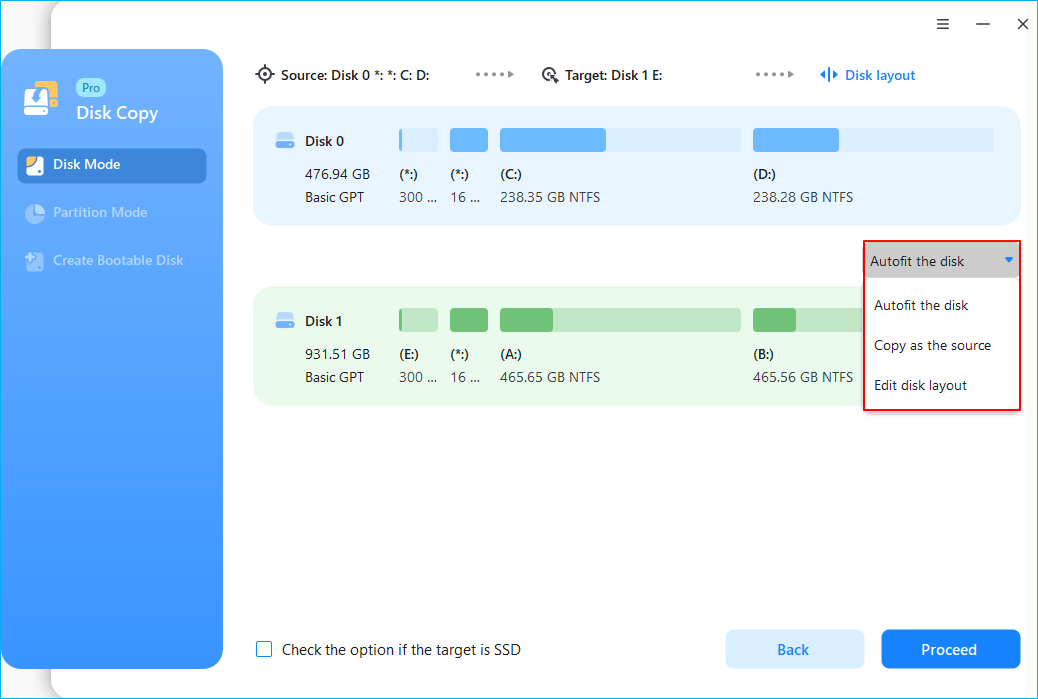 "Autofit the disk" makes some changes by default on the destination disk layout so that it can work at its best status.
"Copy as the source"does not change anything on destination disk and the layout is the same as source disk.
"Edit disk layout" allows you to manually resize/move partition layout on this destination disk.
Tick the "Check the option if the target is SSD" option to put your SSD in its best performance.
A message now appears, warning you that data will be lost. Please confirm this message by clicking "OK" and then click "Next".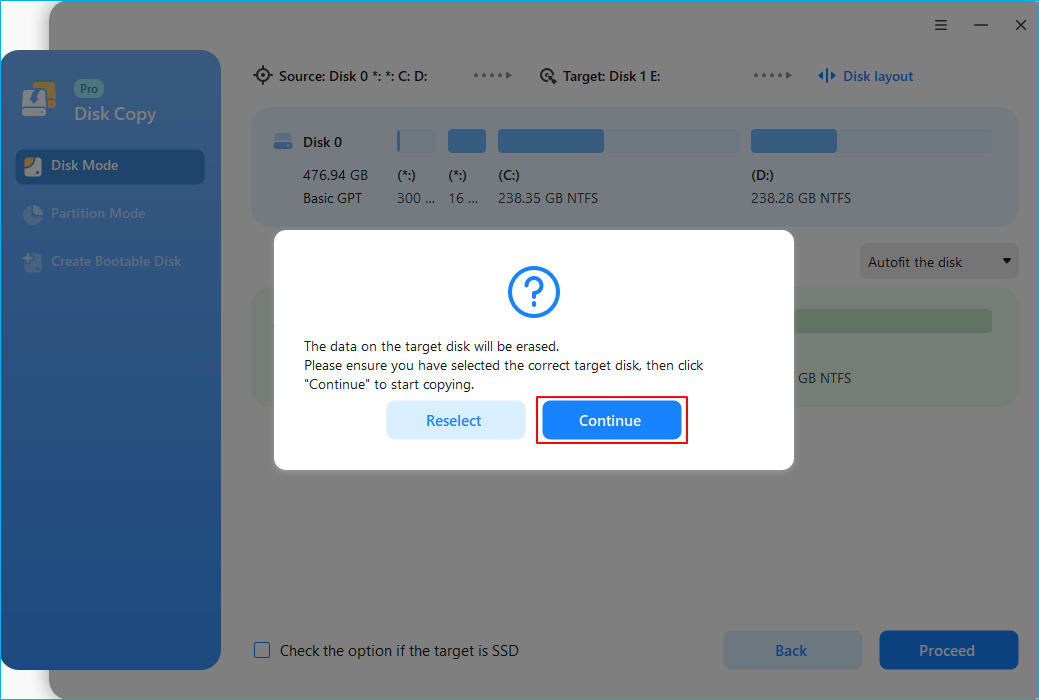 Step 4. Click "Proceed" to officially execute the task.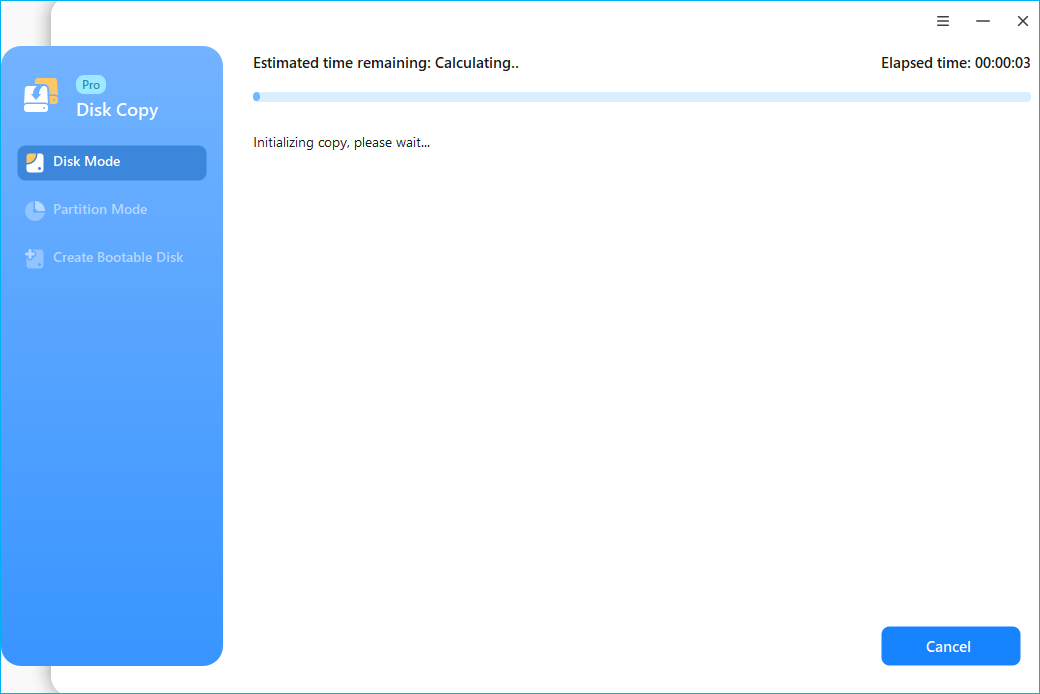 To Wrap Things Up
You fully understand how to replace laptop hard drive and reinstall operating system. This post has introduced some basic steps for changing laptop hard drive and reinstalling the system. Cloning is an option if you do not want to reinstall OS or installed programs and restore the backed-up data after replacing an old hard drive.
You can use EaseUS Disk Copy to clone the old drive to the new one to avoid the arduous process of reinstalling the operating system and applications. This cloning software lets you install Windows 7 on NVMe SSD and perform other tasks. More functions are here for you to explore and use. Just download and try it.
FAQs on How to Replace Laptop Hard Drive and Reinstall Operating System
1. Is it possible to update BIOS if laptop OS is corrupted?
You are able to boot into the backup BIOS and reflash your corrupted BIOS if your motherboard has one. It might be possible to change the BIOS chip if your motherboard lacks a backup BIOS. But, in some circumstances, replacing the motherboard can be the only choice.
2. Do I need to reinstall OS after changing hard drive?
Not necessary. If you clone your old drive to the new one, everything will be transferred to the new one, including Windows, installed applications, and personal data.
3. Can you transfer your OS to a new hard drive?
Yes, you can transfer your OS to a new hard drive. Cloning the entire system disk to the new drive is an all-in-one option for moving Windows OS, installed apps, and disk data to a larger hard drive. You will require professional disk cloning software, such as EaseUS Disk Copy, to assist you.
Was this page helpful? Your supoport is truly important to us!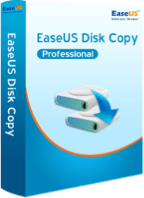 EaseUS Disk Copy
EaseUS Disk Copy is a well designed and very easy-to-use HDD/SSD cloning and migration tool, a tool which should be ideal for anyone wanting to quickly and easily migrate an existing system disk to a new disk (or newly installed SSD drive) with the minimal of configuration required.
Updated by

"I hope my articles can help solve your technical problems. If you are interested in other articles, you can check the articles at the bottom of this page, and you can also check my Facebook to get additional help."…

Read full bio