Clone failed with Macrium Reflect - read failed 13 and permission denied 32
"Hi guys, can you help me to move whole drive data or system from one drive to another one? I was planning to use Macrium Reflect to clone the disk but it failed with an error message.
When I tried Macrium to clone my disk, the system popped up these error messages to me: read failed 13, permission denied 32, disk not found, invalid argument etc. I tried again and again, still, no clone operation can be executed. If you have any good methods, please help me. Thank you."
It's no longer a new problem that users apply Macrium Reflect backup files or clone disk in Windows 10, 8 or 7 but didn't complete the task. Most of them failed for unknown reasons. If you are having the below problems while cloning disk or backup files with Macrium Reflect, just follow offered solutions here to get your problems solved now:
Read failed 13/22;
Write failed 22;
Permission denied 32;
Invalid argument;
Disk not found;
Verify file system failed;
13 broken pipe;
Failed to create volume snapshot, etc.
Quick Fix: Clone HDD/SSD with Macrium Reflect alternative software
If you are trying to find a fast and easy way to clone or backup files to new disk, you can directly apply a professional Macrium Reflect alternative software for cloning disk.
EaseUS disk clone software - Disk Copy is a reliable software for cloning disk or backing up Windows files, disk partition or even system with simple clicks. It's 100% secure and risk-free for disk cloning. You can just free download it and apply to see how to clone disk in Windows 10/8/7 to new drive now:
Note: To save your time and energy, we'd like to recommend you activate this software in advance for a smooth HDD/SSD cloning process. You can also choose to try to clone disk first and decide whether you need to activate it at the last step. You can click the below button to activate this tool at a low price now:
Note: Please activate EaseUS Disk Copy for a smooth disk copying or cloning process.
Step 1. Download, install and run EaseUS Disk Copy on your PC.
Click Disk Mode and select the source disk that you want to copy or clone. Click Next to continue.
Note: The destination disk should be at least the same big or even larger than the source disk if you want to copy or clone the source disk sector by sector.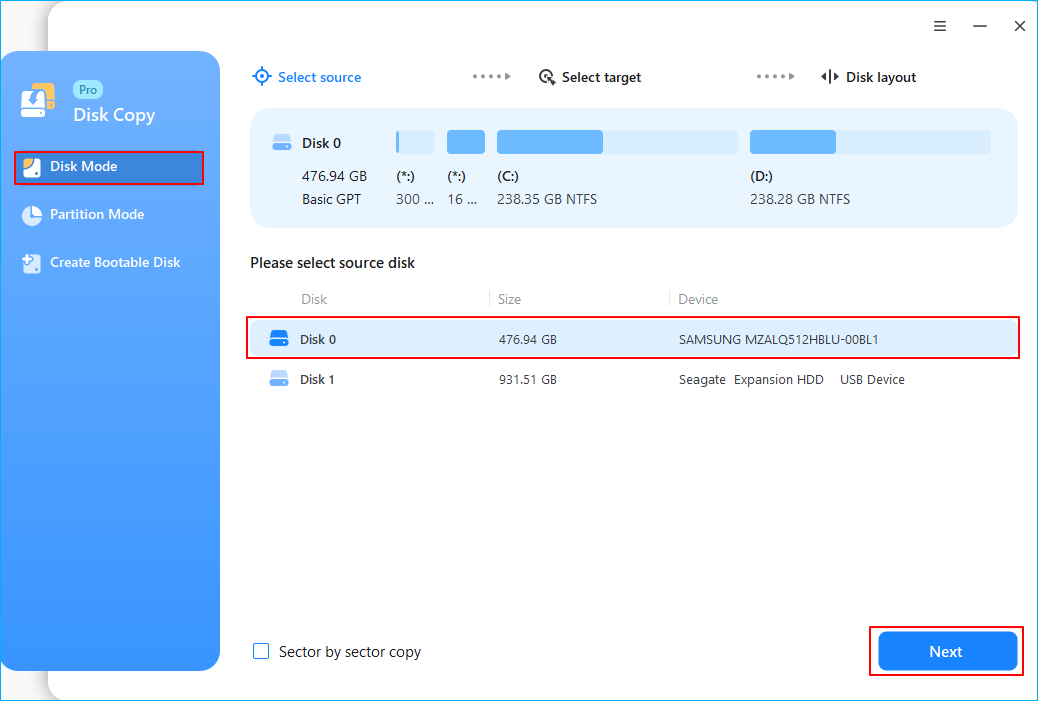 Step 2. Select the destination disk where you want to clone/copy the old disk and click Next to continue.
Click OK to confirm if the program asks to erase data on the destination disk.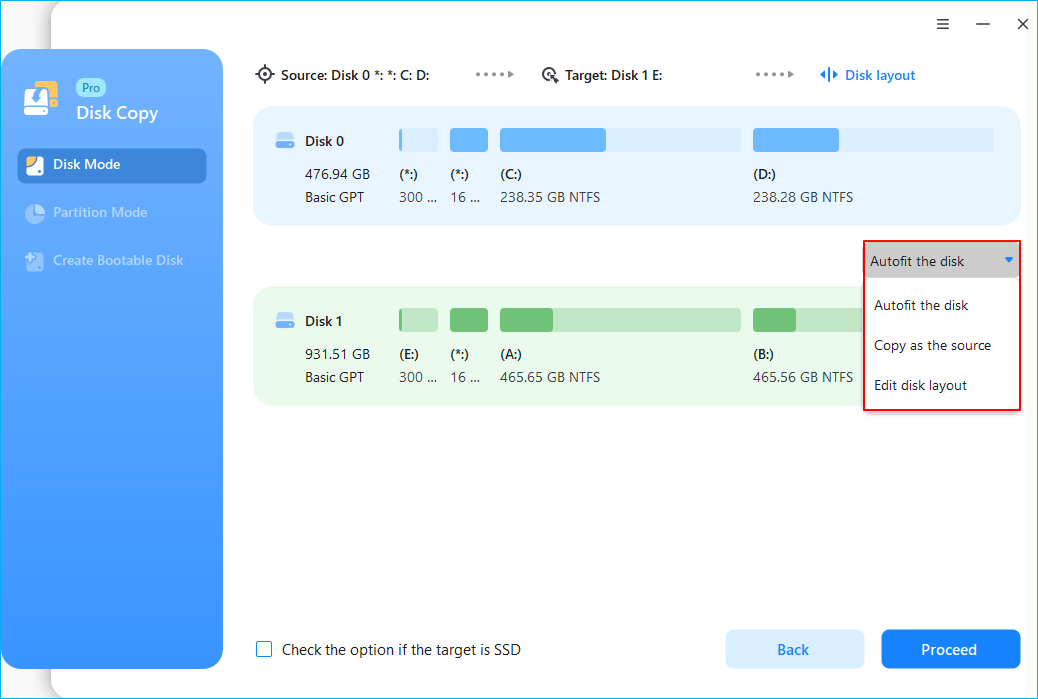 Step 3. Check and edit the disk layout as Autofit the disk, Copy as the source or Edit disk layout.
Autofit the disk is recommended.
Copy as the source option will copy/clone the same layout of partitions on your source disk to the destination disk.
Edit disk layout allows you to manually resize or move partition layout on the destination disk.
If your destination disk is an SSD drive, do remember to tick Check the option if the target is SSD.
Click Proceed to start the disk cloning or disk copying process now.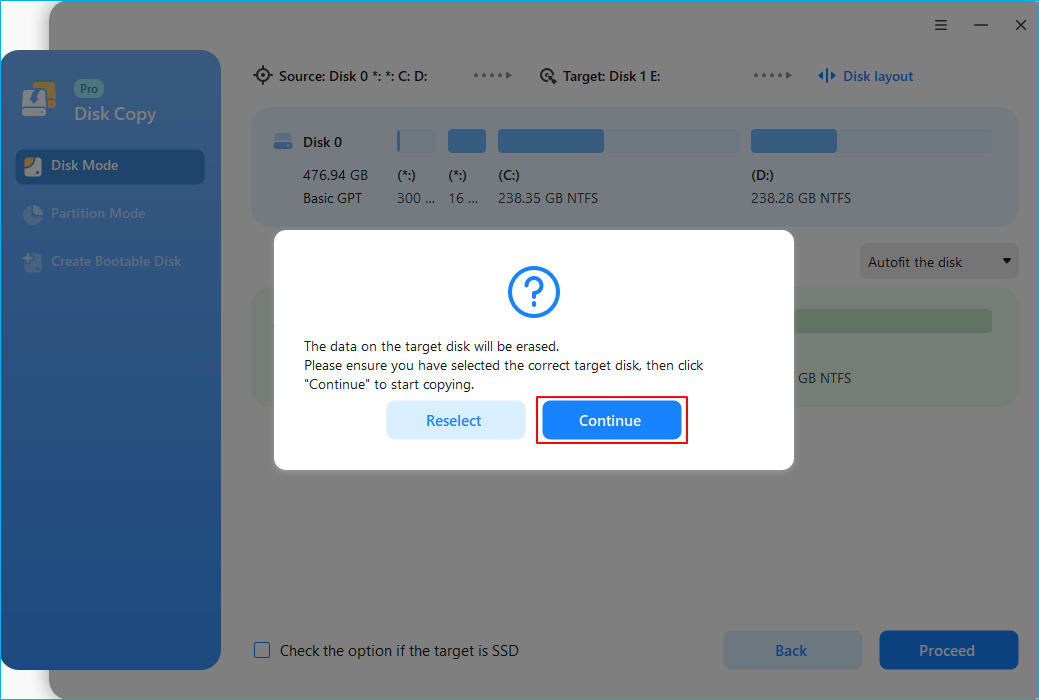 Repair and fix Macrium Reflect clone failed error
Here below are two possible methods that may work to help you repair and fix Macrium clone failed error on your PC:
Method 1. Run CMD to check and repair bad sectors and clean destination disk
1. Press Win + R to open Run dialog > Type: CMD and hit Enter to bring out Command Prompt;
2. Type: chkdsk C: /f and hit Enter; (Replace C: with the drive letter of the disk you want to clone;)
3. Type: chkdsk C: /r and hit Enter; (Replace C: with the drive letter of the disk you want to clone;)
4. Type: diskpart and hit Enter;
5. Type: list disk to show all disks connected to your computer;
6. Type: select disk (disk number) to select the destination hard drive;
7. Type: clean all and hit Enter.
After this, you can retry to clone disk on your PC again.
Method 2. Try backup rather than clone
The other tip is to try backup files rather than a clone with backup software. If the clone feature in your clone software is not working properly fine, you may try backup feature instead of the clone.
Or directly try a Macrium Reflect alternative software for help.