RAW file recovery
Data Recovery Wizard can recover files from cases of deleted, missing/lost files and corrupt or missing drive where file system is severely corrupted or destroyed.
You should use RAW file recovery option in following cases:
File system data structures of a drive have suffered serious corruption or overwriting and data recovery software cannot scan such drives.
Deleted File Recovery, Complete Recovery cannot locate missing/lost files and folders.
Files were deleted "long back" and cannot be identified because of over-writing to file system data structures.
Recently deleted files are not recovered because of severe fragmentation. This is a common problem in FAT file system drives. RAW file recovery can discover such deleted files and folders from the temporary copies created by the application software and/or the operating system.
RAW file recovery scans every sector of your storage media for the lost files that you wish to recover and displays them in a tree according to the file type. The software scans the drive in RAW mode and can locate the files without the aid of file system data structures.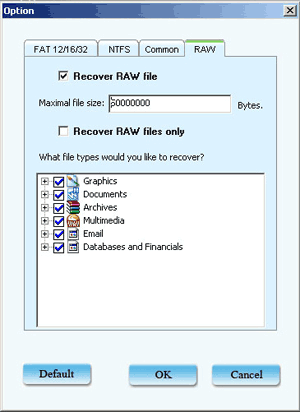 It recognizes and restores many file types. This includes word processor, document, spreadsheet, graphic, internet, multimedia, source code and many such file formats. The list of file types can be viewed and selected in the software.
Data Recovery Wizard has a tighter integration with windows operating system while scanning logical drive. The software supports FAT and NTFS file systems and a user can scan the entire logical drive or scan only in the unused disk space. All version of Windows are supported including - Windows XP, Windows 2003, Windows Vista, Windows 2008 and Windows 7, Windows 8, Windows 10.
Data Recovery Wizard RAW File Recovery can recover data from various types of storage media including:
Hard Drives
Floppy Disks
Zip Disks
USB Drives.
Limitation: Files are recovered without file names and storage paths.