Symptoms of Windows 10 Black Screen of Death (BSOD)
Windows 10's Black Screen of Death, the other infamous installation and startup issue similar to the Blue Screen of Death and the recent appearance of the Green Screen of Death, keeps users from running their operating system normally. You may encounter BSOD errors in the following ways:
1_ Black screen before login, with a cursor and a loading circle.
2_ Black screen after login, without cursor, actually nothing on the display.
3_ Black screen with some detailed error messages or error codes, and the frequently shown words are "Your PC needs to restart", and "scanning and repairing hard drive (C:)".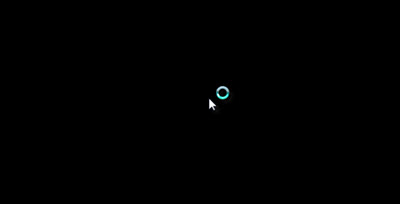 Computer Data Recovery from Windows 10 Black Screen of Death
The Windows black screen is the worst thing people can expect and it's so widely discussed that there are countless troubleshooting methods available on the web. Among all those methods, not a single page tells you how to protect data from being lost by a BSOD. This is what makes our tip special and useful. However you came to be suffering from a black screen of death, use EaseUS data recovery software with bootable media, which is designed to recover inaccessible data when your computer fails to boot.
To recover data from a Black Screen of Death, make sure that you have a CD/DVD-Recorder and a CD/DVD or USB drive which can be written to.
Step 1. Launch EaseUS Data Recovery Wizard WinPE Edition on a working computer.
Step 2. Select CD/DVD or USB drive and click "Proceed" to create a bootable media.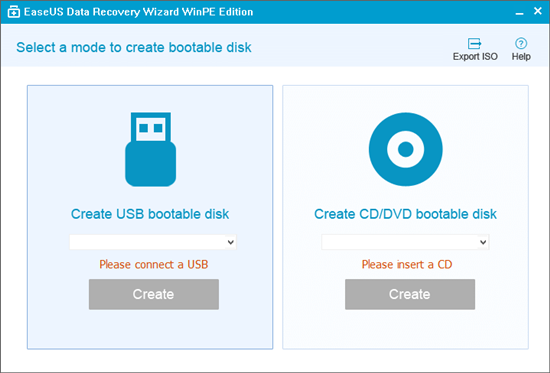 Step 3. Run the created bootable disk on the dead computer.
Step 4. Select the disk where you want to save data and click Scan.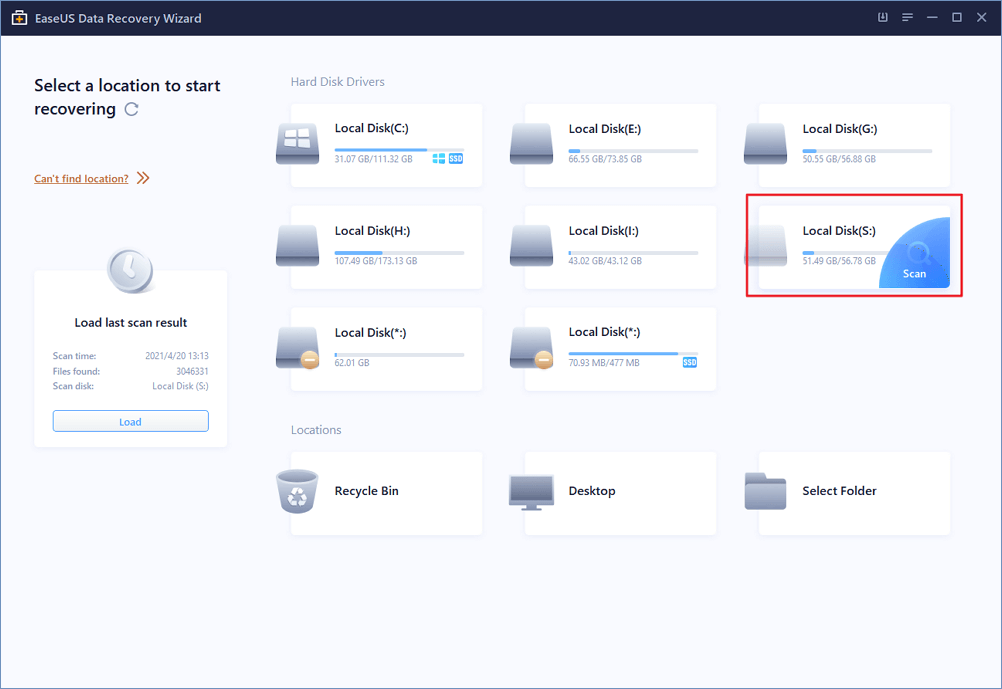 Step 5. Let the software scan the disk to find all data on the selected drive.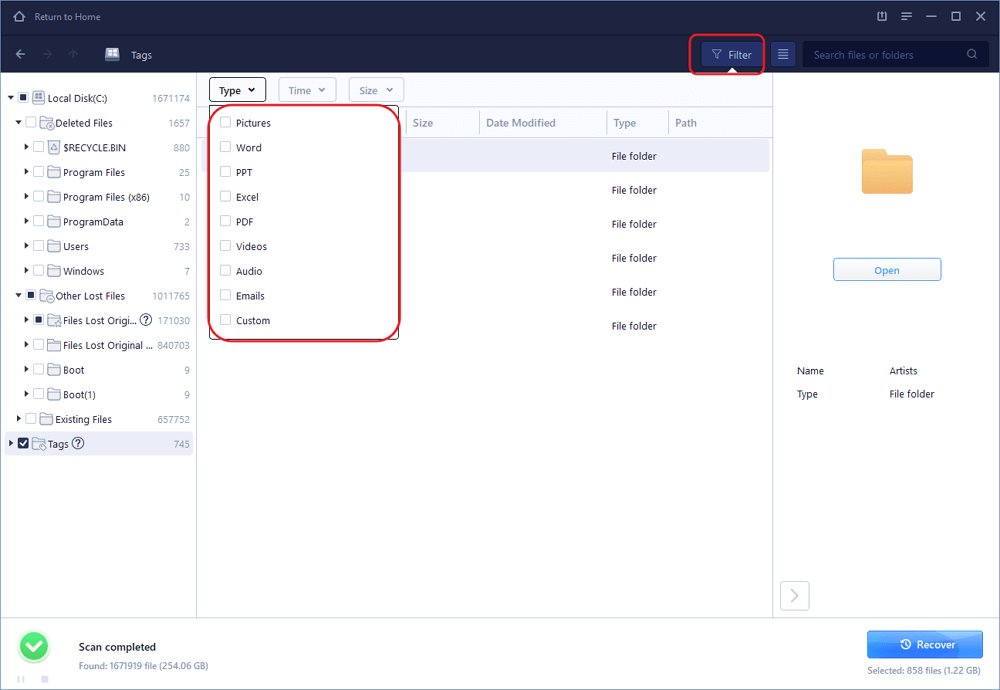 Step 6. Select all desired files and click Recover.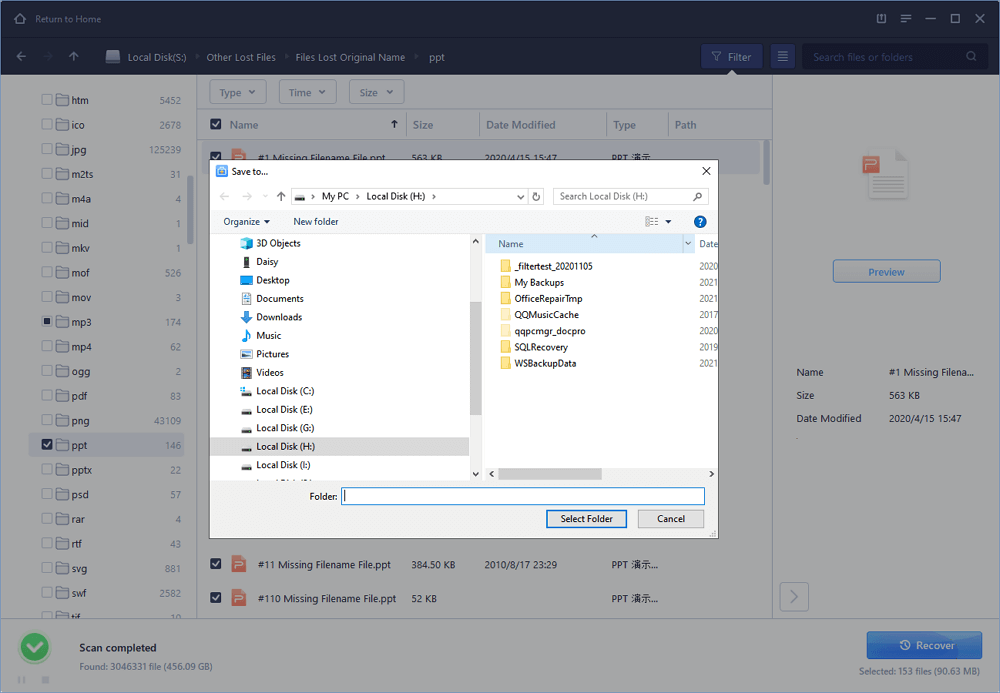 Troubleshooting Steps for Windows 10 Black Screen of Death
The causes of booting your computer into a black screen are usually a fatal system error, corrupted user account, setup is stuck, or a device driver or hardware performance issue. So, next are some corresponding resolutions, which we offer from easy (general troubleshooting) to complex (advanced troubleshooting):
General troubleshooting
1. Press Ctrl+Alt+Del to invoke the Task Manager. If it's successful, find any instances of RunOnce32.exe or RunOnce.exe under Processes and Services tabs, end task or service. Click File > Run new task, type cmd and hit Enter. On the command prompt, type shutdown -r -t 01 and hit Enter to restart your computer.
2. Unplug and remove any peripheral from the PC. It's easy to do and works for most black screen fixes. If the Windows display stays normal until the last device is disconnected, don't use it until sending it in for repair.
Advanced troubleshooting
Instead of only seeing a black screen with a cursor and a loading circle, you may be given 3 options to proceed which are: Continue to Windows 10, Troubleshoot and Shutdown.
Click Troubleshoot > Advanced Options > Startup Settings > Restart, then you'll be presented with the option to enter Safe Mode.
Press Windows key + X, navigate to Device Manager and find Display adapters, right-click the display driver and click Disable. Afterwards, restart your computer to see if the setup is working.
The Windows 10 black screen of death is a general, yet serious topic, and it is related to a number of computer malfunctions and the solutions vary. The troubleshooting measures shown above are selected to be the most diverse and widely applied by users. We hope the above tactics fix your problems. If none of them helped, you may search online to find a black screen repair tool for a quick fix.