Summary
This page offers 7 fixes for startup repair infinite loop in Windows 10, 8.1, 8 and 7, including boot into safe mode for automatic repair, run CHKDSK command to check and fix drive corruption, run bootrec command to rebuild the damaged BCD, run system restore to revert Windows to an earlier normal state, and more. If data was unfortunately erased during the troubleshooting, try EaseUS Data Recovery Wizard to recover data after formatting, deleting, PC resetting, system refreshing and more.
Stuck in Windows Automatic Startup Repair Infinite Loop
"My computer keeps running Startup Repair during every startup and I can't boot it normally. I tried running Startup Repair multiple times but I'm still getting the same problem. Startup Repair won't seriously automate repair at all. I got stuck in an infinite loop."
1 - Windows 7 Startup Repair Infinite Loop Error Details
Windows Error Recovery
Windows failed to start. A recent hardware or software change might be the cause.
If Windows files have been damaged or configured incorrectly, Startup Repair can help diagnose and fix the problem. If power was interrupted during startup, choose Start Windows Normally.
(Use the arrow keys to highlight your choice.)
Launch Startup Repair (recommended)
Start Windows Normally
Description: Fix problems that are preventing Windows from starting
Startup Repair will fail to load, launch but fail to repair, or run and claim repairs have been executed. Your PC will continue to attempt to endlessly start Startup Repair each boot. In Windows 8, Windows 8.1 and Windows 10 this is called Automatic Repair: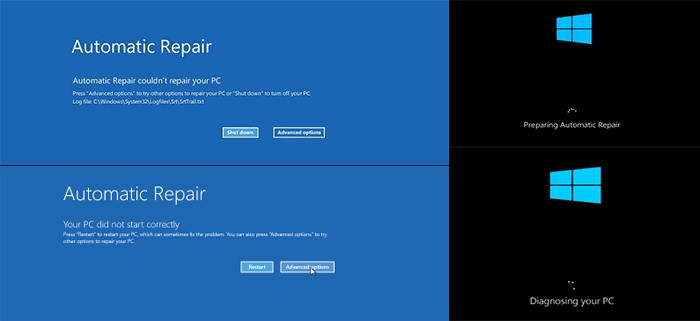 2 - Startup Repair Error Symptoms
Unexpected PC shutdown, virus, malware, driver issues, damaged BDC settings, corrupted boot partition, blue screen of death as well as a black screen of death on reboot, all those factors account for Windows startup problems.
As the 'Windows error recovery' suggests, Start Repair should automatically fix the abnormal Windows startup. However, when you choose the recommended option, you'll only confront 2 facts:
1. Startup Repair takes a fairly long time to load or launch.
2. Startup Repair immediately runs but the repairing process never finishes.
In both situations, on each reboot, your PC will continuously attempt to call Startup Repair for the fix, meanwhile, getting stuck in a Startup Repair loop that never ends
3 - Troubleshoot Windows Automatic Startup Repair Infinite Loop Error with 7 Fixes
A clean Windows installation is a guaranteed fix for Windows Startup Repair taking forever, but it costs a complete data loss. So, is there another option to recover from an infinitely looping Startup Repair without reinstalling Windows?
We gave the possible fixes from easy to complex, from safe to risky. You'd better try them sequentially.
 Important

The essential tool for most of the fixing methods:
A corresponding Windows installation media, let it be a bootable USB drive, CD or DVD disc.
People also ask:
Fix 1. Disable Automatic Startup Repair
You should try to disable automatic restart, although it could not solve the boot error, it can stop the endless restart.
Step 1. Restart your computer.
Step 2. Wait for your BIOS to complete POST (the screen with your manufacturer logo and/or system information).
Step 3. Quickly begin tapping F8 repeatedly, until you see the list of boot options.
Step 4. Choose "Disable automatic restart on system failure".
Step 5. Press "Enter" and wait for your PC to boot.
Fix 2. Run CHKDSK Command to Check and Repair Drive Errors
This helps check or even repair the drives to tackle with file system corruption.
Step 1. Boot Windows from the bootable device. (If you cannot boot, use Window 7 installation CD.)
Step 2. Navigate to "Repair your computer" option and select "Command Prompt".
Step 3. In the Command Prompt window, type chkdsk /r c: and press "Enter". (c represents the drive where Windows is installed)
Step 4. Click "Y" so that the next time the system restarts, CHKDSK utility can check the disk errors and try to fix them. Restart the system and let CHKDSK check hard drive errors and repair.
Fix 3. Run Bootrec to Fix Damaged or Corrupted BCD Settings
If the bootloader installation or configuration comes with some errors, the startup repair loop could happen as well. You could solve this error by following the steps below.
Step 1. In the same way to open Command Prompt as the second fix did.
Step 2. In the Command Prompt window, type those following commands and press "Enter".
Step 3. Restart the system and let bootrec repair MBR.
Fix 4. Perform System Restore
The System Protection is enabled by default, you can use it to restore your computer to an earlier state to fix your problem.
Step 1. Boot Windows from the bootable device.
Step 2. Click "Troubleshoot > System Restore".
Step 3. Follow the wizard instructions to continue the process. Choose a restore point before the date when the Automatic Startup Repair loop error happened.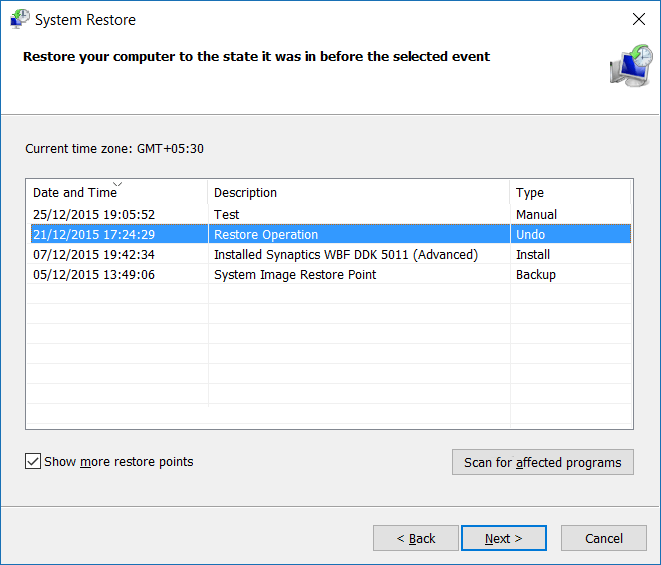 Fix 5. Delete the Problematic File
Step 1. Access Command Prompt again and enter the following command:
Step 2. Then, you could see "Boot critical file c:\windows\system32\drivers\tmel.sys is corrupt." Type the following command:
Restart your PC. If these steps can not help, try the following troubleshooting steps.
Fix 6. Restore Windows Registry
Step 1. In the Windows Boot Options menu, choose "Troubleshoot >Advanced Options>Command Prompt".
Step 2. In Command Prompt, type the following command in Command Prompt and then hit "Enter".
Change your drive letter according to your needs.
Step 3. Type txt to open the file in notepad.
Step 4. Press "Ctrl + O". Select "All files" from file type and navigate to C:\windows\system32.
Step 5. Right-click CMD and select "Run as administrator". Type the following command and press "Enter".
Step 6. Backup those files by renaming Default, Software, SAM, System and Security files to .bak. Type the following command one by one and hit "Enter":
Step 7. Restart your PC to check if you have solved the error.
Fix 7. Check Device Partition and Osdevice Partition
Sometimes, if your device partition values aren't correct, you will get stuck in the startup repair loop. Follow the steps below to check device partition and osdevice partition and fix your error.
Step 1. In Command Prompt, type bcdedit and press "enter".
Step 2. Find device partition and osdevice partition values. Make sure their values are correct and set to correct partition.
Windows is preinstalled on C partition only, and the correct value is C. Enter the following commands and press "Enter" after each one if the value isn't set to C.
After that, reboot PC and fix the Windows startup repair loop.
How to Recover Data After Fixing Startup Repair Infinite Loop
Besides a clean install of the Windows operating system, the fixes for users to get rid of an endless startup repair loop including system restore and PC factory resetting will also result in part of computer data loss.
It's not the end of the day and a third-party data recovery tool perhaps can salvage your data. For example, EaseUS Data Recovery Wizard is able to recover data after formatting, deleting, PC resetting, system refreshing and more. And You deserve a try for its data recovery software and see if the software really helps find your lost data.
Step 1. Select a partition. Open EaseUS Data Recovery Wizard, and you can view all of the drives. Select the target partition and click the "Scan" button to start.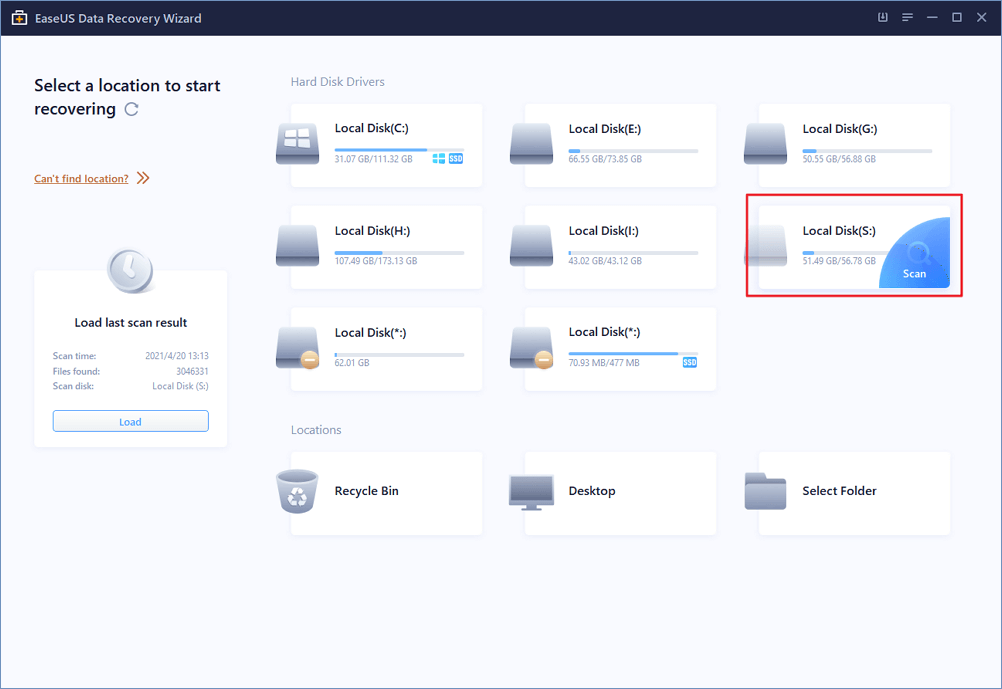 Step 2. Scan the partition. Once you click the "Scan" button, the process begins immediately. The time required varies, mainly depending on file size and disk health.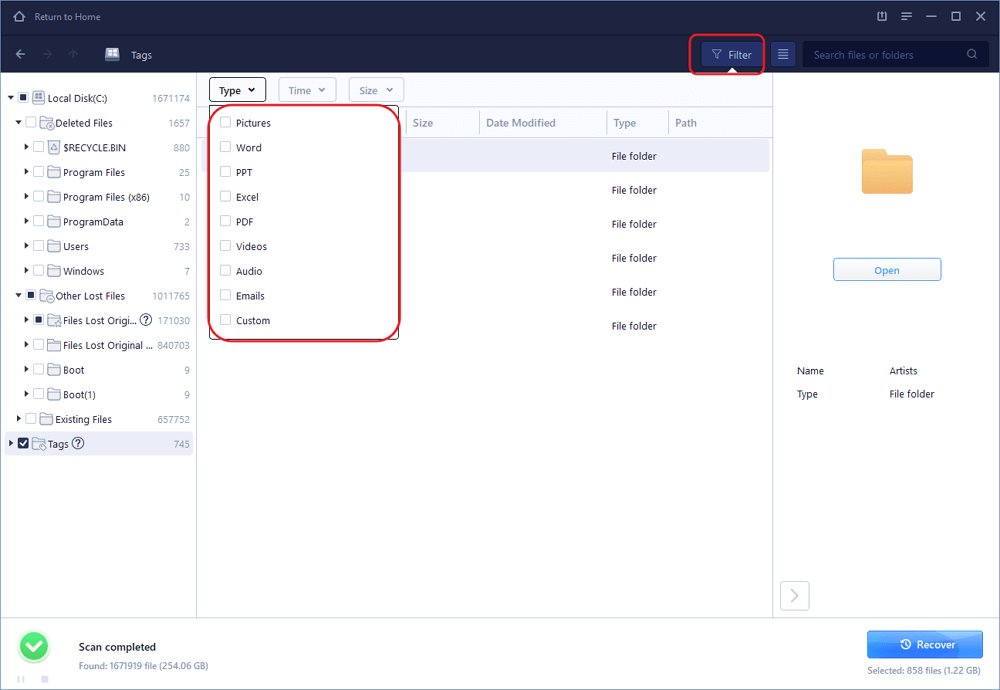 Step 3. Recover the lost data. Before recovery, you can right-click the object file, and choose to preview first. Then, click the "Recover" button as long as you have selected the wanted files. You need to save the recovered files to another safe place to avoid data overwriting.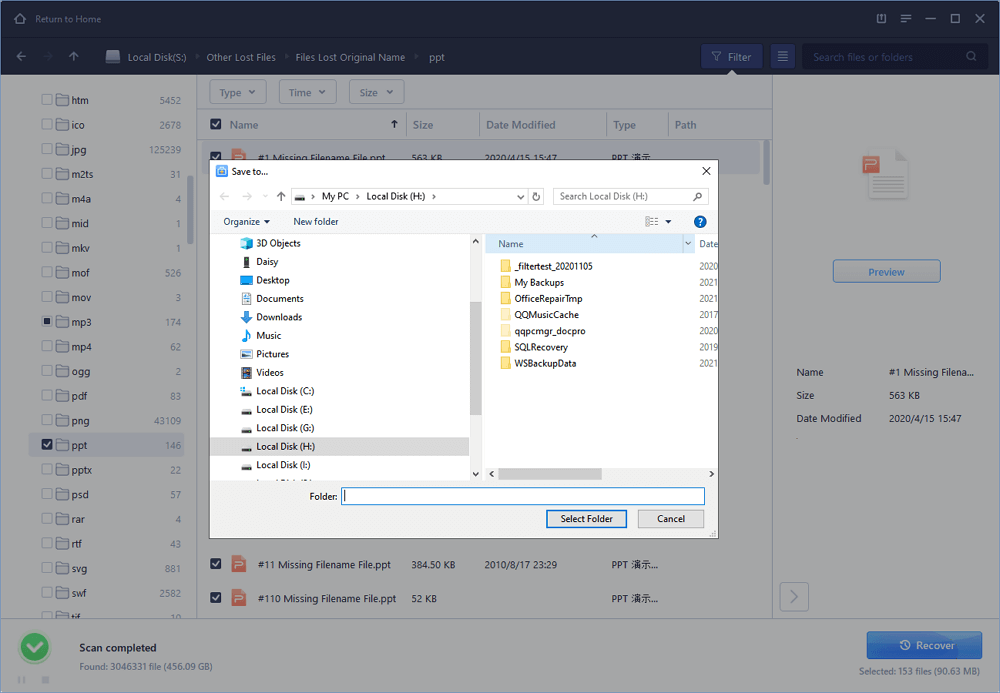 You get 7 ways to get rid of the Startup Repair Windows 7 loop, no matter whether you have an installation disc or not. Don't worry if the windows 7/8/10 startup repair is taking forever and you cannot stop or cancel it. Also, you can get back lost data after you have fixed the error with EaseUS data recovery software.
100% of people found this article helpful.
Frequently Asked Questions
1. Why choose EaseUS Data Recovery Wizard?

"EaseUS Data Recovery Wizard is the best we've seen. It's far from perfect, partly because today's advanced disk technology makes data-recovery more difficult than it was with the simpler technology of the past, but it's fast and efficient..." —PCMag

"The first thing you'll notice about EaseUS Data Recovery Wizard Pro is that its interface is very clear and uncluttered, with only a small collection of self-explanatory controls. You won't find lots of extra options hidden in a system of hidden menus, either; what you see really is what you get." —techradar

"Recover lost files, even after deleting a partition or formatting your drive." —Macworld
2. Why cannot I recover 2GB data for free?

It is recommended to check the version installed is Free or Trial because they are different versions.

Trial has data preview function but cannot save any files, while the Free version enables to recover 2 GB files. The default free space is 500 MB and you may share the product on social media to get another 1.5 GB.
3. Why cannot the recovered files be opened?

A file is saved as 2 parts on the storage device: directory info (which is comprised by file name, time stamp and size info, etc.) and data content.

If the files with original file names and folder structures cannot be opened, one possible reason is the corrupted directory info. There is still a chance to recover the data content with the RAW Recovery method in our software.
4. Why isn't it suggested to recover the files back to the original drive?

The storage structure of the lost files would be altered or damaged by any changes on the drive. If you save the recovered files back to the same drive, the original data structures and data content would be corrupted or overwritten, which causes permanent data loss. So you should prepare another disk to save the files.
5. How can I check whether my data is recoverable or not before purchase?

The Free version helps you save 2GB files to better verify the recovery quality of our product before purchase.
6. How long does it take to scan the drive?

It strongly depends on the capacity of your hard drive and the performance of your computer. As reference,most drive recoveries can be completed in around 10 to 12 hours for a 1-TB healthy hard drive in general conditions.
About Data Recovery Wizard
It's super easy to recover 250+ types of files after deletion, disk formatting and virus infection. Click the links and compare the difference of each version.