Taking photos with a digital camera becomes a part of our daily life now. Most of the digital photos are of great value for us. It must be terrible for anyone who carelessly deletes digital photos/pictures that presents the precious memories of friends and family. Luckily, it's possible to get the deleted photos back using the free digital photo recovery software: EaseUS Data Recovery Wizard Free Edition.
How to Choose the Right Data Recovery Software
If you are looking for a good photo recovery software, you first need to check the supported file types of it and then see if it is compatible with your memory card or not. Most of the Photo Recovery Software available in the market support the most popular memory cards used for various digital camera brands like Sony, Kodak, Nikon, Panasonic, Canon, Fuji, Olympus, and Sigma, etc. Photo Recovery Software is capable of recovering deleted/lost photos from memory stick, flash cards, digital cards, MMC Cards, SD Cards and mini disks.
There are many different photo/picture undeleting tools. They use different techniques to get deleted photos back. Among these tools, EaseUS Data Recovery Wizard Free Edition can easily and quickly undelete photos from USB flash drive, hard disk, memory card, and other storage devices.
How to use EaseUS Data Recovery Wizard to Recover Photos
EaseUS Data Recovery Wizard has three recovery models. The following is a step-by-step guide to undelete photos with it.
First, get to know some useful features when you recover deleted pictures:
Filter: it provides a quick way to wanted files. To find wanted pictures, choose "Graphics" in the Filter list.
Search: search for an exact file name or file type. For example, type .png, .jpg, .jpeg, .tif, etc. in the search box to search for the specific types of pictures.
Second, follow a detailed guide to recover deleted pictures:
Step 1: Choose a location.
Choose the drive with the correct drive letter (it can be a local disk or an external device) and click the Scan button.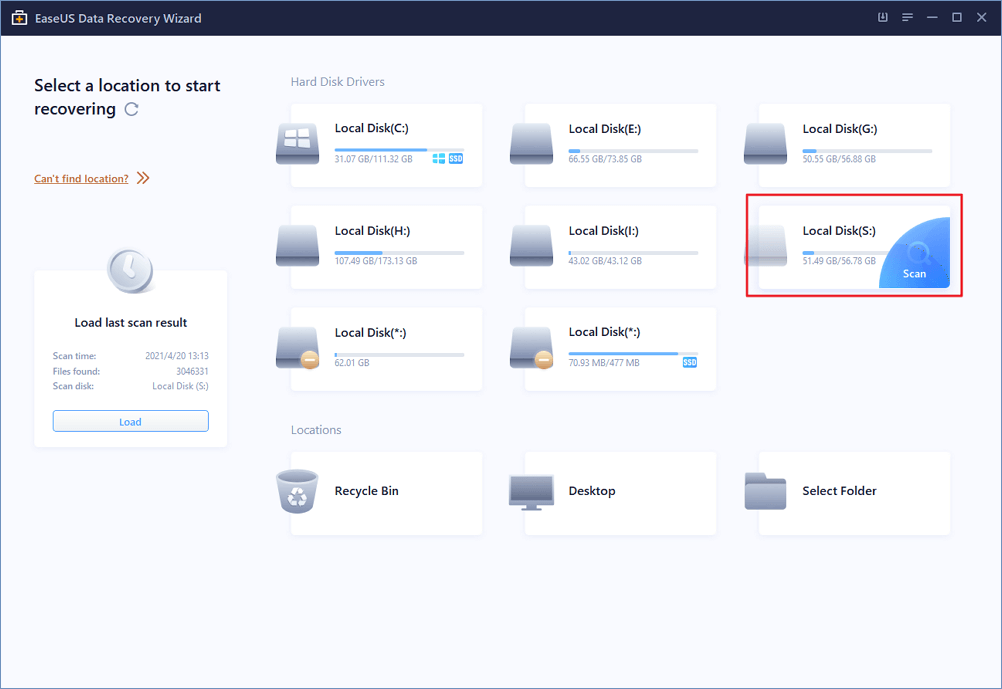 Step 2: Scan the lost data.
It won't take long for EaseUS Data Recovery Wizard to find deleted contents on the selected drive. Soon, the "Deleted files" result comes out. After the scan is over, there are many scan results showing up under different categories.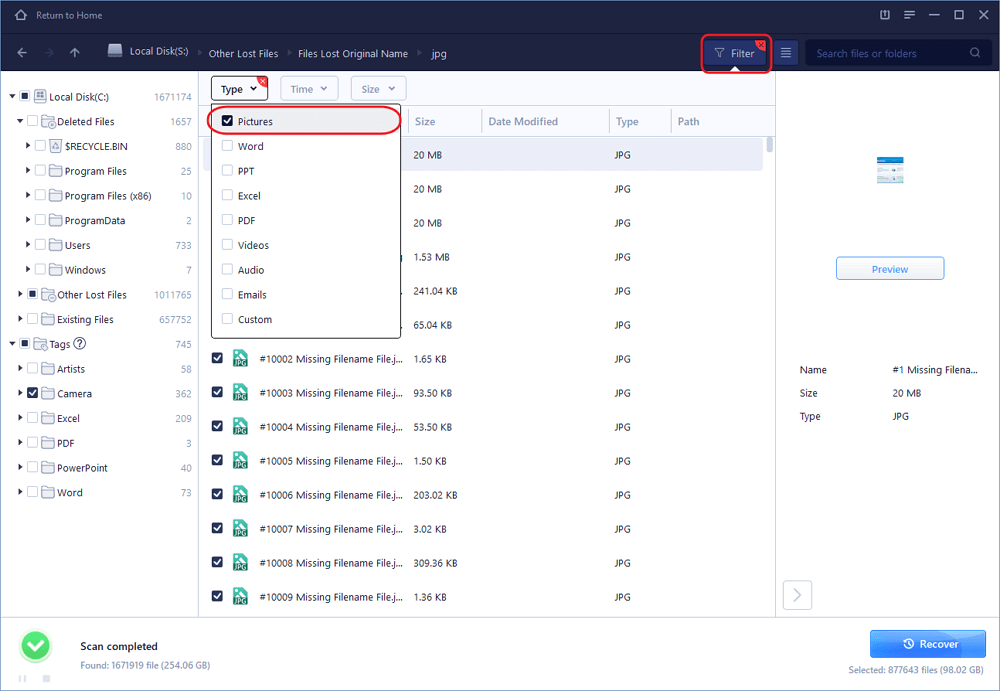 Step 3: Filter pictures and recover.