"Hello, I deleted a mail sent by my friend last year.....
I felt very bad for deleting that mail.I was trying to recover tat mail for past 6 or 7 months.....
Still i dint get any idea to get tat back. Any one here to help me for getting back that mail
Will u please help this friend"
Email recovery
Email Communication is now becoming the most popular medium of communication. Many firms & businesses carry their regular operations through Emails, if these emails get corrupted; such firms have to face many hardships, and need email recovery software or tools to solve such dire problems. Microsoft Outlook and Outlook Express are the most famous email clients that have ever been developed worldwide.
Complete integration of email, calendaring, and contact management, makes Outlook the perfect client for many business users. Despite the large installation base of these email clients due to popularity of Windows, they have not been able to eradicate common problems, which cause corruption with the email databases storage files of these two email
Ways to perform email recovery
As with files on a hard drive, when a message is deleted from a folder it is not physically erased. The data is just marked as having been deleted, so the email program doesn't display it. The deleted email does not get overwritten until the mail program tidies up or compacts its database. Therefore, a window of opportunity of uncertain duration, during which it is possible to recover deleted emails intact.
Recovering deleted emails requires different tools to those needed to recover deleted files. Individual emails are not stored as separate files by most email programs. Usually, an entire email folder such as your Inbox is one single file. Each email folder used by your email program is a database file that contains all the emails. In the case of Microsoft Outlook, the database file (PST file, for Personal STorage) also contains other data, such as your contacts and appointments.
Depending on different ways of how and how long you've deleted or lost Emails on Outlook or Outlook Express, the ways to recover deleted or lost emails are quite different. You may follow below offered ways to recover deleted or lost Outlook emails on your own now:
Method 1. Recover deleted/removed Emails from Deleted Item folder in 10 days
When you delete an email in an email program, it is usually moved to a Deleted Items folder (as in Outlook Express) or similar. The Deleted Items folder is like a Recycle Bin for emails, and gives you a chance of restoring messages deleted in haste or in error within 10 days.
Let's see how to recover deleted/removed emails from Deleted Items folder now:
Step 1. Login Outlook with your account, go to your email folder list and click Deleted Items at the left pane;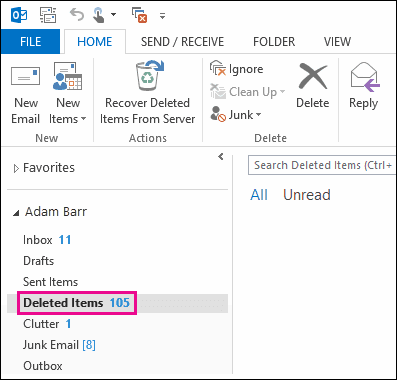 Step 2. Find the exact email or messages, right-click on them and select Move > Other Folder;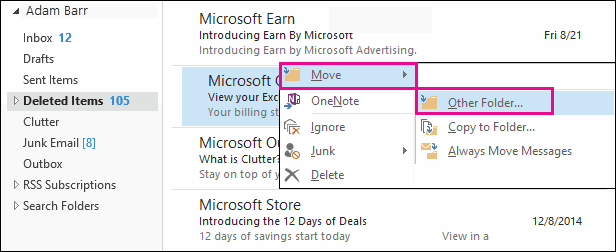 Step 3. Select Index to move email and messages to your index box, click OK to complete the recovery process.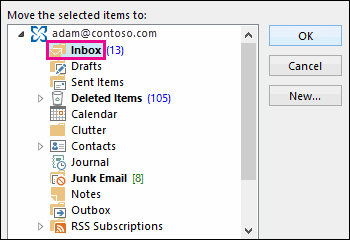 Note: Outlook Express has an option to clear the contents of the Deleted Items folder whenever you close the program. If you've enabled that setting, you'll be out of luck recovering email from Deleted Items unless you do it straight away. Method 3 will be your last shot.
Method 2. Recover permanently deleted emails within 30 days
When an email is moved from Deleted Items, what happens is that the message is copied to another folder - Recoverable Item and then deleted from the first. And the deleted emails will be kept there within 30 days. Therefore, if you've cleaned the Deleted Items folder, you can still recover permanently deleted emails from Recoverable Item folder:
Step 1. Login Outlook with your account, go to your email folder list and click Deleted Items;
Step 2. Tab on HOME and click on Recover Deleted Items From Server;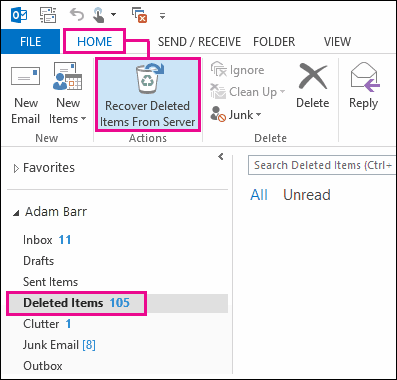 Step 3. Select the item you want to recover and click Restore Selected Items, then click OK to finish.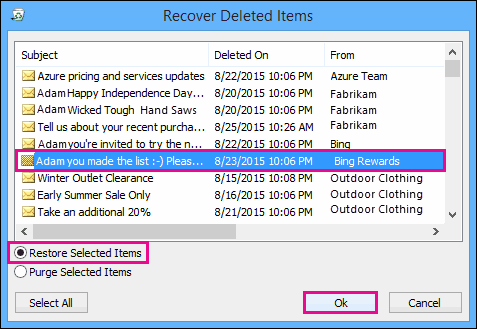 Method 3. Restore lost emails with email recovery freeware after 30 days
If you've lost the emails after 30 days, relax! Professional email recovery software will help you fix this issue with ease.
EaseUS Email Recovery Wizard is an advanced tool to recover lost and deleted emails, folders, calendars, appointments, meeting requests, contacts, tasks, task requests, journals, notes and attachments from corrupted .pst file. It is safe and read only utility which reads the lost/deleted mail items without modifying the existing content and restores the lost data into a new file. It can recover mail items from MS-Outlook 2010, 2007, 2003, 2002/XP, 2000, 98 and 97.