"I kept a great many of Messi's pictures on the 2018 FIFA World Cup event and some fantastic video recordings as well. This morning I connected the camcorder SD card to my computer to have a look, suddenly the computer stopped working and restarted itself. Guess what, all photos and videos disappeared from the SD card, and I searched everywhere but found nothing! What's going on there? I need to get my data back."
Never worry about losing the recordings of your favorite football games and memorable matches between two strong teams. The World Cup international football tournament happens every four years; it's worth trying every means to rescue the lost recordings, photos, and videos which you want to keep forever in your mind.
It can be 100% safe and secure to use EaseUS data recovery solutions (Windows OS, Mac OS X, iOS and Android are all covered) to recover lost World Cup events you recorded on any data storage devices. Next, we're going to detail each method.
Method 1. EaseUS Data Recovery Wizard (Over 80% of Football Fans Apply This Solution)
Applies to: Videos and pictures are recorded on a camera/camcorder with an SD card, a DVR hard drive or other external hard drives.
You need to perform data recovery on a PC or a Mac.
First, download EaseUS hard drive recovery software on a Windows PC or EaseUS Mac drive recovery software on a Mac.
Second, take out the SD card or HDD from the device you're using to record the games or take pictures, and use the proper way to connect it to your computer.
Third, run software to scan and find the lost football games recordings.
Stop using your SD card immediately once you lost files on it. Continuing using the card would hugely increase the chance of data overwriting, which makes data unrecoverable.
Step 1: Connect the SD card to PC
Insert the SD card to a card reader, and connect the card reader with your SD card to a healthy computer.
Step 2: Run SD card recovery software and scan the card.
Launch EaseUS Data Recovery Wizard on your PC and select your SD card under the External Devices column.
Then click Scan to start finding lost data on your SD card now.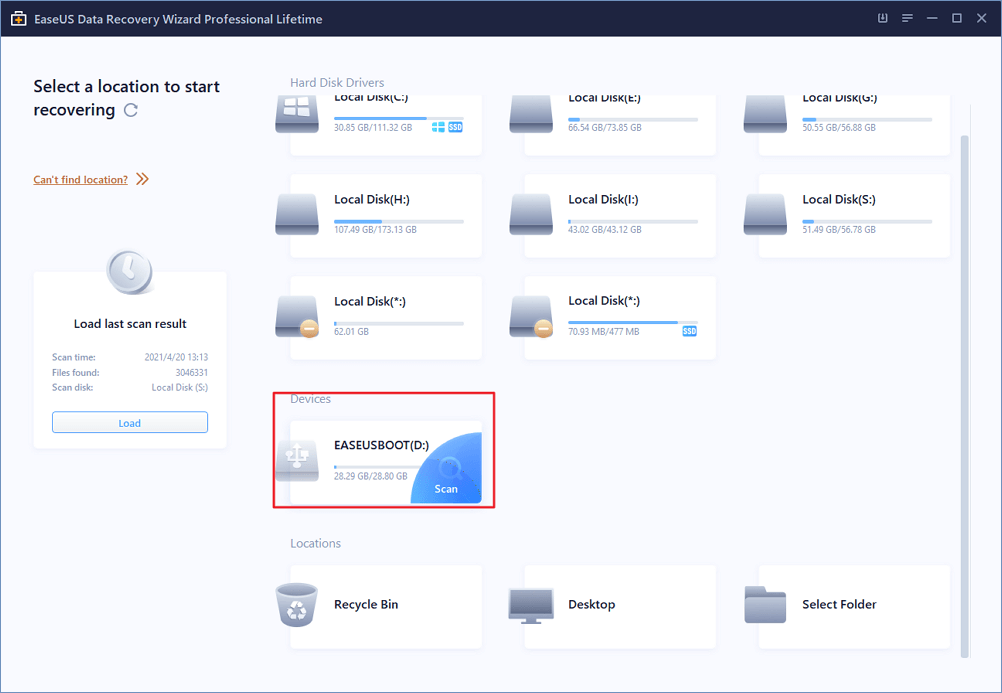 Step 3: Check found SD card data.
After the scanning process, you can preview and find your lost SD card files from below listed tabs:
Deleted Files: List your deleted files there.
Drive X: All lost files can be found here.
Lost Partition Files: Check first if it's for formatted recovery.
Extra Files: Finds files that lost names or paths.
And you can use Filter and Search to quickly find your files.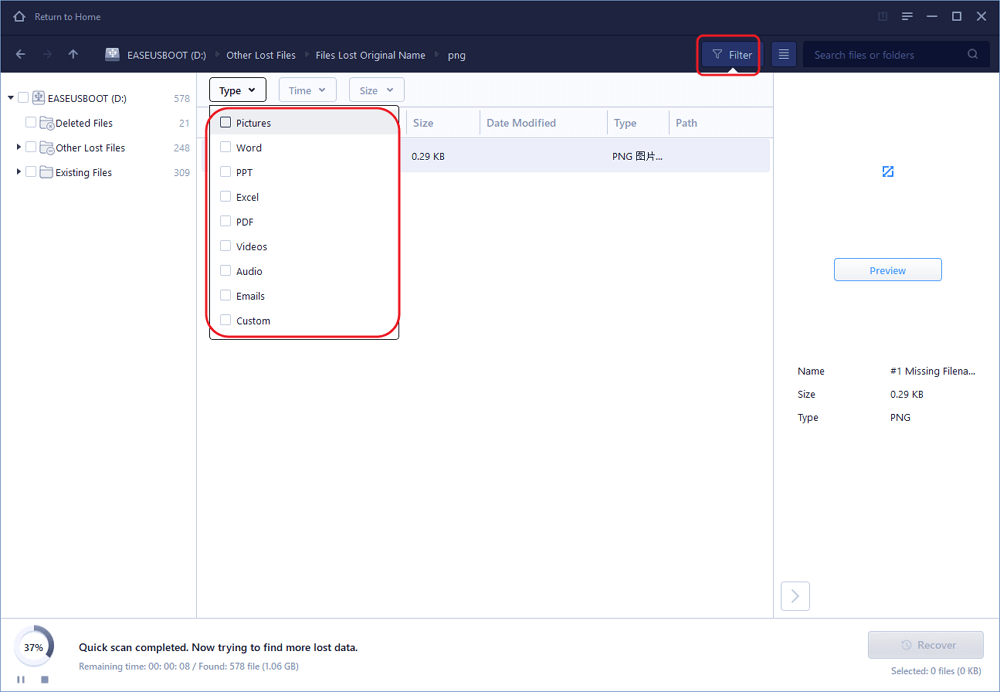 Step 4: Restore SD card data.
You can check and preview found files by double-clicking each one of them.
Then click Recover to save found SD card files to a secure location on your PC or an external storage.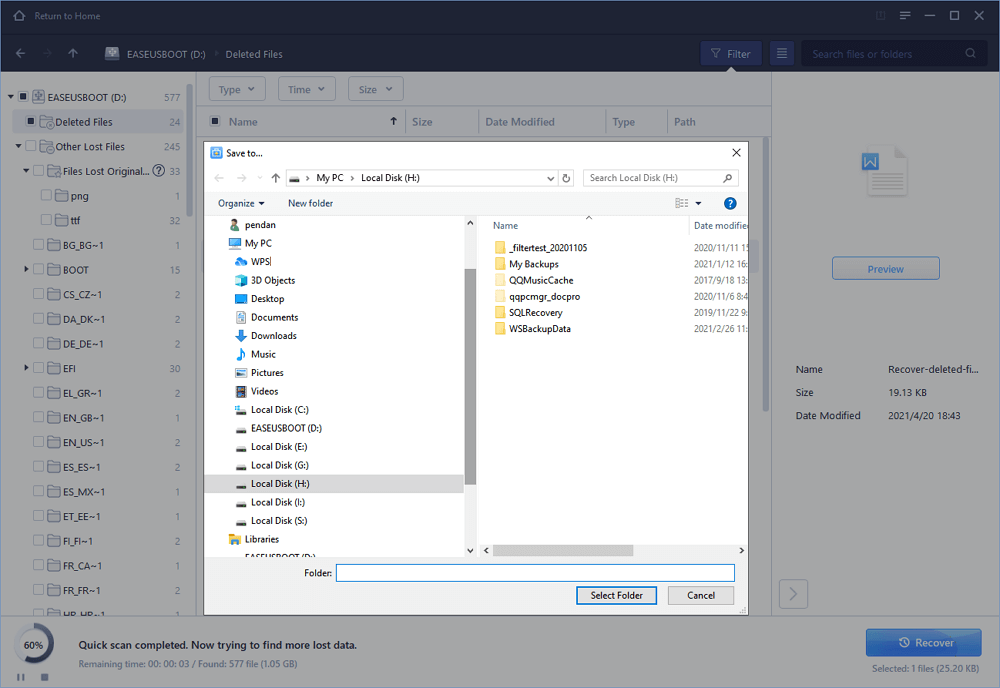 A tip for you: choose a different storage location when trying to export the recoverable files instead of the original place, to avoid data overwriting that causes data recovery failure.
While on a Mac computer, follow the guide on this linked page: How to recover deleted pictures on Mac OS X?
Method 2. EaseUS MobiSaver
Applies to: Your recordings are on an iPhone, iPad or iPod and waiting for an instant recovery. This time it's the EaseUS iPhone data recovery software that helps recover deleted photos from iPhone.
You need to perform data recovery on a PC or a Mac, too.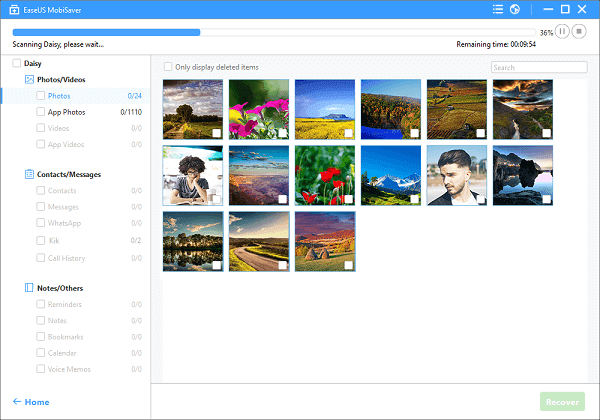 Method 3. EaseUS MobiSaver for Android
Applies to: Yes, you need EaseUS MobiSaver for Android when it's the Android smartphone or tablet where you lost the valuable photos and downloaded games.
Only the Windows version is available. You can only recover Android photos & videos on a Windows PC.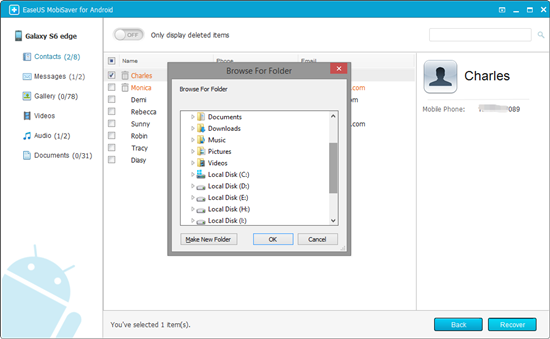 However, it's also the only version that offers an App version, which means you can recover photos & videos on Android without a computer.