Fail to restore all iCloud backups after iOS 9.3.3 update
"Hey guys, have you ever met the same or similar problem as me that I found that some of my iCloud backup data cannot be restored to my iPhone. Yesterday, I updated my iPhone into the iOS 9.3.3 version with an iCloud backup. I backed up all my personal data into the iCloud before updating to iOS 9.3.3. After the updating, I tried to restore the backups to my iPhone but it turned out that some text messages and contact numbers cannot be all restored. Do you know how to fix this problem?"
"Do you now how to extract the iCloud backups to iPhone? I updated iPhone to iOS 9.3.3, but the iCloud seems now willing to let me restore all my backups, help!"
Similar problems for unable to extract or restore all iCloud backups happen regularly and it's no longer a new problem. But this may cause inconvenience to iOS device users. Here the below you'll find effective methods to fix this problem.
Method 1. Extract or restore iCloud backup data to iDevice after iOS 9.3.3 update
This method is the basic tutorial steps for iPhone/iPad/iPod users to extract their iCloud backups to their devices. If you are not quit clear about how to restore iCloud backups after iOS 9.3.3 update, you can follow below steps to do it now:
1. Turn on your iOS device.
2. In the Setup Assistant, proceed to "Set up your device", tap Restore from a Backup, then sign in to iCloud.
3. Proceed to "Choose backup" ,then choose from a list of available backups in iCloud.
Usually, all iCloud backups can be restored back to the iDevices be following the above steps. But if you find that the text message, contacts or notes fail to be restored. You'll need other method. Here we recommend you to try iOS data recovery software to fix such a problem.
Method 2. Restore all iCloud backups after iOS 9.3.3 update with EaseUS MobiSaver
EaseUS MobiSaver, produced by EaseUS, servers users as iPhone data recovery software to help iPhone, iPad or iPod users to restore lost data from iOS device, iTunes or iCloud backups. Users can directly extract all iCloud backups to PC with the iCloud recovery feature in EaseUS MobiSaver.
EaseUS MobiSaver can solve your case when you lost data or fail to restore data from iOS device, iTunes or iCloud. And all iOS including iOS 9.3.3/9.3.2/9.3/iOS 9.2 or early system are all supported. You can download and try to restore all iCloud backups to PC after iOS 9.3.3 update now:
Step 1. Download and launch EaseUS MobiSaver on your PC. Connect your iDevice with it.
Choose recovery mode: "Recover from iCloud Backup" and sign in iCloud.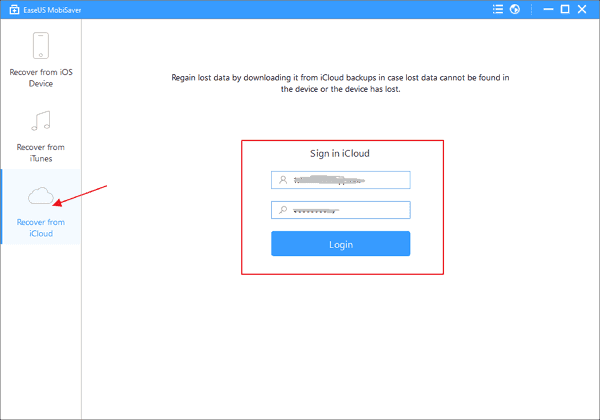 Step 2. Scan the iCloud to find all the data.
Select your iCloud backup file and wait patiently until the app find & display all your data after finished scanning the iCloud.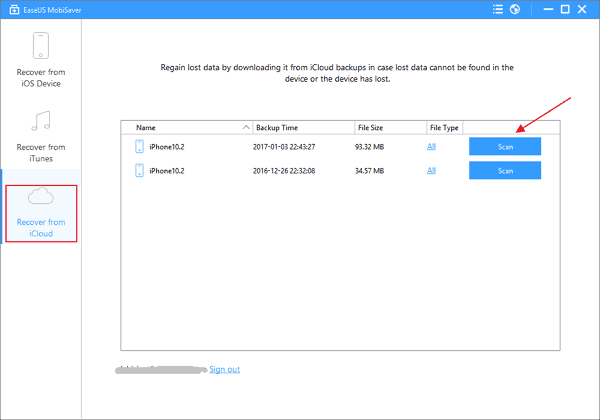 Step 3. Preview and export found data from iCloud to PC
Click the correct file type on the left side to preview all the files one by one.
Mark the files that you want and click "Recover" button to get all of them back once.
Specify a folder on the computer to save all the data to your PC.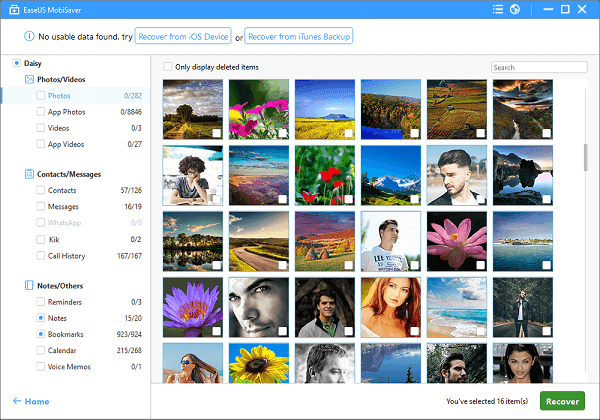 After restoring iCloud backups to PC, you can then import those data into your iDevice and reuse them again.