What Is A Computer Crash
A crash occurs when a computer program such as a software application or an operating system stops functioning properly and exits. The program responsible may appear to hang until a crash reporting service reports the crash and any details relating to it.
Most crashes are the result of executing invalid machine instructions. Typical crashes include:
An application typically crashes when it performs an operation that is not allowed by the operating system.
The software running the web server behind a website may crash, rendering it inaccessible entirely or providing only an error message instead of normal content.
An operating system crash commonly occurs when a hardware exception occurs that cannot be handled. Operating system crashes can also occur when internal sanity-checking logic within the operating system detects that the operating system has lost its internal self-consistency.
Many factors may result in a system crash. It is not deniable that every PC user may experience this nightmare. You cannot prevent the viruses or other system intruders to avoid it. At this moment, data recovery after a system crash becomes the most urgent thing.
System Crashed How to Recover Files from Hard Drive
When your system crashed, you need to do two things to protect your data and fix the problem. First, recover data from the HDD. Second, fix the crashed system as soon as possible.
1. Recover Data from the Hard Drive
You can connect the HDD to a working computer to recover data.
Take out your hard drive.
Connect the crashed hard drive to a working computer via USB cable. If you can access the content on the hard drive, you should copy it to your USB flash hard drive.
If not, you can employ data recovery software. As one of the best data recovery software for Windows and Mac, EaseUS Data Recovery WinPE is outstanding in the following aspects.
Recover lost or deleted document, graphics, video, audio, email, and other files from internal and external hard disk effectively.
Restore data resulted from accidental deletion, hard drive corruption/formatting, system/file system crash, virus attack, or other scenarios.
Recover files from NTFS, APFS, FAT, HFS+ and exFAT partition/drives.
If you don't want to take out the hard drive, create a bootable USB and recover data by following the steps:
Step 1. Choose a location to scan.
Make sure that all hard drives and other devices were correctly connected and recognized by the software. Refresh an external device if necessary.
From which drive was data lost? Choose the relevant hard drive partition by left-clicking on it.
Click the Scan button.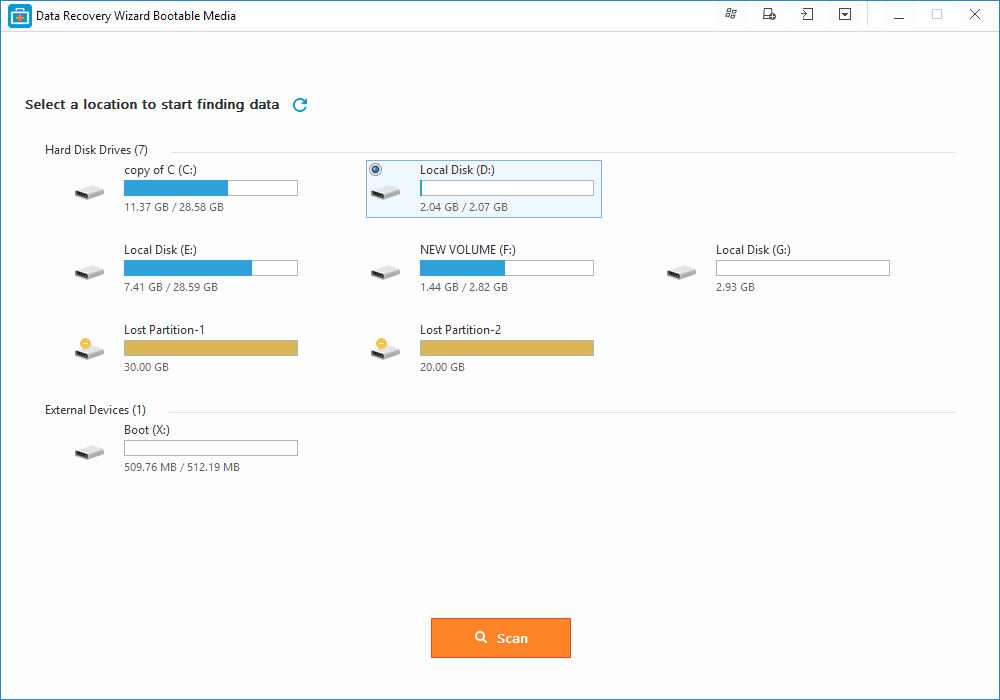 Step 2. Wait for the scanning results.
It takes a while for EaseUS Data Recovery Wizard to complete the scan, all depending on how much disk space is used on the selected hard drive.
As you see, the "Deleted files" result would come our first, later it's all lost data result.
You can try to recover lost data as soon as it shows up even though the scanning process has not finished yet.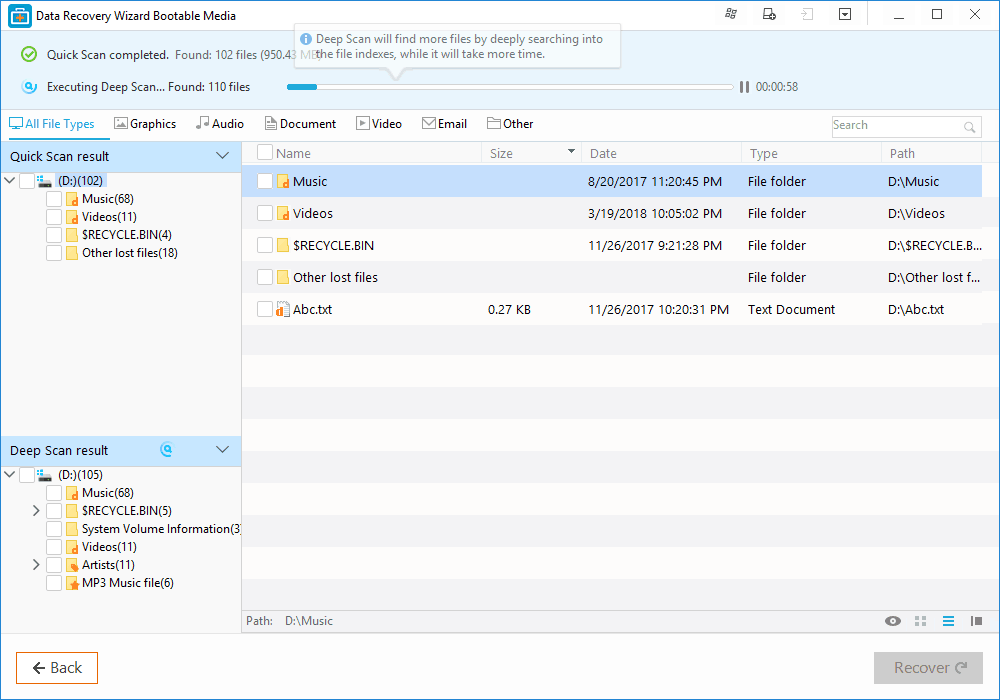 Step 3. Preview the result and recover data.
Preview and choose the files you want, click "Recover" button to save them to a safe place. You'd better choose a different drive to avoid data overwriting.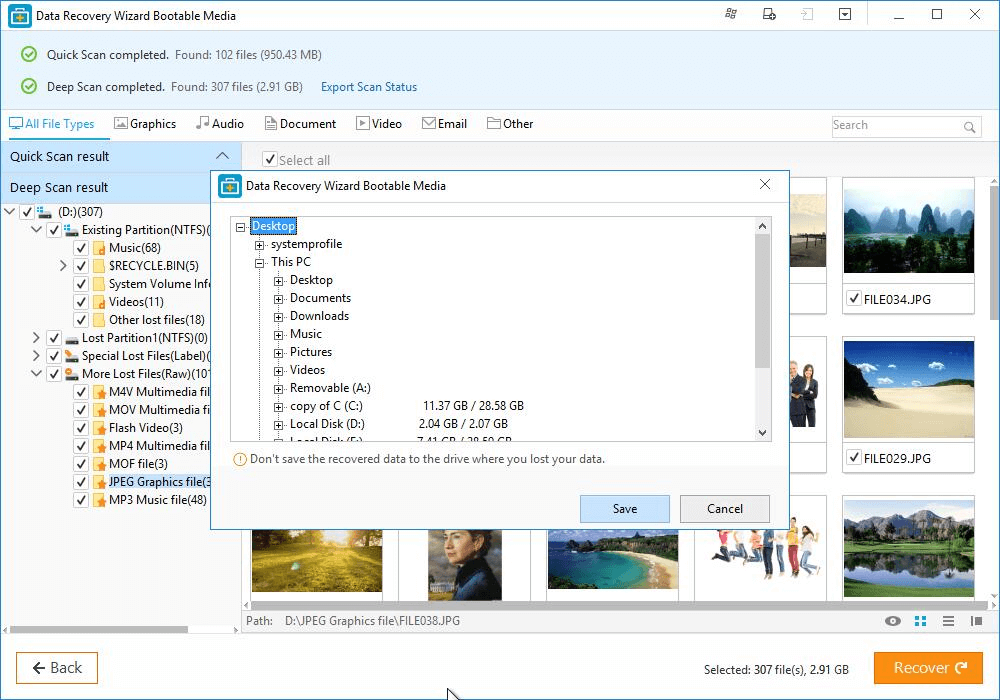 2. Fix the Crashed System
If your computer slightly crashes, run safe mode and restore the system in safe mode. Safe mode is a diagnostic mode in the Windows-based computer. It can load the operating system with minimal options.
Run safe mode
Step 1. Start your computer, and press the F8 key repeatedly before showing the Windows logo
Step 2. Under the Advanced Boot Options window, select "Safe Mode".
Restore system in safe mode
Step 1. Start your computer in safe mode.
Step 2. Summon the system restore window. You can click "Start menu" > "All Programs" > "Accessories" > "System Tools" > "System Restore".
Step 3. Choose a restore point and click "Next". In this window, you should tick the "Recommended restore option". But if the restore point is not working properly at that time, you still can click "Choose a different restore point".
Step 4. Confirm the settings are correct and click "Finish".
If you have backed up your system with EaseUS Todo Backup, refer to how to restore the system after a crash.
How to Prevent a System Crash
To minimize the risk of a computer crash or system crash, back up your Windows OS and important data regularly. Professional Windows backup and recovery software will help you simply do the job without any problems. Besides, keep your virus protection software up-to-date, even if you have to pay the subscription fee. You should set your virus protection software to automatically update every day in order to ward off new viruses.