Why to have a data recovery bootable disk?
The thing you shouldn't do when data has already lost is not to do any operation on the device where data loss happened for the simple reason that new data might overwrite them and result in data loss forever. This is why data recovery bootable disk came into being. It is built on a CD/DVD or USB drive and operates under the Windows pre-installation environment. Therefore, this software won't damage the region where data lose and it is also a good helper when the system crashes down and becomes unbootable.
Data Recovery Wizard WinPE Edition allows users to run this data recovery software via boot disk. It can start through not only CD/DVD but also USB drive. Thus, even you haven't own a CD/DVD driver in your PC or laptop, USB drive is also available for use.
How to create Data Recovery Wizard bootable disk?
EaseUS Data Recovery Wizard WinPE Edition is as powerful as Windows edition of Data Recovery Wizard on accounts of functions. It is capable of fulfilling data recovery when operating system or disk crashes with no risk of overwriting data area.
We specially offer you a small program that guides you to build a WinPE boot disk. In the picture below, you can choose to build a CD/DVD or USB boot disk with the program we provided for you. If you want to create the boot disk by your own burning program, you can choose the third option to export the ISO file and burn it by other programs. So you can see the process of creating Data Recovery Wizard boot disk is just a piece of cake and caters to different levels of users.
Note: Data on USB drive or CD/DVD will be destroyed as a result of being formatted by our program. Please make sure whether data on it is useful or not.
If your data in USB drive is identified as useless, click "Proceed" button. This program will generate related boot files on the boot disk. This process will take about 3~10 minutes. After the boot disk has been successfully created, you just need to reset the boot sequence of your computer by making it boot from the "Removable Devices" (bootable USB disk) or "CD-ROM Drive" (bootable CD/DVD). It depends on what kind of boot disk you create.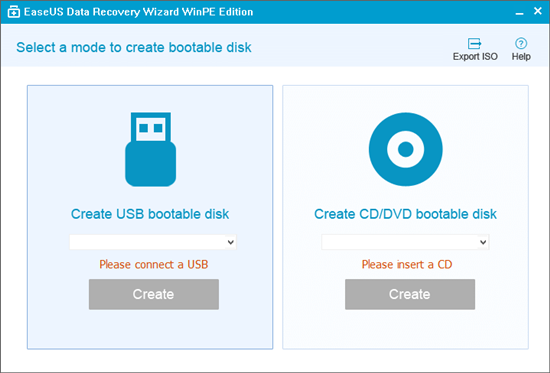 Then you will see the main interface of Data Recovery Wizard WinPE Edition and it is almost like the Windows edition except there is one more option - Add Device Driver.
If you are a fan of EaseUS software, you will find this new edition of Data Recovery Wizard will satisfy all your needs as EaseUS always does and won't let you down.