Help me recover accidentally formatted CF card
"I'm using a SanDisk Extreme CF card. I accidentally format the card in my Canon SLR camera. There were some fresh photos in there, in RAW format. Is it possible to recover them? Hope someone can recommend me some special tool to this recovery."
It is always a common problem to accidentally format a memory card with some important data including the CF card. As you have not saved anything new, you could apply a data recovery program to help you. Actually, there are many recovery tools, but not all of them can be efficiently restoring your data due to a CF card formatting. After comparing with 10+ reputable applications, we would pick up the EaseUS Data Recovery Wizard as the best! It has so many beneficial aspects which can help with a 100% success rate of the formatted CF card data recovery.
About the CompactFlash formatting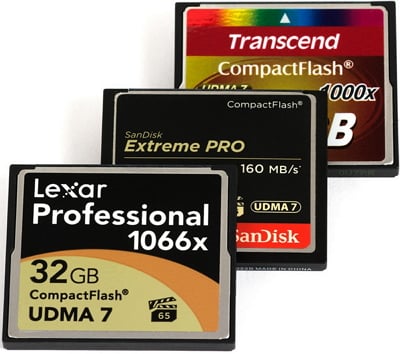 The CompactFlash (CF) card is a mass storage device format used in portable electronic devices, such as cameras, and it's usually larger than other memory cards. As a storage device, it is used to store images, audio, videos, and other multimedia files. Among all the data loss scenarios, the top three reasons for losing data on CF card including the formatting, deleting and unknown memory card errors. But they happen in the same way, either by accident or on purpose.
One of the most frequently seen errors is that "you need to format the drive before you can use it" after inserting the card in a Windows computer. That's the case you have to format it in order to get rid of the constantly appearing error. Formatting a card can resolve problems that perhaps cause the drive inaccessibility, but it will erase all the data at the same time.
Whether you format the CF card for troubleshooting or mistakenly click the formatting settings, you should take measures to recover important data as soon as possible. If there is no backup available, don't be upset and sit there doing nothing, use the EaseUS recovery software for an instant data recovery!
An overall guide for you to recover formatted CF card data
Since EaseUS provides you with a comprehensive formatted CF card data recovery solution, it's better to start sooner than later. With it, you can easily recover your lost images, audios, videos, and other files from the card storage under both Windows and Macintosh operating systems.
Several tips for a successful data recovery experience:
For the case that Windows asks you to format a memory card, USB flash drive, pen drive or hard drive that turns to RAW or encounters other inaccessible issues, the correct process to deal with the problem without losing data is by data recovery and then disk formatting.
When the CF card or other drives, of which the capacity is hundreds of gigabytes, the scan process may perhaps be slow. You can pause and save the current scanning status, and load the file to continue the rest data scan the next time when you have free time.
If you have only one picture or several small files to recover, within 2GB, you don't necessarily pay for the software. Instead, download the free version.
Three-step recovery guide:
Stop using your CF card once you lose data on it. The sooner you stop using the card, the bigger chance you'll have to restore all lost data.
STEP 1. Insert the CF card to your PC
Insert the CF card to your computer.
If your computer doesn't have a CF card slot, use a CF card reader to connect your CF card to the computer.
STEP 2. Run CF card recovery software
Run EaseUS CF card recovery software - Data Recovery Wizard on your PC.
Choose your CF card under "External Devices" column.
And click "Scan" to start finding lost files on the CF card.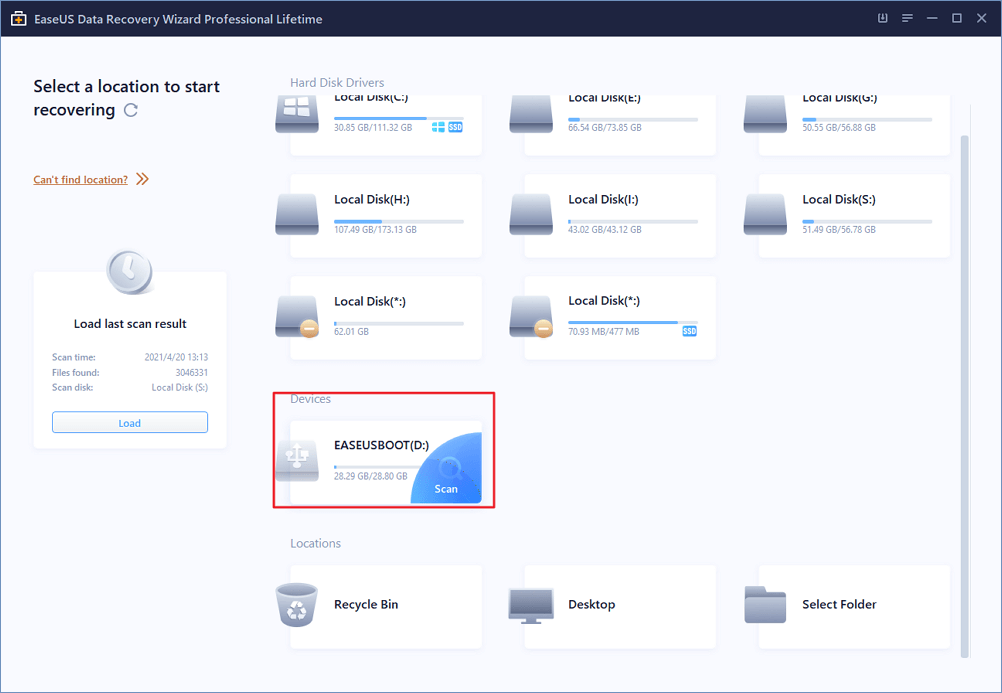 STEP 3. Preview and Restore
You can choose found files and double-click on them to preview.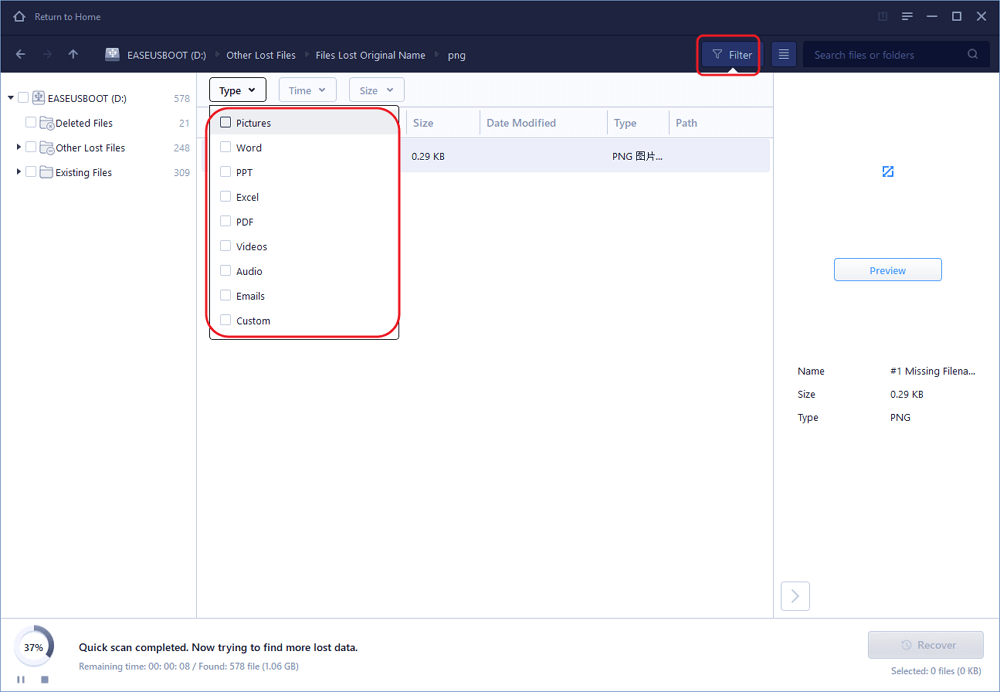 Here is a quick guide for you to quickly find your lost CF card files:
Deleted Files: all your deleted files are listed here.
Drive (with your CF card name): All lost files are here.
Lost Partition Files: if you once deleted CF card partition or even formatted it, check and find data here.
Extra Files: a quick access to your inaccessible data and raw files.
Last, select your desired CF card files, click Recover and save them to a safe path on your PC or another external storage device by then.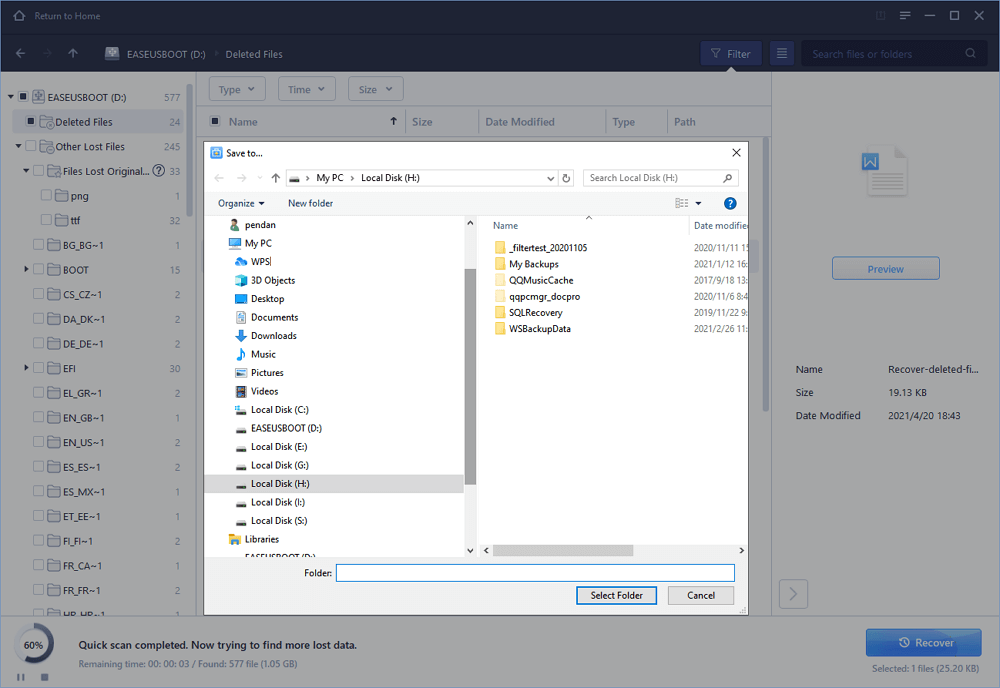  Recommendation

If you need to recover files and the original directory structure after a quick format but EaseUS Data Recovery Wizard fails, you can contact the support team via email (support@easeus.com) or live chat to gain specialized help. (Supported file systems: NTFS, FAT32, and exFAT)