Suddenly lost digital photos before you make a backup copy, or print out. That's quite common. We know how miserable to get involved in a data loss situation. The photos are not just data files but the reminiscence of a sweet moment, a touching scene, and some happy times in your lives. So, how to pick up the best photo recovery software among all the recommendations?
Since you're here...
We sincerely have a lot to say, depending on years of IT experience in the data recovery industry.
Paper photos won't keep forever because there are natural disasters like fires, floods, and discoloration. It's seemingly smarter to keep digital photos as opposed to the old style of paper photos, however, we still cannot escape from the 'digital' loss over time. According to a survey of what causes the photo loss so frequently, we conclude the top five reasons.
Mistaken deletion
Accidental formatting
Unsuccessful transfer
Storage degradation
System crash/failure
You must be depressed over the family photos, baby photos and every shot you care about. So, let's quickly straight to the point. The next guide is very important for you to achieve a high success rate of photo recovery.
# First of all, avoid the second damage to deleted photos
Stop using the storage device as soon as something happened. It's sooner rather than later to perform the recovery, and don't delay.
# Second, judge by yourself what software for retrieving photos is qualified.

Don't trust the ads that clearly state like this: "... we're able to recover photos that are saved over, replaced or overwritten by new" or "recover your pictures that half broken, greyed out, or get encrypted by a virus". That's technically unreasonable! If photos are gone like this, I'm afraid that you can hardly get them back unless hiring a professional data recovery service for repair.

Pay attention to software that supports all file formats of image files, such as TIFF, JPEG, GIF, PNG, RAW image files, BMP... Besides, using enhanced data scan and data analyzing technologies. And most importantly, allows for a preview before you pay for the software to recover.
Now pick up the best photo recovery software
EaseUS Data Recovery Wizard is a highly reliable and often-recommended photo recovery software by Cnet, PCWorld, Softonic, TopTenREVIEWS and many more authoritative websites in the screenshot. It has been serving in the market for over a decade. With its powerful capability of quick scanning a hard disk or a removable drive, besides, recognizing photos by people face, animals, architecture, and landscape, it has established trust of worldwide customers.
Please feel no hesitate to download the best photo recovery software to rescue lost photos, which might be stored on a computer hard disk, a USB flash drive, and a camera/phone micro SD card. Use the advanced photo recovery features that ensure a very high success rate and a strong customer satisfaction.
First, get to know some useful features when you recover deleted pictures:
Filter: it provides a quick way to wanted files. To find wanted pictures, choose "Graphics" in the Filter list.
Search: search for an exact file name or file type. For example, type .png, .jpg, .jpeg, .tif, etc. in the search box to search for the specific types of pictures.
Second, follow a detailed guide to recover deleted pictures:
Step 1: Choose a location.
Choose the drive with the correct drive letter (it can be a local disk or an external device) and click the Scan button.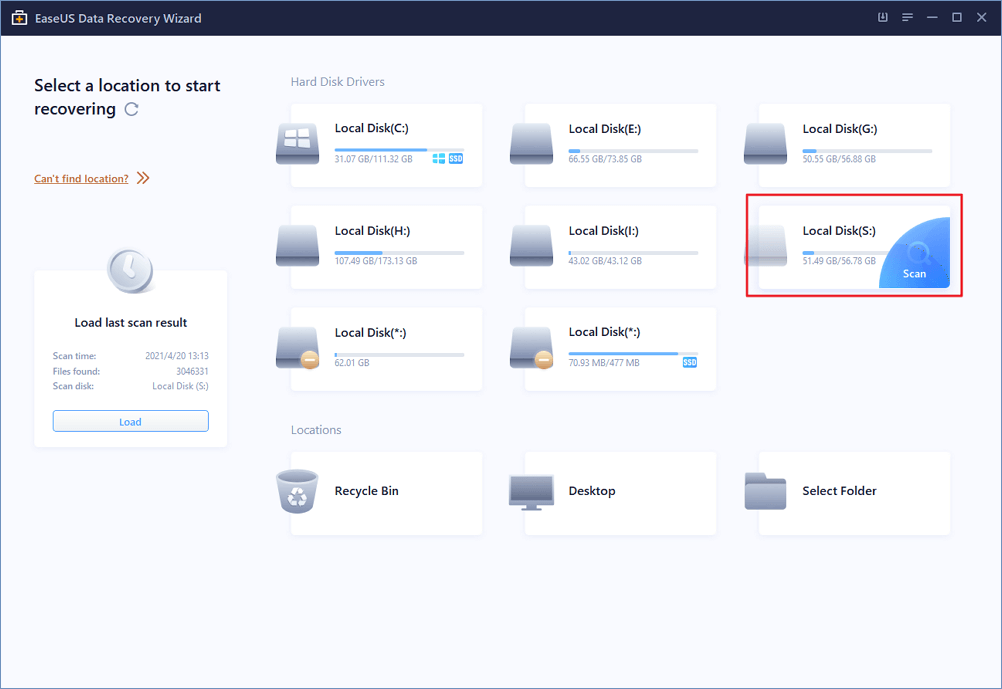 Step 2: Scan the lost data.
It won't take long for EaseUS Data Recovery Wizard to find deleted contents on the selected drive. Soon, the "Deleted files" result comes out. After the scan is over, there are many scan results showing up under different categories.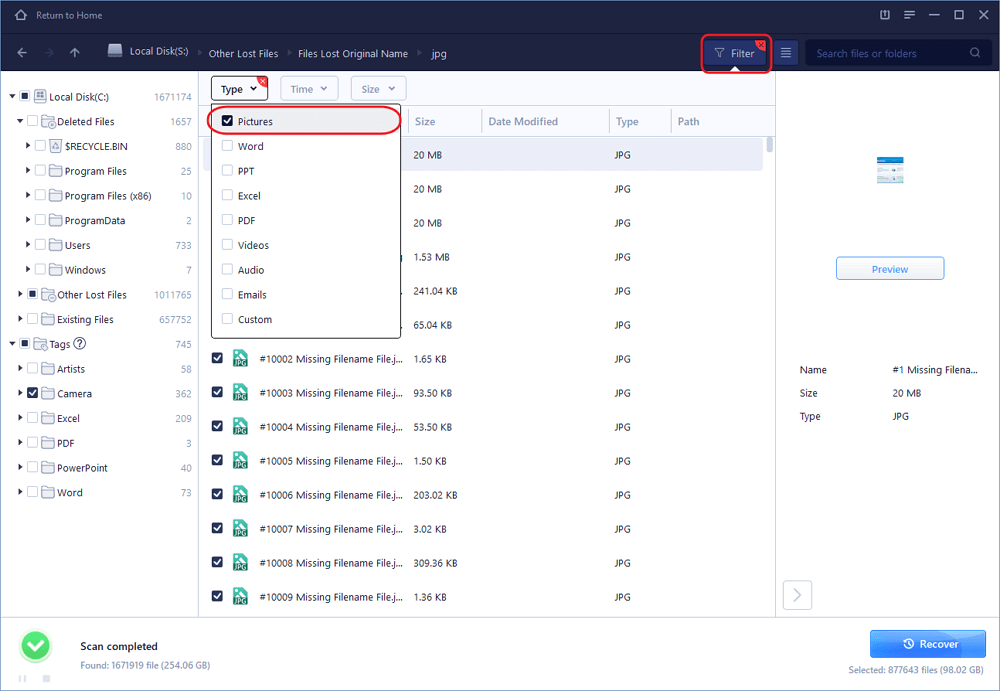 Step 3: Filter pictures and recover.
Other than recovery, it's better to back up photos regularly
Though the EaseUS photo recovery software does well in recovering lost and deleted images from the available storage devices, it's not the complete solution to keeping your photos safe, and non-destructible.
Instead, a solid backup of all precious files is more important. Not only your favorite photos but also documents, music, and videos, make a few copies and save on different locations.
For example, you can keep your camera pictures on your computer, a USB flash drive, a memory card, a network drive, or even a cloud storage. If the photos are too many and file size is too large, you can think about using free backup software to save all your photos to a backup image, which won't take too much disk space.