Computer is infected by ransomware, how to remove it?
"Hi there, do you know how to restore computer from ransomware and get rid of ransomware without losing any data? My computer was hijacked by ransomware and the virus kept popping up message, warning me to pay for decrpyting my files and documents. I don't want to pay for the ransomware since most of my files and documents were all encrypted. That is to say that I must pay for quite a big bunch of money for the virus.
That's not what I want. So now I'm thinking can anyone of you tell me how to fix this trouble and rescue my computer with all important files from the ransomware?"
Have you ever heard of the ransomware such as CryptoLocker which hack into computers, encrypt all useful documents and files, threatening users to pay for decrypting them. If you are having this trouble or computer/laptop was infected by unknown ransomware, don't worry. Here below, we'll provide you effective solutions to remove ransomware from your PC and restore all lost data from ransomware infection now.
How to remove ransomware virus from PC?
3 Methods are available to help!
Note: Once your computer or laptop is infected with ransomware or virus, disconnect your device from the internet immediately.
Here in this part, we'll provide you several methods for you to remove unknown ransomware in simple steps now:
Method 1. Clean up ransomware by running virus-cleaning or anti-virus software
Your very first move shall be cleaning up or removing ransomware from PC by running virus-cleaning software or anti-virus software once your computer is infected by ransomware.
Here below you'll find some recommended software to remove and clean up ransomware now:
Malwarebytes;
HitmanPro.Alert;
Zemana Anti-Malware;
Bitdefender Anti-Ransomware, etc.
Mostly, once anti-virus software finishes scanning the computer or laptop, it would automatically help you removing all found virus, malware and ransomware.
Method 2. Remove ransomware by performing system restore
The other method to solve ransomware problem is to restore computer to factory settings by performing system restore. Follow below steps and start to remove ransomware from your PC now:
Shut down PC and reboot computer;
Press F8 once the screen light up > Enter into Advanced Boot Option;
Select Repair Your Computer > Login with your account and password, select Windows account name;
Click System Restore on System Recovery Options window to restore Windows system back to a healthy state.
Method 3. Perform a clean install of Windows system
The third method might be the last option that you want to use for removing ransomware from PC. This is not a simple task for ordinary users. If you don't quite well about this, don't worry.
You can clean install Windows 10/8/7 with the help of Microsoft community and reinstall Windows system on your PC. But this might remove some of your system data.
How to Restore lost files due to ransomware infection?
So how to recover lost files due to ransomware infection?
Option 1. Unhide lost files by ransomware infection
If you are lucky and your data didn't get encrypted by ransomware or malware, you can try the below quick fix to find lost data:
1. Open Computer or This PC, navigate to View and click on it;
2. Click on Options and click on Change folder and search options;
3. Tab on View, scroll down and click Show hidden files, folders and drivers under Hidden files and folders option;
4. Click OK. There all hidden files and important data that you thought they must get lost are all back now.
Option 2. Restore lost files and data by ransomware infection with data recovery software
If you are not quite lucky and some files indeed were lost after removing ransomware on your PC or reinstalling Windows system, don't give up. You still have a chance.
Powerful data recovery software - EaseUS Data Recovery Wizard supports you to recover lost files due to virus attack. You can simply download it and follow below 3 steps to try now.
You don't even have to pay for it before making sure whether this software indeed works or not. Let's see how to restore lost data by ransomware infection:
Step 1. Run EaseUS Data Recovery Wizard and select location where you lost files by ransomware infection, click Scan;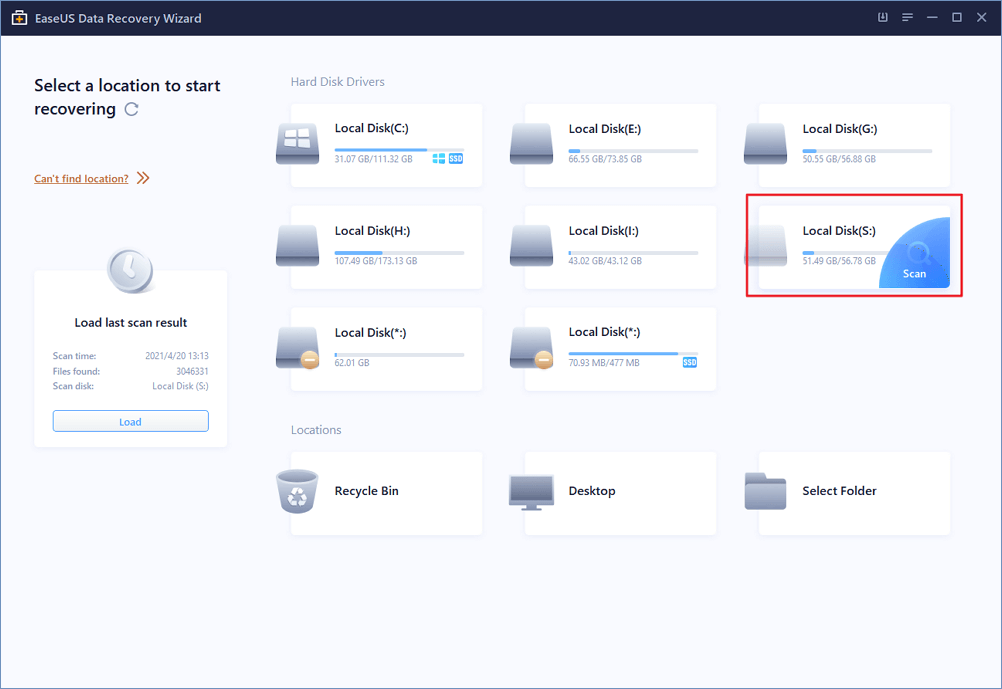 Step 2. EaseUS file recovery will Quick Scan and Deep Scan to find all lost files and data for you;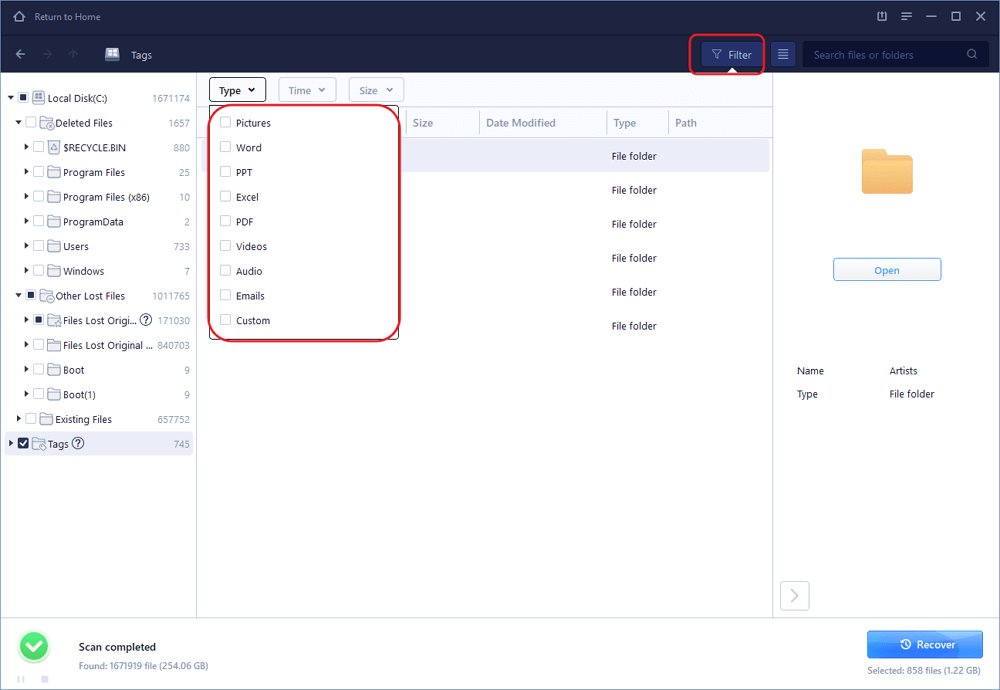 Step 3. Preview and restore lost files and data;
You can preview to see whether it finds your lost data or not;
If it finds lost files on computer hard drive, click Activate to purchase a license code so to get unlimited data recovery capacity to select found data and click Recover to save found data into a safe spot in PC or external storage device.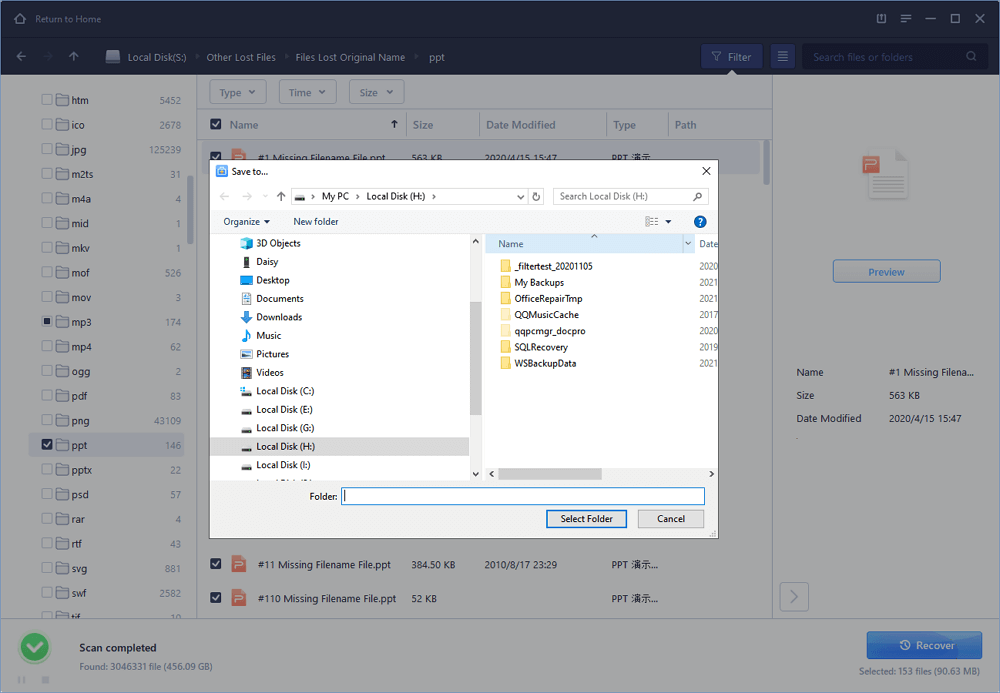 If the found files are encrypted, you may need to try an unzip tool to get files back finally.
Do remember to run the anti-virus software to scan the zipped files and data so to ensure no more virus or ransomware exist.