KB3193494 is a replacement or fix for KB3189866 (OS build 14393.187/14393.189) which stops Windows users to update and install in their PCs. However, it seems that similar problems occurs to quite a lot Windows 10 users again. Here are some problems about Windows 10 KB3193494 and if you are having similar problems, relax. Effective solutions would be offered here below in this article to help you fix these Windows 10 update troubles with KB3193494.
Windows 10 KB3193494 fails to install/update stuck or other troubles
"I tried to install KB3189866 in my computer but it just wouldn't allow me to install. Microsoft published a replacement version - KB3193494 to help fix this problem. But you know what? I tried. KB3193494 was installed in my PC but it then rolled back to a previous version. Please help me to fix this problem."
"After several restarts, it is now stuck with dots going round and round. I tried restart again, it said that it would try to complete installing KB3193494. The dots comes again."
Other more problems such as profiles lost or data lost issue also occurred to some Windows users when they tried install KB3193494 and get the new Windows 10 update. So how to fix these errors? Follow and find relative method to fix your problem now.
Method 1. Backup system and data before KB3193494 update (so to avoid data loss or system error);
Method 2. Restore lost data or files due to Windows KB3193494 update with data recovery software;
Method 3. Troubleshoot KB3193494 fails to install error;
Method 4. Reset Windows Component to fix KB3193494 update failure case;
Method 1. Backup system and data before KB3193494 update
Avoid data loss or system error
To create system and data backup in Windows PC will help you avoid unexpected data loss or system error while updating to latest Windows 10 such as KB3193494. Windows backup recovery software - EaseUS Todo Backup simplifies system and data backup process for you to free backup Windows 10 with only simple clicks.
1. Free download and install EaseUS Todo Backup in PC. Connect an external storage device with PC.
2. Launch EaseUS Todo Backup and click "File Backup" "Disk/partition Backup" or "System Backup".
3. Choose data and specify backup destination, click Proceed to start backup data.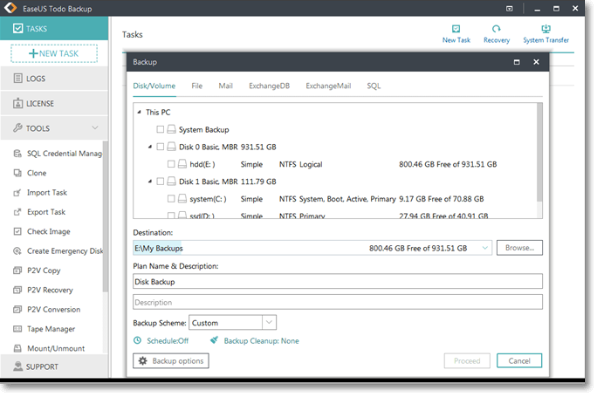 After update, when you find files are lost or even you don't like to new system, you can either choose to restore lost files or restore system to previous state from the backups.
Method 2. Restore lost files due to KB3193494 update
If you don't have any backups and happen to lost important files due to Windows 10 KB3193494 update, don't worry. Professional data recovery software such as EaseUS Data Recovery Wizard would help you simply restore lost files after Windows 10 update.
Method 3. Troubleshoot Windows 10 KB3193494 fails to install error
Windows Troubleshooter will help fix Windows update fail to install error with the following steps:
Type: troubleshooting in the search > Go to System and Security > Tap Fix problems with Windows Update;
Tick Advanced > Enable and check Apply repairs automatically;
Tap: Run as administrator (you may have to enter your pass-code first) > Then click Next to finish the process.
Method 4. Reset Windows Components to fix Windows 10 KB3193494 update failure case
1. Press Windows + X and choose Command Prompt (Admin).
2. Stop BITS, Cryptographic, MSI Installer and the Windows Update Services.
Then type the below commands at the Command Prompt and hit Enter after you type each command:
net stop wuauserv
net stop cryptSvc
net stop bits
net stop msiserver
3. Rename the SoftwareDistribution and Cartoot2 folder. Then type the following command in the Command Prompt and press Enter after each type:
net start wuauserv
net start cryptSvc
net start bits
net start msiserver
4. Type Exit in the Command Prompt and restart PC.
After this, you may retry to install Windows 10 KB3193494 in your PC with new features.