To effortlessly update Windows 10 to the latest version can be easy now. EaseUS software provides detailed and effective solutions to help you update Windows 10 to Threshold with backups. No technical skills are required. Just simple clicks will do.
Problems and reasons why you are not available to update Windows 10 to Threshold 2
Windows 10 Threshold 2 update was released by Microsoft on November 12th,2015. Some fans have already got this new OS, yet some others have problems for getting such a big update under Windows 10. How? Some users complain that they are not available now due to regional problems. It will take times to be available in some regions and some languages are not supported yet. And some users say that they see no update signs on their computer. What may cause so many problems with this update?
1. Regional problem
Windows 10 Threshold 2 update is not available globally for the first time due to regional problems.
2. Your Windows 10 is less than 31 days.
For safety purpose, at the very first moment when you update system to Windows 10, the system will create a backup image in your computer and you'll get a new update available 31 days later.
3. Defer upgrades
If you have enabled "Defer upgrades" in your PC, you'll not see any new update signs in your computer. The reminding feature was locked.
How to update Widows 10 to Threshold 2?
If you are facing the above updating problems, for the first two reasons, all you need is to wait patiently. But if you are in the third situation that you see no update sign, you can follow next steps provided by EaseUS software to fix this problem and start updating Windows 10 Threshold 2 now.
Step 1. Disable "Defer upgrades"
If you enabled "Defer upgrades", you need to disable it first:
Settings > Update & security > Windows Update > Advanced options > Defer upgrades
After doing so, Windows 10 Threshold update should show up in your computer.
Step 2. Backup Windows 10 data
If you have seen the update sign in your computer, don't be so rush. Wait a minute before you clicking the update button. What is it? You need to back up Windows 10 data or create Windows 10 image first. In case of losing data while updating to Threshold 2, you are highly recommended to make backups for Windows 10.
If you have enough time, you can copy each file into an external storage device one by one. If you need a more effective method, you'll need turn to a third-party backup software. EaseUS software provides the best free backup software - EaseUS Todo Backup to assist you effortlessly backup Windows 10 data within only 3 steps.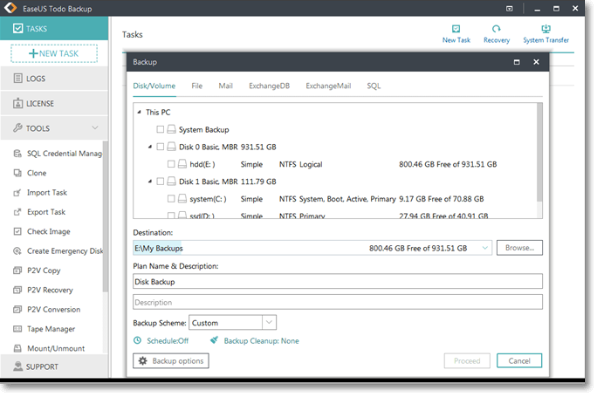 Tip: You need to store the backup image into an external storage device for safety concerns.
Step 3. Update Windows 10 to Threshold 2
1. Click update button at the toolbar in Windows 10 or got to settings and click "Check for updates".
If the system has checked Threshold 2, click update directly.
If you find no signs in your Windows 10, you'll have to download Windows 10 Threshold 2 and perform a clean install.
2. Follow the installing guidelines in Windows 10 and wait patiently to allow the new system install on your computer then.
After updating Windows 10 to Threshold 2 with backups, do remember to move or restore your backups back to your computer. If you've used EaseUS Todo Backup Free and created Windows 10 image, you can directly use this program to help you restore Windows 10 data then.