What Happens if Your Space on Mac Is Run Out?
Many MacBooks are equipped with SSD; though they do make your computer extremely fast, their storage is limited (Big storage SSD on Mac does cost a lot, and maybe some of us cannot afford it, and we usually underestimate the storage use we need in the future). It is too easy to see the "Disk is almost full" warning appears on your MacBook screen. Too much data on your hard disk might slow down your computer and cause freezes and crashes.
If you don't have enough space in your Mac, you can't update Mac OS or software, not to mention download apps or your favorite movies, and many regular operations can't be done.

What Is Taking up Space on My Mac?
To make space on Mac, first, you need to check the free space on your disk. Here are the steps:
Select the Apple menu (the Apple icon is in the upper left corner of the screen) and click "About This Mac." 
Click "Storage" in the toolbar, and a colored storage bar appears. 
Click "Manage," which displays categories containing various files on your Mac; hover your mouse over each colored section to see what that section represents.
You can see that in addition to these colored sections, there is a gray section called "Other"; this section usually stores temporary internet files and cache files, application installers, and other files that can be deleted and cleared out of space in most cases.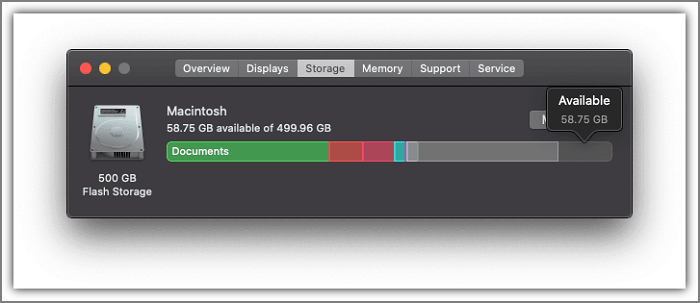 How Do I Make Space on My Mac?
Solutions and their practice steps of Making Space on Mac.
1. Using Mac OS Built-in Tools
Mac OS has built-in optimization tools that are very easy to use. We can find them by clicking the "Manage" button at the top of the storage bar. The interface here has four optimization options.
1) Store in iCloud: You may need to pay money for this service monthly
You can store large files such as photos and movies that you don't use right now in iCloud and keep the files you use frequently and are essential on your Mac.
However, if you want more storage space in iCloud, you need to pay for it; usually, they are 50GB for 99 cents a month.
2) Optimize storage:
When space on your Mac is running low, the Mac will automatically move movies and TV shows you've already seen to the trash and keep only recent email attachments on this Mac.
3) Empty trash automatically:
Items in the trash for more than 30 days will be automatically eliminated once this option is activated.
4) Reduce clutter:
Find large, old, or unnecessary files on your Mac and remove them from your system. You may need to delete them manually.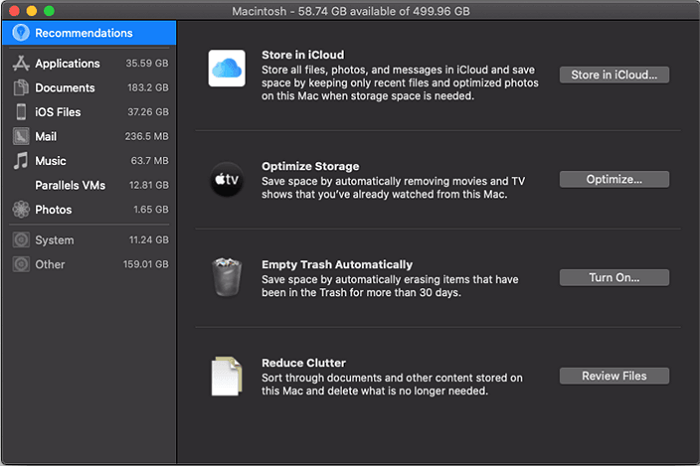 2. Compressing Files
1) On the Finder screen, find the file or folder you wish to compress. Click on each file you want to pick while holding down the Command key to select several files.
2)Right-click the files after choosing them to bring up the list. Your Mac will begin compressing the files you selected as soon as you choose "Compress."
3) After the compression is complete, click on View the same file path as the original file, where you can find the new compressed file.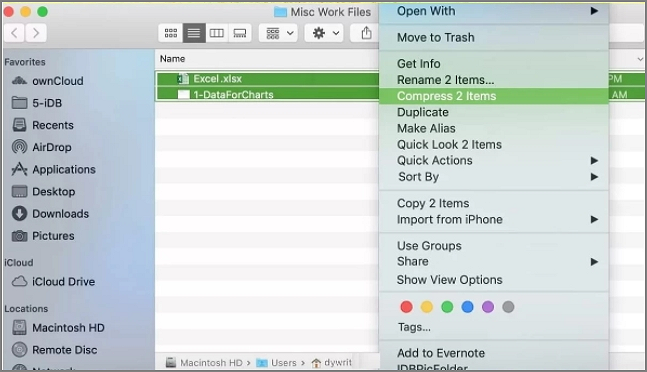 3. Prepare an External Hard Drive
You can use HDD, SSD, or other hard drives to help you to store data on your Mac.
In the Mac's Finder interface, click the folder on the external drive where you want to store files or folders.
Drag and drop or copy and paste the files or folders you wish to transfer to it.
Waiting for the transfer to finish.
Q&A: About How to Make Space on Mac
How do I store files in iCloud?
From your Mac, click System Preferences in the Apple menu.
Click your Apple ID to sign in, and ensure your iCloud Drive is open.
Next to iCloud Drive, click Options to select the Desktop and Documents folder, then click the Done option.
Is it possible to retrieve videos deleted by Optimize storage on Mac?
The answer is Yes. You can download them back again if needed.
First, open the Photos app, and in the left pane, click the Recently deleted option.
Select the videos you need to recover.
Click the Recover button in the upper right corner of the interface and wait for it to finish.
EaseUS Data Recovery Services
EaseUS data recovery experts have uneaqualed expertise to repair disks/systems and salvage data from all devices like RAID, HDD, SSD, USB, etc.