Macs use caches to maintain performance at the Operating system and browser levels. You do not need to break the bank to make your Mac run faster. Sometimes all you need is to cache files on Mac, and there you go.
This is obvious in browsers where you don't have to reload pages before accessing the content you checked earlier. As helpful as they sound, sometimes they are the solution to improving your system performance.
This article teaches how to clear cache in Mac, whether at the system or browser level. It went further to discuss how to clear app caches. Read on to find out more.
Will Clear Cache Make Your Mac Run Faster
Clearing up caches on Mac works wonder. This is because, over time, caches though beneficial, slow down your Mac by taking up a lot of space. Hence the reason to clear caches is to make your Mac run faster.
Is it Safe to Delete Mac Caches
System cache, browser cache and app caches are the three main types of Mac caches and deleting any of them is safe. There should be no issue anytime you delete system cache files on Mac. Although, you have to be careful when deleting caches in applications or browsers because you can risk deleting your work in progress or saved online form.
How to Clear your System Cache on Mac
Almost all Mac applications store cache data which ranges from Kilobytes to gigabytes depending on their rate of use. In line with this, these applications pile up data over time and slow down your Mac. Hence the need to clear the system cache by following the steps below:
Step 1. In Finder, select Go, then "Go to Finder."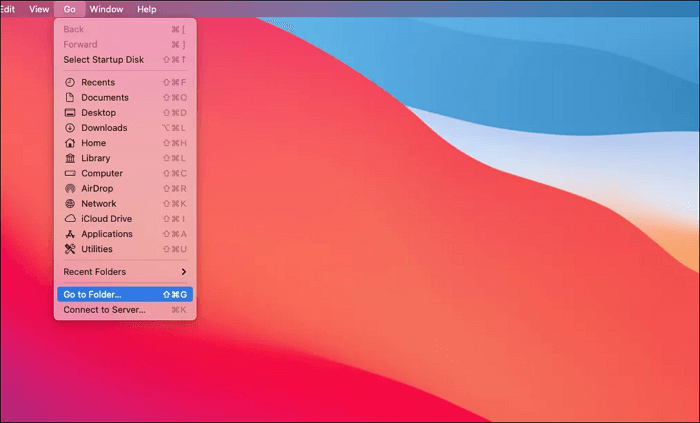 Step 2. Type "~/Library/Caches" in the popup window.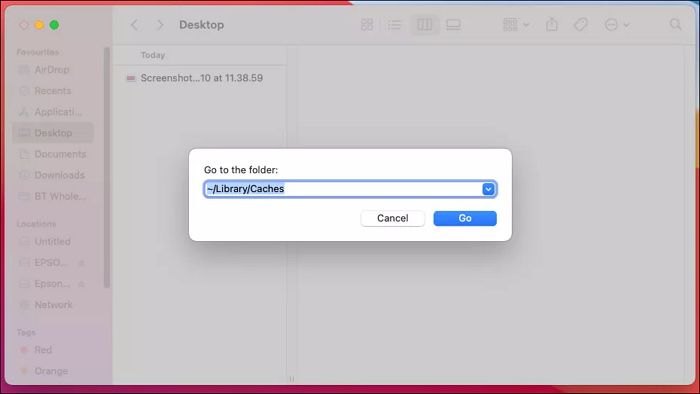 Step 3. Click Go, and then you will see the Caches folder.
Step 4. Delete anything you don't need or want. Then, you are good to go.
How to Delete Mac Browser Caches
Although cache files are profitable to you, especially when browsing, they save your bandwidth and make you spend less time accessing the same information repeatedly. However, you may need to clear your browser cache because it can take up a lot of storage space and affect your system's overall efficiency.
Follow the steps below to delete browser caches using the Safari browser.
Step 1. Launch Safari, and select Preferences.
Step 2. Choose the Advanced tab, as seen in the screenshot below.
Step 3. Tick the box in front of the "Show Develop menu in menu bar" and close the Preferences window.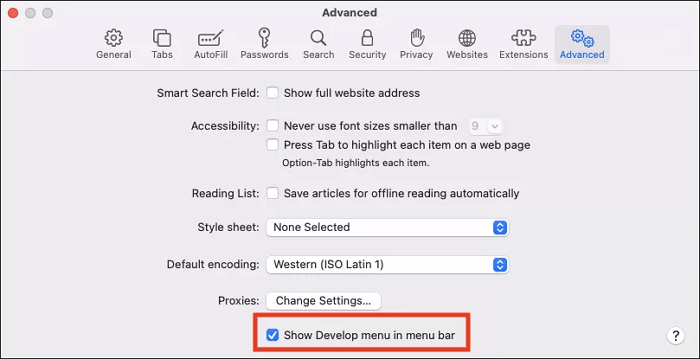 Step 4. Go back to the menu bar, and then select Develop.
Step 5. Choose Empty Caches.
 Notice:

This procedure can be done on other browsers, depending on the one taking most of your storage.
How to Clear App Caches
Clearing Mac app caches can help you regain a lot of space in your storage. You can also clear caches for specific applications to make them run faster. Here's how to go about it:
Step 1. In Finder, select Go, then "Go to Finder".
Step 2. Type "~/Library/Caches" in the popup window.
Step 3. Select Go.
Step 4. Look for files with the application name whose cache you want to clear.
Step 5. Drag them to the bin and empty them.
Conclusion
Making your Mac run faster is a function of many things; however, clearing your cache files once in a while is a big step in that direction. This article discussed how to clear cache files in Mac and will help you replicate the process on your Mac.
FAQs
1. Does clearing the cache make Safari run faster?
Deleting the cache may help when your browser is running slowly. However, deleting cache files when an application is still in use makes it slows things down.
2. How do I clean up my Mac, so it runs faster?
You can remove unused applications or clear cache files on system and browser levels. You can select the Date Last opened from the grid icon and check the apps you rarely use before dumping them in the Trash.
EaseUS Data Recovery Services
EaseUS data recovery experts have uneaqualed expertise to repair disks/systems and salvage data from all devices like RAID, HDD, SSD, USB, etc.