HDD not showing up in Windows 10, how to repair?
Have you ever met such a problem that the computer hard drive failed to show up in the File Explorer on Windows 10 PC?
If the Disk Management cannot detect the hard drive, what can you do to make it show up again?
Does anyone know how to make the HDD hard drive to show up and detectable in BIOS? Windows won't boot from the HDD since BIOS doesn't read and detect it.  
So how to repair and fix HDD not showing up issue in Windows 10, 8 or 7? Just follow fixes here below to fix the HDD undetectable or not showing up in Windows Disk Management, BIOS or File Explorer problem right now.
Quick Fix: Repair Bad Sectors and Corrupted File System that Block HDD from Showing Up
When the bad sectors or corrupted file system exist on storage devices, they would not be able to show up nor work properly on your PC.
Here you may directly connect the hard drive to a new Windows PC as external storage and apply powerful partition manager software - EaseUS Partition Master for help.
Step 1. Right-click the target partition that has a problem.
Step 2. Choose "Advanced" > "Check File System".
Step 3. Confirm if you want to hide the partition or not.
Step 4. In the Check File System window, check the "Try to fix errors if found" option.
Step 5. Click "Start" to check errors on your partition.
Fix HDD Not Showing Up in BIOS Error
If the Windows fails to boot from HDD, you may first check whether the BIOS has detected the hard drive. If not, follow steps here in the below to fix this issue and make your hard drive detectable in BIOS again:
Step 1. Reconnect HDD and enable ATA/SATA HDD in BIOS
1. Remove and reconnect the hard drive to your PC with the data cable port. 
2. Restart your PC and press F2 to enter BIOS.
3. Enter Setup and check system documentation to see if the drive is turned Off in System Setup or not.
4. If it's Off, turn it ON and Reboot PC.
Step 2. Update HDD drive drivers
If the HDD not showing up in BIOS, try to update the drivers. EaseUS DriverHandy is an all-in-one Windows driver manager. It can quickly find out all drivers that are not working. Then, it can quickly fix it by providing several solutions such as repair, backup, update, and reinstall.
It's an easy-to-use tool. Download it and you can know how to use it. It will scan the computer drivers first, and then you can update them.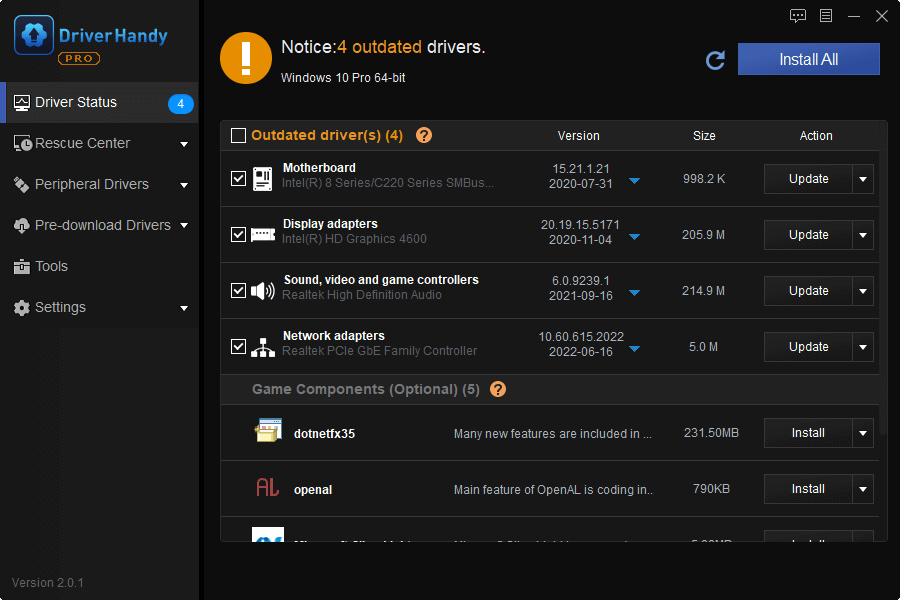 Fix HDD Not Showing Up in Disk Management Error
If the HDD fails to show up in the Disk Management on your computer, follow the below tips:
Step 1. Change HDD drive letter
1. Press Win + R keys to bring up Run dialog and type: diskmgmt.msc, hit Enter.
2. Find your HDD hard drive and right-click on it, select Change Drive Letter and Paths.
3. Assign a new drive letter to replace the old one for your hard drive and click OK to keep all changes.
Step 2. Fix existing errors to make HDD show up by using Control Panel
1. Right-click on Start and select Control Panel, click on Troubleshooting.
2. Find Hardware and Sound in the right pane, and click Configure a device.
3. Run as Administrator and click Next to run Troubleshooter.
4. Click Apply this fix if any issues or errors exist. 
After this, restart the computer and HDD will show up in Disk Management on your Windows 10 PC by then. 
Fix HDD Not Showing Up in File Explorer error
# 1. Initialize HDD
If the hard drive is a brand new disk, you need to initialize it first. Here we'd like to recommend you follow this tutorial - how to initialize HDD/SSD to make the HDD detectable on your PC with the help of EaseUS Partition Master Free. 
# 2. Create a partition to make HDD show up in File Explorer
After making HDD detected on the computer, your next move is to create a partition in Windows Disk Management:
1. Enter Disk Management and right-click on unallocated space, select New Simple Volume.
2. Set the partition size, drive letter and file system by following guidelines on the New Simple Volume Wizard.
3. Click Finish to complete the process.
Or you can use EaseUS Partition Master Free to create a new partition on your hard drive:
 Notice:

If you want to create a partition on an empty USB, SD card or external hard drive, connect it to your PC in advance.
Step 1. Launch EaseUS Partition Master. On the main window, right-click on the unallocated space on your hard drive or external storage device and select "Create".
Step 2. Adjust the partition size, file system (Choose the file system based on your need), label, etc. for the new partition and click "OK" to continue.
Step 3. Click on the "Execute 1 Task(s)" button and create a new partition by clicking "Apply".
Watch the following video tutorial and learn how to create a partition in NTFS, FAT, or EXT file system.
# 3. Format HDD to make it usable for saving data
To make the HDD usable for saving data again, you can right-click to format the partitions on HDD which was not showing up in Windows 10. 
1. Right-click This PC/My Computer and select Manage.
2. Click Disk Management in Device Manager, right-click on the HDD hard drive partitions and select Format volume to reset hard drive to save data again. 
By formatting HDD, you'll wipe all useless data and clear all data entries on the drive. You can save data on the hard drive again now.
EaseUS Data Recovery Services
EaseUS data recovery experts have uneaqualed expertise to repair disks/systems and salvage data from all devices like RAID, HDD, SSD, USB, etc.