Kernel Security Check failure with BSOD error in Windows 10/8, help!
"Hi there, do you know how to fix the Blue Screen of Death (BSOD) error after upgrading Windows system to Windows 10 or Windows 8/8/1? I'm having this issue that both two of my computers and both of these two computers had just upgraded into Windows 10 and Windows 8 yesterday. 
This morning, when I tried to start these two computers and then the BIOS error came up with the error message 'Your PC ran into a problem and needs to restart. We're just collecting some error info, and then we'll restart for you. (10% complete) If you'd like to know more, you can search online later for this error: KERNEL_SECURITY_CHECK_ERROR'. I then tried to Google the answer and it seemed that quite a lot of users are having a similar issue to me. So how can I fix this issue and get my computers out of the Kernel Security Check failure with BSOD error?"
If you happen to have a BSOD problem in your PC due to Windows system install or update but failed with Kernel Security Check error, don't worry. Right below, EaseUS software has collected some reliable solutions including one quick fix and 4 methods to help you effectively get rid of Kernel Security Check issue from Windows 10/8/7 PC. Just follow to see how to solve these issues with ease now.
Quick fix Kernel Security Check failure with BSOD error 
Here are the steps about how to boot Windows 10/8 PC into Safe Mode:
1. Press Win + R keys to open Run dialog > Type: msconfig and hit Enter.
2. Go to Boot option > Select Safe boot > OK.
If you want to boot into Safe Mode with the internet connection, select Network option under Safe boot category.
3. Click Restart so to boot your computer into Safe Mode now.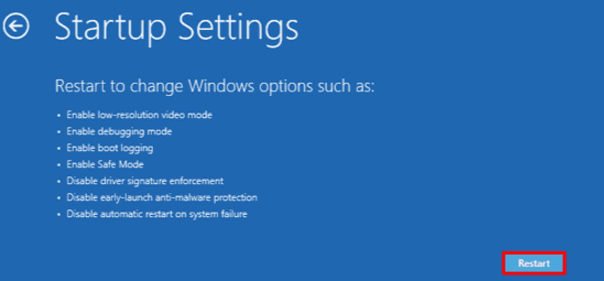 If the Kernel Security Check failure disappears after booting PC into Safe Mode, you need to check the offending programs in your PC or uninstall and update necessary drivers with EaseUS DriverHandy, an all-in-one driver manager to keep your computer and its accessories running smoothly.
You just need to scan all the drivers and then click the "Update" button.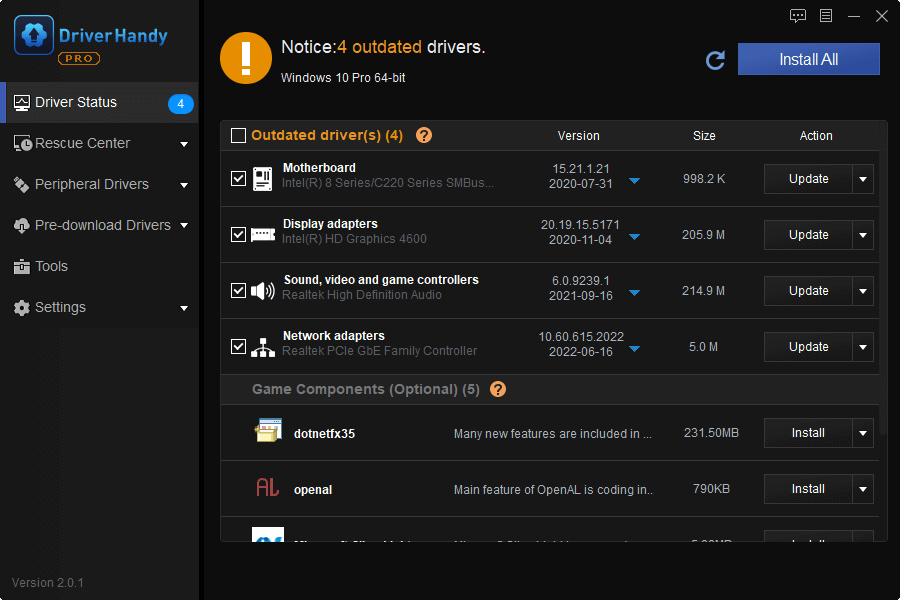 If the error still exists in Safe Mode, it's very likely that the RAW or hard drive got something wrong.
Note: 1. If Safe Mode doesn't help, you can directly boot PC into desktop and follow the offered solutions to fix Kernel BSOD error.
2. If you can't boot PC into the desktop, try hard reboot:
Press and hold the power button on your PC till it powers off > Restart PC by pressing the power button.
Repeat the steps till you see Please wait comes out.
Click See advanced repair options > Troubleshoot > Advanced options.
Choose Startup Settings > Restart > Press F4, F5, F6 to try 4, 5, 6 options so to boot your PC into desktop.
Resolutions to fix KERNEL_SECURITY_CHECK error in Windows 10/8/7
Here in this part, you've three reliable methods to effectively fix and get rid of KERNEL_SECURITY_CHECK failure error in Windows 10/8/7 and you may selectively follow either one to get this issue fixed now:
Before you start, it's highly recommended for you to do a full scan on your computer to remove possible virus or malware with anti-virus software. You can watch the video first and then read the details:
Method 1. Repair System file and bad sectors that cause Kernel Security Check failure issue
Run System File Checker:
1. Type: cmd in the search box and right-click on Command Prompt > Select Run as administrator;
2. Click Yes to continue with administrator permission;
3. Type: sfc /scannow and hit Enter to check and repair corrupted system files which may cause BSOD error with Kernel Security Check failure;
Run partition manager:
If system hard drive or partition has bad sectors, Windows system won't be able to boot normally. Instead, a BSOD error may come up. 
Fortunately, powerful partition manager software from EaseUS will effectively help fix this issue with its Check Partition feature:
Step 1. Right-click the target partition that has a problem.
Step 2. Choose "Advanced" > "Check File System".
Step 3. Confirm if you want to hide the partition or not.
Step 4. In the Check File System window, check the "Try to fix errors if found" option.
Step 5. Click "Start" to check errors on your partition.
Method 2. Scan and fix system hard disk error
1. Click Start > File Explorer > This PC;
2. Right-click the hard drive that you need to check and scan > Select Properties;
3. Go to Tools tab > Click Check;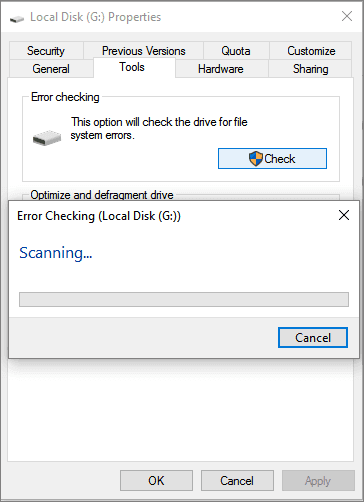 There, the Error Checking tool will automatically check and fix system hard disk error that may cause a Kernel Security Check failure issue in Windows PC.
Method 3. Run Memory Diagnostic Tool to fix the Kernel Security Check failure issue
1. Press Win + R keys to open Run dialog > Type: mdsched.exe and hit Enter;
2. Choose Restart now and check for problems (recommended) to check the status of memory card right now;
Or select Check for problems the next time I start my computer;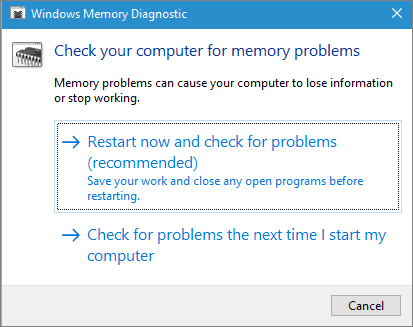 3. Then The Memory Diagnostic Tool will automatically run to check errors on Memory card in your PC.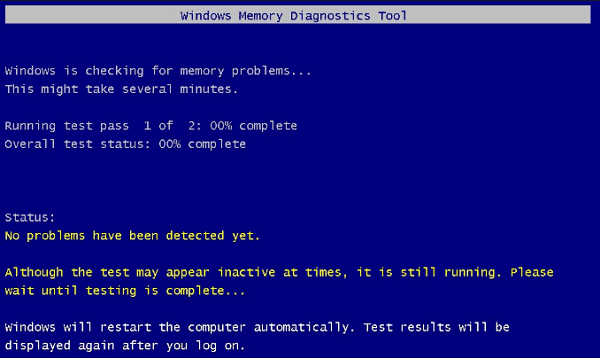 If no errors are checked, your memory card is working perfectly fine with no problem;
If errors are detected, change the current memory card with a new one so to get rid of BSOD with Kernel Security Check failure error. 
Method 4. Try System Restore to repair PC from Kernel BSOD issue
1. Boot PC into Safe Mode; (You may follow guidelines in Quick Fix so to boot PC into the Safe Mode.)
2. Click Control Panel on Start > Choose Recovery in All Control Panel Items;
3. Click Open System Restore > Check Choose a different restore point > Next;
4. Select the exact restore point (healthy Windows restore point) which you've created previously and click Next > Next to continue;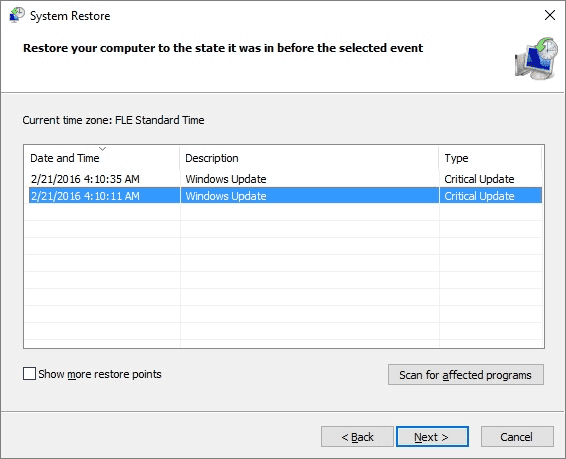 5. Click Yes to confirm that you want to execute the System Restore operation.
Wait to let the System Restore process complete and then you'll get your previous Windows system back. There, no Kernel Security Check error or BSOD issue will exist then.
EaseUS Data Recovery Services
EaseUS data recovery experts have uneaqualed expertise to repair disks/systems and salvage data from all devices like RAID, HDD, SSD, USB, etc.