How to fix Dropbox is not syncing error
How many of you have ever met Dropbox, OneDrive or even Google Drive not syncing error? And do you know how to fix and repair Dropbox back to work again?
As a major cloud backup service producer, Dropbox is now wildly used around the world for helping users saving and backing up important files and even personal files in the Cloud. 
So if Dropbox suddenly stops syncing, it would bring big inconvenience to users. This page will provide two methods for you to effectively backup files to Dropbox when it stops working and guides you simply fix Dropbox not syncing error with simple steps.
If you are having such a problem, relax and just follow below two methods to get all issues solved without losing any files now:
Method 1. Backup files to Dropbox with Dropbox alternative software
If you are urgent and need a fast and simple way to backup your files to Dropbox cloud when Dropbox app is not working to sync files on your PC, professional Dropbox alternative software - EaseUS Todo Backup is your best shot.
It allows you to effectively backup files to Dropbox with simple clicks in Windows 10/8/7. You may even auto backup files to Dropbox after this first full backup with a scheduled backup plan.
Just free download, install and apply this software to backup files to your Dropbox account now:
Step 1. Launch EaseUS cloud backup software and choose the File option.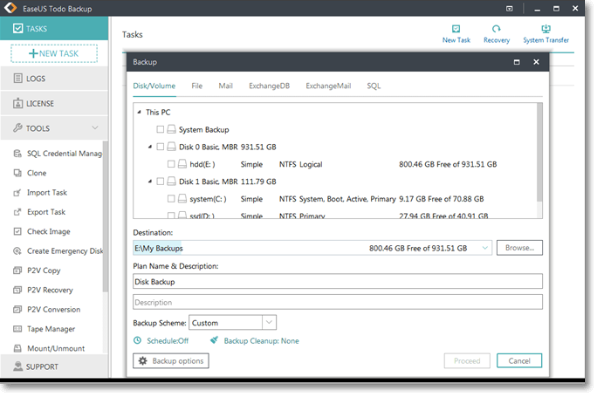 Step 2. Choose the target files you want to backup by either "User Defined" mode or "File Type" mode.
"User Defined" allows you to choose files according to their file directory, while "File Type" is much simpler if you only backup files with specific file formats of pictures, documents, videos, and so on.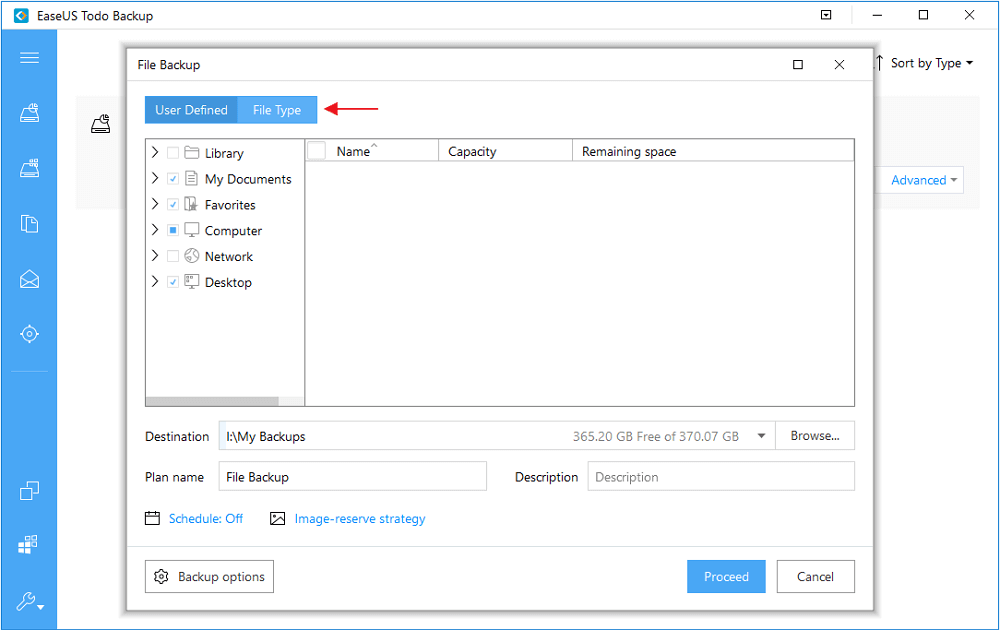 Step 3. In order to backup files to the Cloud storage, click the "Browse" button. A new window will pop out. Click "Local Drive or LAN" and choose Cloud drive, then click "+ Add Cloud storage service".
 Product News

EaseUS Todo Backup now supports users to back up files to the cloud. All you need to do is sign up with an EaseUS account, then you could enjoy a large cloud storage space. More advantages of backing up to the cloud include accessing backup files anytime and anywhere, saving file copies offsite, so you don't need to worry about virus attacks or computer failures, and easier and faster backup and recovery operations.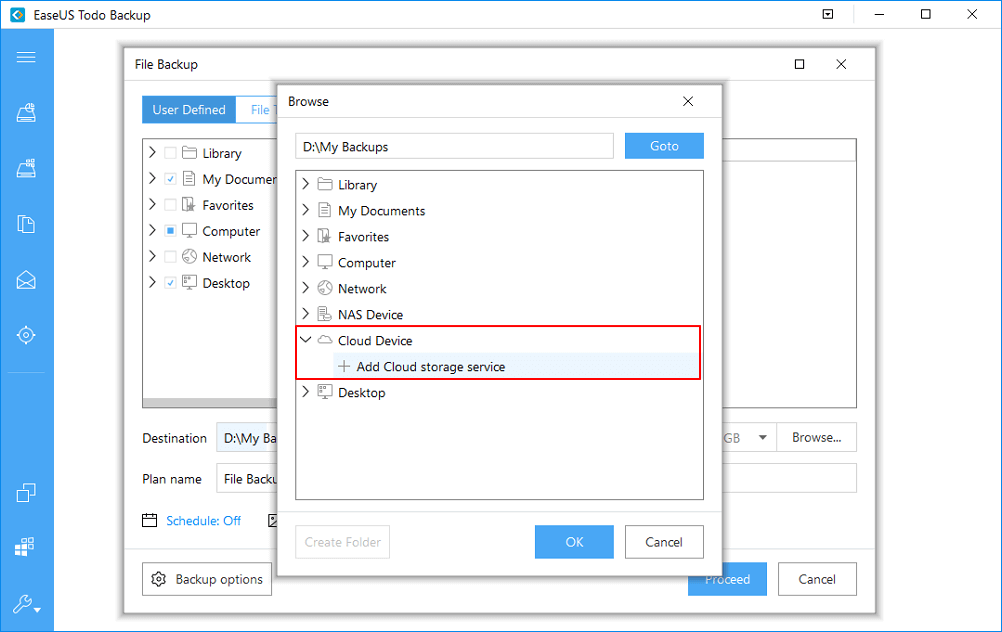 Step 4. EaseUS Todo Backup supports three popular Cloud services at present, which are Dropbox, GoogleDrive, and OneDrive.
Choose your own cloud drive that attached to your computer. Allow EaseUS Todo Backup to view and manage the files in your GoogleDrive.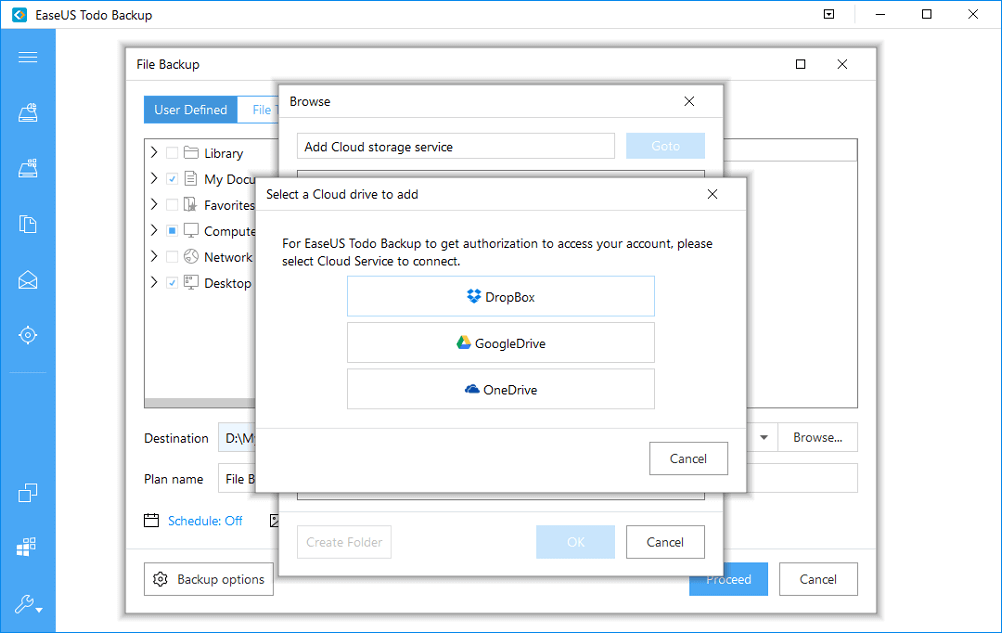 Step 5. Click "Proceed" to start backing up files to your Cloud drive at once.
Now that you've successfully backed up files to Dropbox cloud account.
Method 2. Fix and repair Dropbox not syncing error in Windows 10
To fully repair and fix Dropbox not syncing error, you'll need to follow below 4 steps to get all issues fixed and make it sync files normally again:
Step 1. Check the Dropbox process
1. Right-click the Taskbar and select "Task Manager".
2. Look for the Dropbox process in the list.
3. If Dropbox is present, select it, right click and select "End task".
4. If Dropbox is not present or you have ended the task, restart it using the desktop icon or menu item.
Step 2. Check the files
1. Make sure the files you need sync is not open;
2. Check the filename of the file and make sure it doesn't contain any special characters;
3. Delete the file from Drop from Dropbox folder and copy a new version;
Step 3. Disable selective sync
1. Right click the Dropbox icon in the Windows taskbar.
2. Select "Preferences" and then click "Advanced".
3. Select "Selective Sync" and make sure the folder containing the file is not selected.
Step 4. Clear the Dropbox Cache
1. Open Windows Explorer and navigate to your Dropbox folder. 
This will usually be C:\Program Files\Dropbox or something similar depending on what version of the app you're using.
2. Find the .Dropbox.cache folder within the Dropbox folder.
3. Select all files within the cache folder and delete them.
4. Confirm if required.