Factory resetting a Samsung Galaxy phone is a process that wipes all of the data and settings from the device and restores it to its original factory condition. 
There are several reasons why people might need to factory reset Samsung phones. One reason is that a device may be experiencing performance issues or has become slow and bogged down with too many apps and files. A factory reset can help to improve the performance of the device. Another reason to perform a factory reset is if someone wants to sell or give away their old phone and wants to erase all of their data before doing so.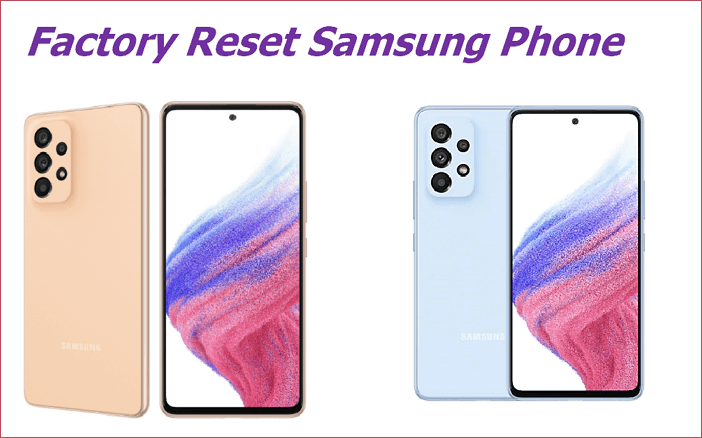 How to Back Up Samsung Phone Before Factory Resetting
Most people don't realize the importance of backing up their data before a factory resets their Samsung phones. A factory reset will erase all your data, including photos, videos, contacts, and messages. This can be a huge inconvenience if you don't have a backup of your data. 
So before doing a factory reset on your Samsung phone, be sure to back up your data first. 
Even if something goes wrong during the reset process, you have a backup of your data to ensure its safety and availability. The data can be backed up to a Samsung account, Google account, and the Smart Switch app and recovered from them quickly. We will take your Samsung account Cloud as an example here:
Step 1. Go to Settings, find and click "Account and backup".
Step 2. Tap "Back up data" under Samsung Cloud.
Step 3. Choose the apps you want to back up, then click "Back up now".
Step 4. Click "Done" when the backup process finishes. The taking time depends on how much data is being saved.   
(Information source: https://www.samsung.com/ie/support/mobile-devices/backing-up-and-restoring-data-on-my-galaxy/)
Factory Reset Samsung Phone: Step-by-step Guide
After all essential data has been backed up, you can factory reset it. The process of factory resetting a Samsung Galaxy phone can be done in several ways, but the most common way is to use the built-in settings on the phone. This simple process can be done in just a few steps. Here we go.
Step 1. Open the "Settings" app on your Samsung Galaxy phone.
Step 2. Scroll down to find "General Management" and tap it.
Step 3. Tap "Reset."
Step 4. Tap "Factory Data Reset."
Step 5. Tap "Reset".
Step 6. You will be asked to enter your PIN or password to confirm the factory reset.
Step 7. Then Tap "Delete All."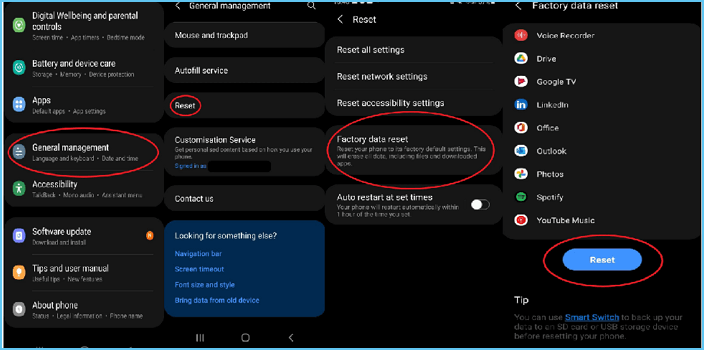 How to Recover Backup to New Samsung Phone
After replacing a new mobile phone, we often need to import the original data to the new mobile phone. If you have backed up your data to Samsung Cloud, restoring them to Samsung Cloud will be very simple and easy. Here are the steps:
Step 1. Sign in to your Samsung account on the new Samsung phone. 
Step 2. Go to the Settings > Samsung Cloud > Account and backup > Restore Data.
Step 3. Choose the apps you want to restore, and click Restore.
Step 4. Wait for the process to finish, and you can see all the previous data has been restored to the new Samsung phone.

How to Recover Data after Factory Reset Samsung Galaxy
How to recover data after factory reset Samsung Galaxy is not complex any more. EaseUS MobiSaver for Android makes it simple and easy for you to solve the case of how to recover data after factory reset Samsung Galaxy.
FAQ about Factory Reset Samsung Phone
1. How do I force my Samsung to factory reset?
If you want to force Samsung to factory reset, follow the operation: Shut down your phone, press the Power/Bixby key and Volume Up key simultaneously, and hold the Power key until the Android logo appears. You can see the Android system recovery menu, use the Volume Down key to find and select Wipe Data/Factory Reset, and then tap the Power/Bixby key to go on.
2. Does a factory reset delete everything Samsung?
Factory resetting will permanently delete all data saved on your devices, and you can't recover them forever. So, you'd better create a backup before operating a factory reset.
3. How do you factory reset a Samsung phone that is locked?
To reset a locked Samsung phone, you need to use the keys on your phone. First, turn off the phone by pressing the Power, Volume Up, and Home/Bixby keys at the same time. Then select the Wipe data/Factory Reset option, then confirm by clicking Yes. Now your Samsung phone is the same as when you bought it. Restart and use it.