PAGE CONTENT:
Apple and its technicians have been working on updating its Mac. Some of us will also continue updating our Mac to use new features. When replacing a new device, we can sell the old one or give it to others in need. 
But before doing that, It is essential to delete those private and sensitive files in the original computer to protect our personal information. The easiest way is to factory reset Mac, which will completely erase all settings and information on your Mac.
Due to different macOS, we can apply other methods. Besides these, we also provide practical ways to sign out iTunes/iCloud/iMessage on Mac. Here is our step-by-step guide. Keep reading it.  
Preparations before Factory Reset Mac
Before diving into the steps, you are supposed to do the following preparations to better factory reset Mac.
1. Back up Your Important Files
Backing up data files is a crucial step in replacing your old Mac. It allows you to recover those important files at any time when needed. To back up, Todo Backup for Mac software is an excellent tool that creates file backups in full, incremental, or differential modes.
2. Confirm OS of Your Mac
As mentioned earlier, different operating systems need different methods. If your Mac uses macOS Monterey, it provides the simplest way to factory reset MAC. But if you are using an earlier operating system, it may be a little complex because you need to reinstall macOS after erasing all data. 
3. Ensure Normal Operation of Mac
Before starting a factory reset Mac, you need to ensure your Mac operates normally and every function works properly, which is also one of the conditions that can factory reset a Mac successfully.
4. Make Sure Your Mac Is Connected to A Power Source & Network
This is because the factory reset process may take longer than usual. Therefore, it is best to charge your device to avoid system interruptions. Moreover, make sure Mac is connected to a stable and active network.
Factory Reset Mac & MacBook for macOS Monterey
macOS Monterey is the latest version of macOS that was released in Jun 2021. Factory resetting Mac will be very easy if you use macOS Monterey because this new system offers a feature to restore Mac to the factory default setting with several clicks. Here is the step-by-step guide:
Step 1. Click the Apple icon on the top-left corner of the screen and find "System Preferences."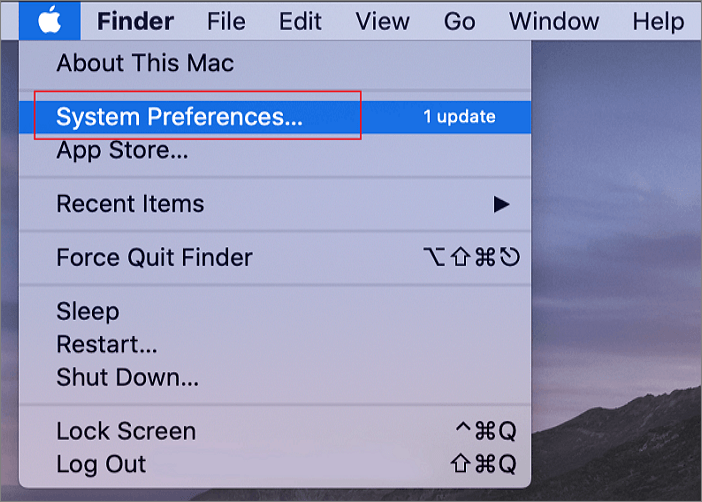 Step 2. You will see "Erase All Content and Settings" from the drop-down menu; click it.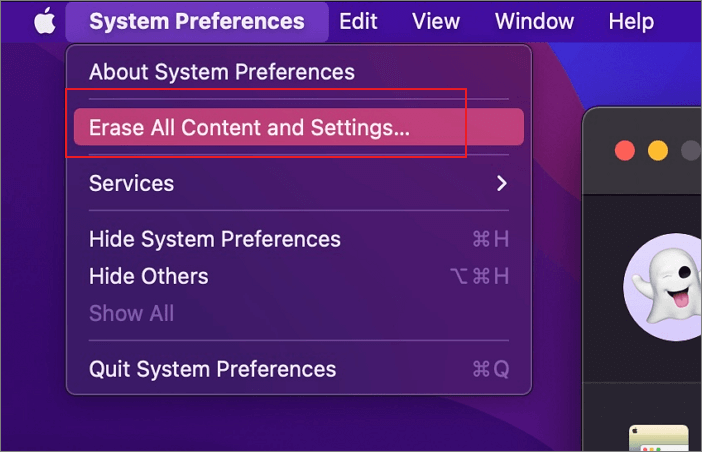 Step 3. Follow the prompts to complete the task of restoring factory settings step by step.
After erasing all contents and files, the operating system Monterey will remain on Mac, so you don't need to reinstall OS. 
You can read Apple's official support on Eraser Assistant in macOS Monterey to know more about erasing all content and setting on Mac.
 Tip

Updating your earlier operating system to Monterey is also an option to reset Mac to factory setting fast.  
Factory Reset Mac & MacBook for Pre macOS Monterey
If your Mac uses an Intel-based operating system earlier than Monterey, like Big Sur, factory resetting Mac is a little complex because you need to use Disk Utility and reinstall macOS after erasing all data. Here are specific steps.
Step 1. Turn on or restart your Mac, then immediately press the "Command (⌘)" and "R" keys at the same time, and hold on for a few seconds until an Apple or global sign appears on the screen.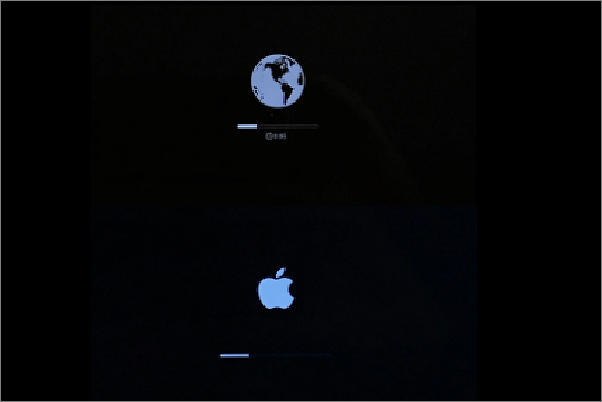  Notice:

Or, you can compress "⌥(option)"+ "Command (⌘)" + "R" keys, which will upgrade your Mac to the latest macOS compatible with your Mac. While "Command (⌘)" + "R" only reinstalls the latest macOS without upgrading to the newest version. 
Step 2. When you see the Recovery Mode menu, select "Disk Utility" and click "Continue."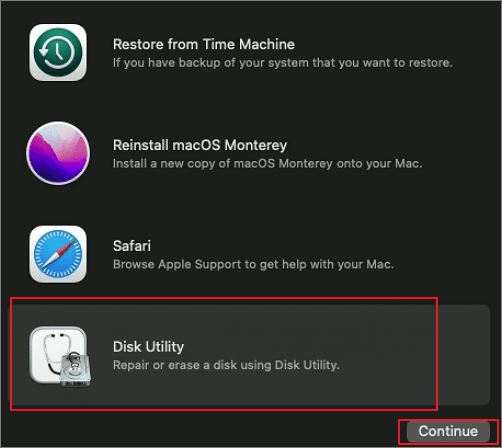 Step 3. After entering the Disk Utility, choose "Macintosh HD," then select the "Erase" button in the upper right menu bar. 
Step 4. Then it will pop up a window asking if you will erase APFS volume group "Macintosh HD." Here you should change "Format" into "macOS Extended (Journaled)," then tap "Erase" to continue.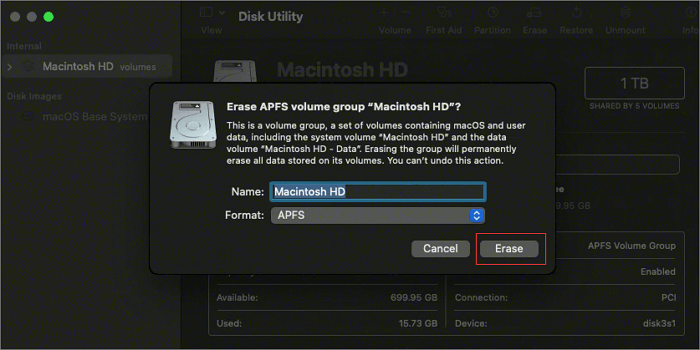 Step 5. Quit Disk Utility and return to the utilities interface.  
Step 6. A window will pop up asking if you will reinstall macOS; choose "Install macOS."  
When the new macOS is installed, all your previous data has been erased, and your Mac has been factory rest successfully. 
You can also refer to the Apple Official guide about Use Disk Utility to erase an Intel-based Mac.
How to Sign Out iTunes/iCloud/iMessage on Mac
Before factory resetting your Mac, it is wise of you to log out all Apple-related accounts to avoid unnecessary information leakage. Here we will cover the methods of three commonly used tools, including iTunes, iCloud, and iMessage. 
Sign out iTunes before Factory Reset Mac
Follow the path:
Open iTunes > Account > Authorizations > Deauthorize This Computer > Input your Account ID and Password > Deauthorize.
Sign out iCloud before Factory Reset Mac
Follow the path:
Apple menu > System Preferences > iCloud > Sign out.
Sign out iMessage before Factory Reset Mac
Follow the path:
Open Messages App > Message > Preferences > iMessages > Sign out
Sum Up
Factory reset Mac isn't a difficult task if you do it in the right way. This article provides two different methods depending on their operating systems. We believe you must have successfully solved your problem through the above methods. But keep in mind to back up your important data before restoring to factory settings. If you have any questions, we are here to help.
FAQ about Factory Reset Mac & MacBook
1. How to erase Mac and reinstall macOS?
To erase Mac and reinstall macOS is easy if you follow these steps correctly. Turn off or reset your Mac, and press Command + R to enter the recovery mode. Choose macOS Recovery, tap Reinstall macOS, and then follow the prompts to finish reinstallation. If you want to know the specific steps, refer to the above content about Factory Reset Mac & MacBook for Pre macOS Monterey.
2. How to factory reset MacBook without password?
Forget Mac password? The first step you are supposed to do is to recover or reset a new password. After that, follow the specific steps to factory reset MacBook.
3. How to factory reset MacBook Big Sur?
The factory reset Mac Big Sur method is the same as erasing Mac and reinstalling macOS. Remember that all critical data or files should be backed up to other places. To ensure privacy security, you'd better sign out related accounts like iTunes, iCloud, etc. 
4. Is it dangerous to often factory reset on a Mac?
Factory reset Mac doesn't bring any threats to your computer because this operation only erases all data and returns to the way it was before the first use. Unless you have a specific reason for doing so, performing a factory reset on a Mac is usually unnecessary. But if you don't back up files before factory resetting, data will lose during the process.