Your data insights determine the success of your organization. Thus, you would keep it safe by setting up passwords and users. It is terrible if you lose your device, and then anybody can hack it and create a security breach. To resolve it, you would use an encryption service similar to BitLocker. So, if you are wondering what BitLocker is and How to Enable BitLocker on Windows 10, then we have got you all covered! 
What is BitLocker
Suppose you want to protect your data from thefts and security breaches; you can encrypt your hard drive and thus its contents. Therefore, when you want to protect your Windows Operating System, then BitLocker works well. It is a drive encryption software from Microsoft for Windows PC. The service refrains unauthorized users from accessing your data providing vital security to it. To access the data, you must go ahead with the Recovery key. No one can hack your disk's data. So, even if someone steals your PC or a similar case, they would not see it! 
How Does BitLocker Work 
When you want to protect your hard drive, you can leverage the power of BitLocker for it. It works on TPM (Trusted Platform Module) that stores particular keys that you can use to authenticate your hard drive. If you do not have TPM installed on your computer, you can also use it. Mostly, it is present when you purchase it. If you do not have a TPM installed on your device, you can still access BitLocker if you have a recovery key. However, you must have a USB startup key. But if you have TPM installed on your PC, then BitLocker would work better as an integrity verification system is much more advanced than a USB startup key. Hence, you get better encryption with a TPM. 
The coolest part of BitLocker is that you can even lock your system's Startup till you want it. This system will automatically unlock when you enter a PIN or use a drive containing a startup key. These are two methods, and you can select one that suits your requirements. 
BitLocker protects your hard drive and ensures advanced security if you have a Trusted Platform Module on a PC. The feature is available in Windows Vista and its higher OS versions. For using BitLocker, you need a Windows Pro or Enterprise Edition. So, if you want to use it on Home editions, we have fixes for the same. 
As it is a Microsoft service, you do not need to pay additional costs to use it. The most brilliant feature of BitLocker is that it provides an advanced level of encryption with TPM, yet it does not affect the read and write speed of hardware or software. So even if you are a novice, you can set up quickly. You should have two partitions on your hard drive. It is mandatory as one partition will do the encryption task, and the other is required for integrity verification.
You might not be aware, but BitLocker does provide hardware encryption for critical situations, but it is not a foolproof plan. Your data will be safe only if your system is unlocked and logged in. But it will not protect your encrypted data always. So, if you have any backup plan for hard drive data encryption, you should not abandon them. 
How to Use BitLocker in Windows 
If you are a Windows 11/10 Home Edition user, you will learn to use BitLocker in Windows. Well, the home version does not let you use BitLocker. Therefore, you need a Windows Professional, Enterprise, or similar edition to use it. However, some credible methods do let you use BitLocker in Windows. 
Encrypt your External Drive through Another Computer with Windows Pro Edition
Step 1: Open Control Panel, and then go to System & Security > Bitlocker Drive Encryption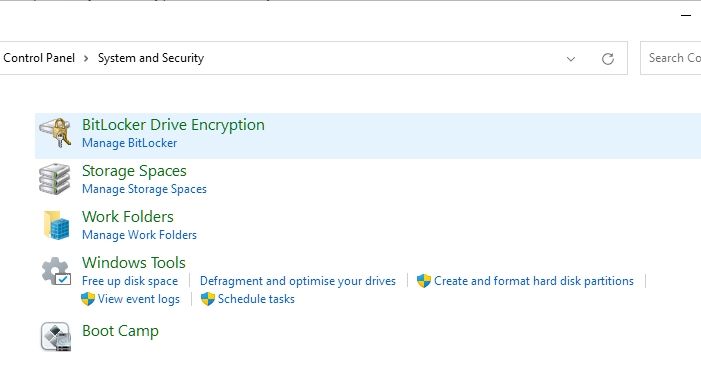 Step 2:  It will display all the drivers on which Bitlocker can be enabled. Click on Turn BitLocker on the link, and follow the steps. You will be prompted if you want to encrypt the entire drive or on the go, i.e., as files are added. Make your choice based on your requirement. 

Step 3: Follow the steps; in the end, you will be prompted to save the recovery keys. You can keep it on a file or connect it with your Microsoft account. The latter ensures that the drive unlocks once you log in to your account.
Not everyone can do so, but if you can access any Windows Pro Edition, then you can use it to encrypt your entire system on an external drive. Then, later on, you can view those files in your Windows Home Edition. 
How to Unlock Bitlocker in Windows Home Edition
After encrypting your drive using BitLocker on Windows Pro Edition, you can unlock all of them on your Windows Home Edition. Follow the steps given below to access BitLocker encrypted data on your Windows Edition:
Step 1. Go to My Computer. Click on This PC and open it
Step 2. Right-click on the BitLocker Encrypted Drive
Step 3. A drop-down menu appears; select unlock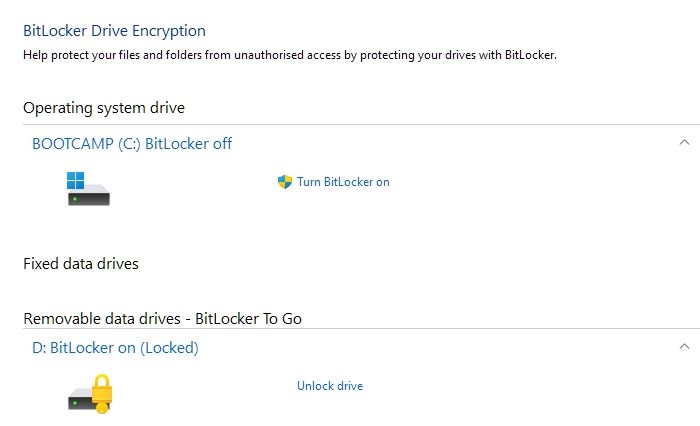 Step 4. Now, input your BitLocker credentials
There is a possibility that you might forget the password but have a recovery key. In this scenario, you can navigate to More Options and select the Enter Recovery key. After doing so, you will be prompted to enter your 48-digit Recovery key. 
Conclusion
BitLocker is a great way to protect your data, and with Windows 10, it's easier than ever to enable. We hope this article has helped you understand how BitLocker works and shown you that it's an easy process to enable on your computer. If you have any questions or run into any problems while trying to enable BitLocker, please don't hesitate to reach out to us for help. Thanks for reading!
BitLocker FAQs 
How to use BitLocker on Windows without TPM?
You can use BitLocker on Windows without a TPM and a USB startup key. However, it will affect the level of security. 
Does the BitLocker encryption impact your disk performance?
No, BitLocker will not impact your disk performance, including reading and write speed. 
Will enabling BitLocker impact the computer's performance?
No, BitLocker serves the purpose of encrypting. Therefore, enabling it will not impact the computer's performance.
What happens if you pause BitLocker encryption?
When you pause BitLocker encryption, it will be unencrypted until you resume it. 
Does BitLocker work for everyone?
BitLocker does not work for everyone. You should have Windows 7 Ultimate, Vista, 7 Enterprise, 8.1, 8.1 Enterprise, or 10 Pro, Windows 11 Pro Operating Systems. 
Can I get my data back if I lose my BitLocker key?
You can even retrieve data if you lose the recovery key. The EaseUS Data Recovery Wizard helps fetch accurate, reliable, and efficient data.