PAGE CONTENT:
DVD as a physical video and audio storage is rarely used nowadays because streaming media has almost replaced the traditional optical disc, from which we can find most of the video content we want to watch.
But that doesn't mean DVDs disappear completely. It still has its place in storing videos. Imagine your favorite movies on the streaming platform can't be played due to copyright or regional restrictions; it must be annoying. But keeping it in a DVD as a copy will still have access to these videos and movies. 
Using DVD backup software to create a disk image file of your essential videos is necessary and helps recover after data loss. Most DVD rippers own the feature to back up DVDs to another hard drive in ISO format. Here we list the five best free DVD rippers you can use to set a backup for your DVD.

How to Fix a Corrupted ISO Files in Windows 11/10
Wonder what to do if your ISO is corrupted? If not, you will see how to fix a corrupted ISO file in this article. Our article presents five simple fixes that can help you make your corrupted ISO file work again in Windows 11/10.

How to Choose DVD Backup Software/DVD Ripper 
Before deciding to download and install DVD Ripper software, you need to consider the following factors that will show how to pick the best one for you:
Computer Model: Most DVD rippers in the market are only accessible to Windows users. If you are a Mac or Linux user, you must ensure the software is compatible with your PC. Fortunately, the tools in this article cover all three models.
Specific Needs: You need to identify your specific needs for the tool. Decide whether you want to copy, backup or edit, convert the video, and then choose a tool with that capability to satisfy your needs.
User-Friendly: User-friendliness is crucial for beginners who need simple steps to complete their DVD backup or copy. Of course, if you are an expert or use them regularly, you just need to choose the backup software you are most comfortable with.
5 Best Free DVD Backup Software/DVD Ripper
Here are the five best DVD rippers. All of them are freeware, and you can use them to back up your DVD without any cost.
1. WinX DVD Ripper Platinum
Secure URL: https://www.winxdvd.com/dvd-ripper-platinum/
Compatibility: Windows. Mac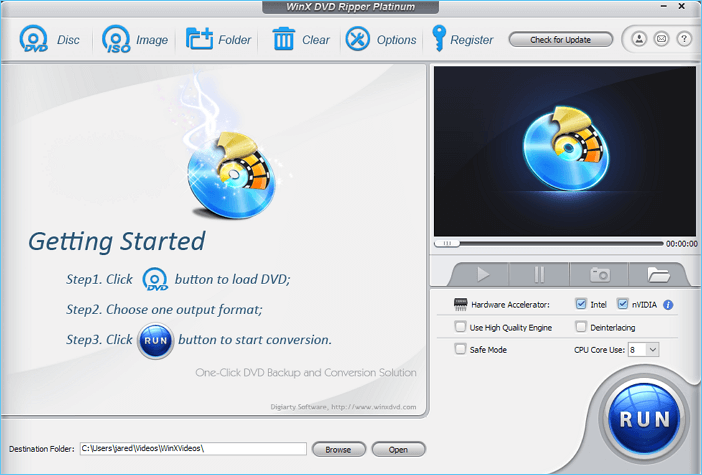 When it comes to DVD rippers, WinX DVD Ripper must be on the top list because of its powerful functionality and availability. 
WinX DVD Ripper can read the physical disc, ISO file, or DVD files and then rip DVDs into various video formats, like MOV, M4V, MP4, WMV, and AVI. It also allows users to change video resolution, adjust the audio codec, add subtitles, etc., before ripping. 
You can also use this software to back up DVD files in various formats. To back up DVD, you need to use the "Load DVD" option.
If you are a Mac user, don't worry because this software is compatible with Windows and Mac.
WinX DVD Ripper
Pros
Cons

A simple, well-designed interface
Simple to install and use
Multiple video output formats
Supports various file formats
High-quality video encoding and output 

Can't be used to edit and burn ISO to DVD
The free version has limited features
2. HandBrake DVD Ripper
Secure URL: https://handbrake.fr/downloads.php
Compatibility: Windows, Mac, Linux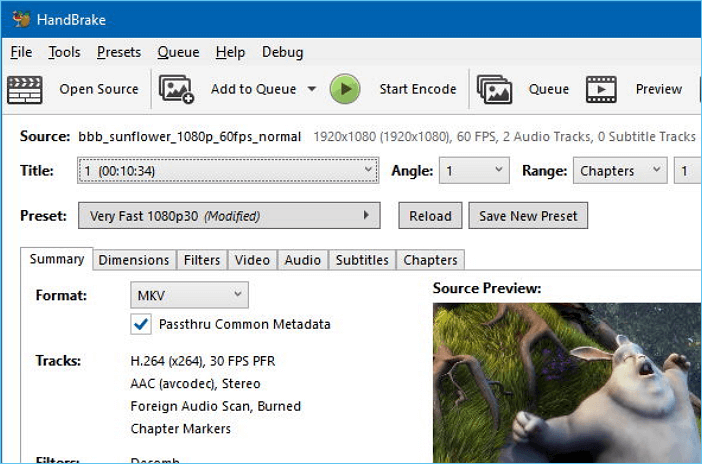 HandBrake DVD Ripper is an open-source program that allows users to back up DVDs virtually in any format without any cost. It has no limit to the file amount and video size, which makes it one of the most popular DVD ripping tools.
It can process most multimedia files and DVDs without copy restriction. The output formats cover a wide range of video encoders, audio encoders, audio Pass-thru, and file containers. 
With this professional DVD ripper, you can make any desired modifications to videos, including adding titles, chapter markers, subtitles, filters, etc., as well as real-time still and video previews.
HandBrake DVD Ripper
Pros
Cons

Backup and Convert videos from any formats
Supports various output devices
Compatible with Windows, Mac, and Linux
No limit to the number of files and video size

The ripping process is a little complex for a beginner
The main interface isn't so user-friendly
3. Freemake Video Converter
Secure URL: https://www.freemake.com/free_video_converter2/
Compatibility: Windows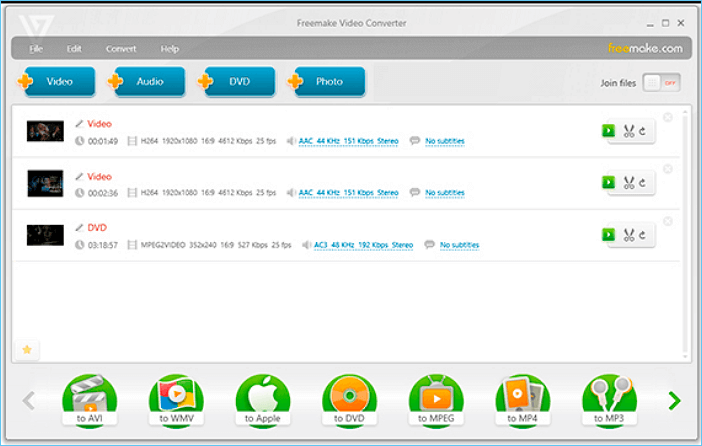 Freemake is a good option for beginners to convert video and audio into over 500 formats and devices. It also allows converting multiple files simultaneously.
Using Freemake Video Converter to back up DVDs is simple. First, drag and drop or import the DVD into the interface, choose the format and destination you want to save the copy of the DVD, and finally, click the Convert button and wait for it to complete the process.  
Freemake Video Converter
Pros
Cons

Clear and straightforward interface
Converting video and audio between 500+ formats and devices for free
Rip & burn DVD and Blu-ray
Convert various visuals
Suitable for any gadget

No Mac and Linux version 
Some of its features need activation
4. MakeMKV DVD Backup
Secure URL: https://forum.makemkv.com/forum/
Compatibility: Windows, Mac, Linux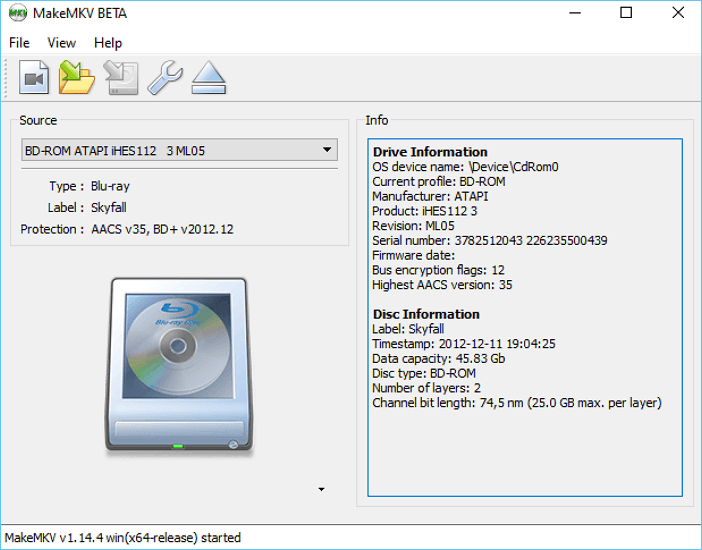 MakeMKV DVD Backup is a practical DVD Ripping program with a relatively intuitive interface than other tools. Still, it lets users finish DVD and Blu-ray disc ripping with minimum fuss. You only need to launch the program, find the DVD you want to rip, choose the destination places where you want to save files, and tap the "Make MVL" button to start conversion.
MakeMKV DVD Backup
Pros
Cons

Rip encrypted DVD
Rip Bul-ray disc
Simple interface and operating steps
Compatible with Windows, Mac, and Linux

Limited output format, only available for MKV files
You can use it for 30 days for free. After that, you need to sign in for a subscription
5. DVD Decrypter 
Secure URL: http://www.dvddecrypter.org.uk/
Compatibility: Windows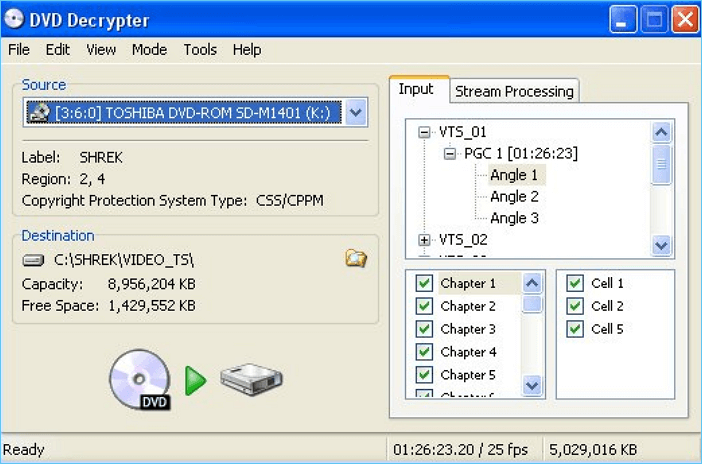 DVD Decrypter, also called DVD Decrypter file image, is an easy-to-use tool that can create a backup disk image of DVDs. You can make a copy of your DVD easily with this tool. One of the advantages of the tool is that it removes Macrovision content protection, CSS, region codes, and user operation prohibition, allowing users to copy any source of DVD.
It is a pity that this software has been discontinued, and its developers stopped updating. But it can satisfy your basic DVD backup needs at ease.
DVD Decrypter
Pros
Cons

Create a copy of the encrypted DVD
Easy to use
Excellent customization options

Only available on the Windows system
The software stops updating
Conclusion 
So much for DVD backup software; you must know which one suits you most through the above content. A backup DVD ensures easy data recovery in case of any damage. It is an excellent way to keep the safety of your favorite movies. 
FAQ about DVD Backup Software/DVD Ripper
1. How do I backup my old DVDs?
Back up your old DVDs isn't tricky if you use a DVD ripper. First, you need to scan and select the DVD you want to backup, then choose the destination. DVD rippers allow you to change the formats and edit original videos. Finally, click the backup or copy button.
2. What is DVD ripper software?
DVD ripper software is a computer program that can rip and copy the content in your DVD to another storage place. Some software also allows you to edit and change video formats on a DVD for better rendering on other devices.
3. What is the difference between DVD copy and Ripper?
DVD copy refers to copying or backing up your videos on DVD to a computer as an ISO image file, which won't change its original structure. While DVD ripper will rip and convert movies on DVD into various video or audio formats for better playing on multiple devices.
4. How do I make an ISO file from a DVD?
There is no built-in Windows tool to make an ISO image file from a DVD or any other disc, so you need to install third-party software, and you can choose either one mentioned above, except MAKEMKV. Take FreeMake Video Converter as an example. First, click the DVD option, then click the drop-down menu, select Save to folder, or Create ISO, and finally click Convert.  
EaseUS Data Recovery Services
EaseUS data recovery experts have uneaqualed expertise to repair disks/systems and salvage data from all devices like RAID, HDD, SSD, USB, etc.