If you have recently purchased new storage for your PC, understanding how to clone a hard drive on Windows 10 will simplify transferring your data. Limited space, improved performance, and the possibility to benefit from cutting-edge features like UEFI or support for GPT disks are some reasons for cloning. A desktop or laptop PC's lifespan can be extended for several years by upgrading to a new SSD drive. So, hard drive cloning is not as difficult as you would imagine, and it is crucial to familiarize yourself with the procedure before making your clone disk.
Read on to find out whether Windows 10 can be cloned and how to clone Windows 10 using a professional tool.
Can Windows 10 Be Cloned
Yes, Windows 10 can be cloned. When you need to back up or transfer data, cloning enables you to make a copy of your hard disk. One added advantage is that it enables you to transfer your Windows 10 installation while keeping all your preferences and settings.
Why is cloning your Windows 10 hard disk preferable to simply copying and pasting everything over? To begin with, moving everything from one drive to another can cause problems, such as apps that cannot locate program files, and it will probably leave your new drive in a disorganized state as well. Also, the new drive will not become bootable if you copy files.
So, it is better to clone your new drive rather than just copying and pasting it to transfer your operating system. Thus, this will make your new drive your primary drive, with your older drive acting as a storage location.
Main Advantages of Cloning Windows 10:
Easy to get system backup
Can avoid manually reinstalling
Free up hard drive space on the original hard drive
Downtime is significantly reduced as the cloned disk is immediately usable.
So, I hope you understand what cloning a hard drive on Windows 10 means and its advantages as well. Now, let us move on to the next section, where you will learn how to clone Windows 10 using the professional tool EaseUS Partition Master.
A Professional Tool to Clone Windows 10
You can clone Windows 10 with a few simple clicks using the professional tool EaseUS Partition Master. This software includes a tool, Clone OS disk, which enables you to copy the operating system and any associated partitions to a new drive. Furthermore, the entire procedure is easy to do.
Download EaseUS Partition Master and follow the on-screen steps to start the procedure.
Features of EaseUS Partition Master
Clone a bigger HDD to a smaller SSD
Clone an SD card on an external hard disc
Clone Windows to an external hard disk
Clone external hard disks, USB drives, or SD cards
After cloning, reformat a hard drive
Cloning Windows to a new hard disk is a simple process using EaseUS Partition Master. After the cloning is complete, you can start Windows from the newly created cloned drive. Additionally, it lets you quickly move your OS to an HDD or SSD with a few clicks.
Here are the steps to use this tool:
 Notice:

To clone SD/USB/external hard drive with data to a new device, connect the external storage device that you want to clone and a new removable device (SD/USB/external hard drive) with bigger capacity to your PC in advance.
Step 1. Clone external storage device (SD/USB/external hard drive)
1. Click "Clone" tab. Choose "Clone Data Disk" option and click "Next" to continue.
2. Choose a source disk and select a new device (SD/USB/external hard drive/hard drive) as target disk, click "Next".
3. Click "Yes" to confirm the warning message.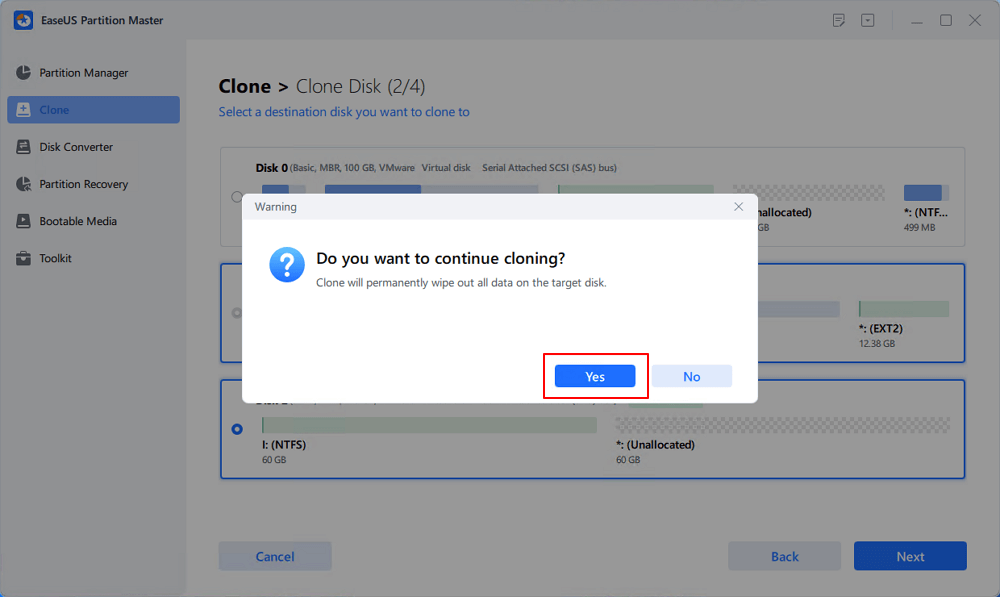 Step 2. Keep all changes
1. Check the source disk layout (you can edit the disk by clicking "Autofit the disk", "Clone as the source").
2. Click the "Start" to start cloning.
3. Wait for the cloning process complete.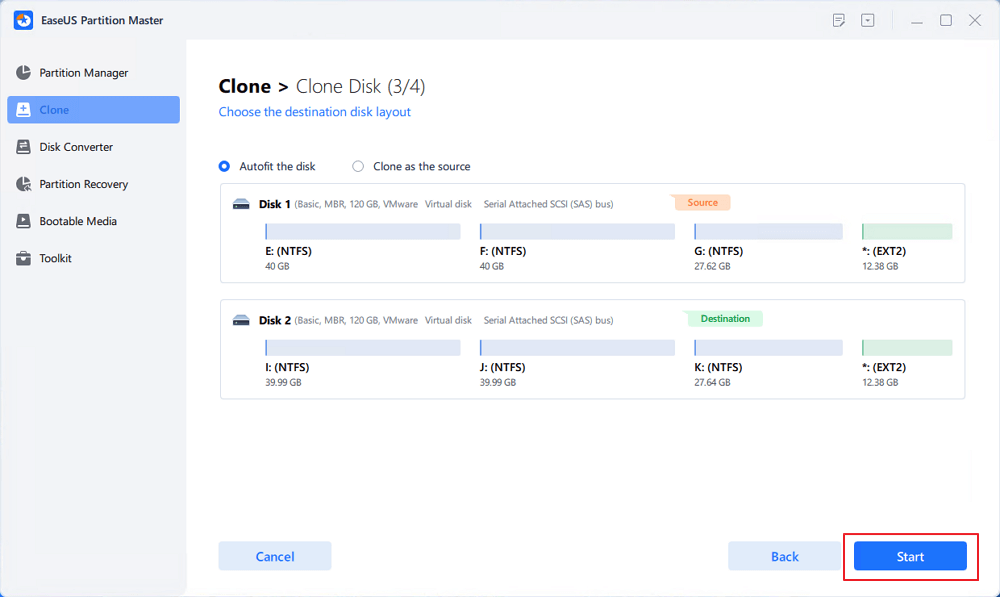 Conclusion 
Disk cloning is an excellent technique to make an exact duplicate of a hard drive, whether you need additional storage space or want to update your hard drive from an HDD to an SSD.
Cloning is simple and can be used for many things, such as generating backups, upgrading to a larger hard drive, and moving data to a new PC. Although the procedure may initially seem daunting, it is the simplest and most effective way to transfer your operating system and files to a new hard drive.
The user's needs should be considered when selecting disk cloning software. EaseUS Partition Master is more than adequate for the majority of customers. So, I hope this article helped you get a clear idea about cloning Windows 10.
Can Windows 10 Be Cloned FAQs 
Do you have more questions about cloning Windows 10? Check out the frequently asked questions and their answers given below:
1. Can I clone my Windows 10 to another computer?
Yes, you can. Depending on the hardware of the new PC, you can opt to restore a Windows backup image or clone the hard disk in Windows 10 to transfer Windows 10. It would be best if you made specific preparations before beginning: A USB-to-SATA cable to connect the target drive.
2. Can I clone a Windows 10 hard drive?
Yes, you can. Any HDD can be copied or moved to a different computer. You can use third-party software to copy Windows 10 from an old PC to the new one with a bootable disk. Additionally, it guarantees a successful system boot-up on the new PC using the cloned hard disk.
3. Is it better to reinstall Windows or clone?
Disk/partition cloning software is all you need if your hard drive and Windows operating system are working correctly. On the other hand, if the OS and hard drive are not operating correctly, you should choose the Windows Clean Install option.
EaseUS Data Recovery Services
EaseUS data recovery experts have uneaqualed expertise to repair disks/systems and salvage data from all devices like RAID, HDD, SSD, USB, etc.