New Update! EaseUS Data Recovery Wizard 6.0 hits the market with much more effective data recovery and support for large hard drives
Fri, 31 May 2013, 14:24:51 EDT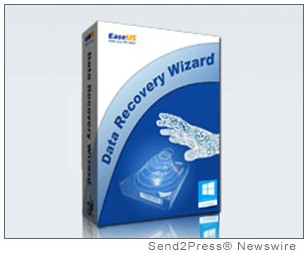 NEW YORK CITY, N.Y., May 31, 2013 (SEND2PRESS NEWSWIRE) -- EaseUS Software, a leading provider of data backup and disaster recovery and storage management solutions for the Windows environment, continues to provide PC and Server users the most complete and reliable products since its inception. The newly updated data recovery software EaseUS Data Recovery Wizard 6.0 brings a big enhancement for making data recovery much more effective from large hard drives than any other data recovery software in the market.
This great feature will benefit those who suffer from data loss and want to recover lost data from large hard drive (up to 8 TB). EaseUS Data Recovery Wizard ensures a safe and precise data process.
EaseUS data recovery software ensures a guaranteed recovery against numerous threats like: formatted or corrupted drives, missing critical file system structures, file deletion, application crash and computer viruses. Therefore, you won't be irritated by not having a backup for your important data. EaseUS Data Recovery Wizard can easily get them back from your PC, USB drive, external hard drive, mobile phone, digital camera, iPod, MP3/MP4 player, and other storage media. Unique data recovery options let you perform data recovery thoroughly.
Pricing and Availability:
About CHENGDU Yiwo Tech Development Co., Ltd.:
The company provides professional solutions in data recovery, backup software and partition manager for home, education and SMB users, service providers as well as international corporations. For Windows OS, its major products are Data Recovery Wizard, EaseUS Todo Backup and EaseUS Partition Master. For Mac OS, it has EaseUS Data Recovery Wizard for Mac and CleanGenius. For more information, please visit https://www.easeus.com/
"EaseUS" is registered trademark of CHENGDU Yiwo Tech Development Co., Ltd.:

PDF text copy of release
http://www.send2press.com/newswire/EaseUS-Data-Recovery-Wizard-6-0-hits-the-market-with-much-more-effective-data-recovery-and-support-for-large-hard-drives_2013-05-0531-002.shtml