New Update! EaseUS Data Recovery Wizard 5.8.0 now supports recovery of lost data from 8TB hard disks
Wed, 23 Jan 2013, 13:19:15 EST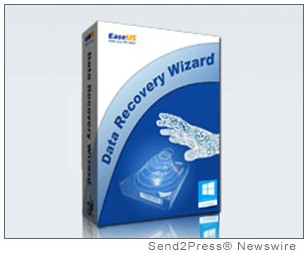 NEW YORK CITY, N.Y., Jan. 23, 2013 (SEND2PRESS NEWSWIRE) -- EaseUS Software, a leading provider of data backup & disaster recovery and storage management solutions for Windows environment, keeps to provide PC and Server users the most complete and reliable products since its inception. Its newly updated data recovery software EaseUS Data Recovery Wizard 5.8.0 has been improved to support lost data recovery from 8TB hard disks.
With the information era's coming, more and more data has been created every minute. That's why now so many people choose hard disks with large capacity to store their crucial data. This update will benefit those who suffer from data loss and want to recover lost data from large hard drive.
Having been the most reliable and complete software for this task, EaseUS Data Recovery is a computer user's best choice to get lost data back due to accidental deletion, formatting, virus infection, unexpected shutdown or any other unknown reasons; especially when you want to recover data from a formatted drive. It is read-only, risk-free and cost-effective Windows data recovery software and won't cause any harm to your lost data.
Pricing and Availability:
Get the detailed info here: https://www.easeus.com/datarecoverywizard/
About CHENGDU Yiwo Tech Development Co., Ltd.:
The company provides professional solutions in data recovery, backup software and partition manager for home, education and SMB users, service providers as well as international corporations. For Windows OS, its major products are Data Recovery Wizard, EaseUS Todo Backup and EaseUS Partition Master. For Mac OS, it has EaseUS Data Recovery Wizard for Mac and CleanGenius. For more information, please visit https://www.easeus.com/
"EaseUS" is registered trademark of CHENGDU Yiwo Tech Development Co., Ltd.:

PDF text copy of release
http://www.send2press.com/newswire/New-Update-EaseUS-Data-Recovery-Wizard-5-8-0-now-supports-recovery-of-lost-data-from-8TB-hard-disks_2013-01-0123-003.shtml