EaseUS Todo Backup 5.0 Brings Outlook Emails and Libraries Backup and Restore
Mon, 13 Aug 2012, 14:27:07 EDT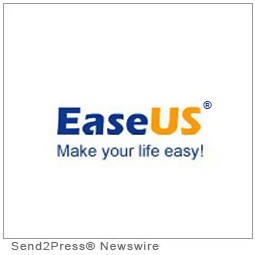 NEW YORK CITY, N.Y., Aug. 13, 2012 (SEND2PRESS NEWSWIRE) -- EaseUS, the world leader in innovative data security and data management solutions, announces the release of EaseUS Todo Backup 5.0 - being one of the fastest and most reliable backup and recovery solutions available on the market. This version introduces a series of modifications and enhancements that offer improved performance for protecting data.
New features in version 5.0 are:
Outlook Backup and Restore: Emails performs an important role in our life and loss of emails might bring catastrophe to your business. This new version can now backup all your email messages in Outlook and save them in a safe way.
Mass storage devices supported: Support a hard disk larger than 2TB.
Libraries backup/restore: One click to backup all files including documents, music, pictures and videos under Libraries in Windows 7.
Backup certain file type in specified folder: It allows you to specify certain file types to backup in folders, avoiding monotonous and boring manual efforts.
Redesigned products' UI: GUI improvements for easier and simpler backup & recovery process.
For more information: https://www.easeus.com/backup-software/.
Continuous improvements show EaseUS's ambition to make a better and more reliable backup solution for their customers. With millions of PCs, workstations and Servers being installed with their backup software, EaseUS believes it will play a remarkable role in its field and enjoy a bright future.
About CHENGDU Yiwo Tech Development Co., Ltd.:
The company specializes in data recovery, backup software and partition manager. For Windows OS, its major products are Data Recovery Wizard, EaseUS Todo Backup and EaseUS Partition Master. For Mac OS, it has EaseUS Data Recovery Wizard for Mac and CleanGenius. For more information, please visit https://www.easeus.com/.
"EaseUS" is registered trademark of CHENGDU Yiwo Tech Development Co., Ltd.:

PDF text copy of release
http://www.send2press.com/newswire/EaseUS-Todo-Backup-5-0-Brings-Outlook-Emails-and-Libraries-Backup-and-Restore_2012-08-0813-005.shtml