VirtualTech Believes EaseUS' Data Backup and Recovery Solution is a Better Choice
Tue, 19 Jul 2012, 12:53:30 EDT
NEW YORK CITY, N.Y., July 19, 2012 (SEND2PRESS NEWSWIRE) -- EaseUS, the technology leader in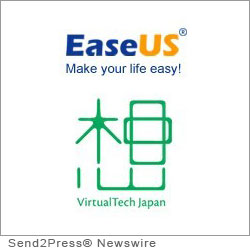 innovative data security and data management solutions, is pleased to announce another success in Japanese market. VirtualTech, a leading IT company that follows the development and utilization of virtualization technology, chooses EaseUS data backup and recovery solution for its Server and PC users.
Providing reliable solutions and technologies in guarding data security for Server and PC users, EaseUS data backup software - Todo Backup makes its own reputation in Japan, thus VirtualTech believes it is a good choice for trusting on the data backup and recovery solution provided by EaseUS.
"EaseUS takes nonstop actions to improve itself," explains Liu Ji'en, CEO of EaseUS Software. "The development team in EaseUS Software has demonstrated the capabilities and the commitment to their clients that builds a positive customer experience with our software."
The mission for EaseUS is to locate every need of its customers and then satisfy it. Technologies like storage management, system and data migration, P2V and snapshot, etc., makes EaseUS an outstanding company among all IT solution providers.
About CHENGDU Yiwo Tech Development Co., Ltd.:
The company specializes in backup software, partition manager and data recovery for Windows and Mac. Its major products are EaseUS Todo Backup, EaseUS Partition Master and Data Recovery Wizard. For more information, please visit https://www.easeus.com/
"EaseUS" is a registered trademark of CHENGDU Yiwo Tech Development Co., Ltd
About Virtualization Technology Co., Ltd.:
VirtualTech, with a group of technology experts, focuses on the development of virtualization technology in Japan. Its main fields include:
Research and development related to virtualization technology;
Various surveys about virtualization technology;
Software related to the development of virtualization technology;
Construction of the system by introducing virtualization technology.
For more information, visit: https://www.easeus.com/technologies/

PDF text copy of release
http://www.send2press.com/newswire/2012-07-0719-001.shtml