Scenarios
"My attempts at backups continue to fail with 'Windows Backup did not complete successfully' and when I click the 'Options' button it gives me details of why and says 'The disk where your backups are being saved doesn't have enough free space", which is totally incorrect."
Explanation
'Windows Backup did not complete successfully', or sometimes it says 'the last backup did not complete successfully' is a common setback that Windows users would probably encounter, especially when they utilize an external backup Hard disk drive or a USB stick.
Here are some possible reasons that explained why Windows fails to complete the task.
The backup operation did not accomplish before the time-out period ended.
Files were infected by virus and had been corrupted. Hence, Windows could not find the target files, or it simply skipped some files.
i/o device error, etc.
Troubleshooting
Only an intact backup takes effect as soon as computers were subjected to severe data loss or system crash. Therefore, it's critical to know how to deal with Windows Backup did not complete successfully. Altogether, this page decided to introduce 3 best ways as emergency measures that basically reduce your anxiety.
Fix 1. Immediately use another backup software and check for errors
Download EaseUS Todo Backup and install it on the computer where you did backup with the in-built Windows Backup and Restore program, for the purpose of testing the error. If the recommended free backup software executes the backup without hassle, then the problem is from the program itself you were using. It's time to think about giving it up and turning to the new one.
Step 1. Launch EaseUS Todo Backup and select a backup plan that works the best for you.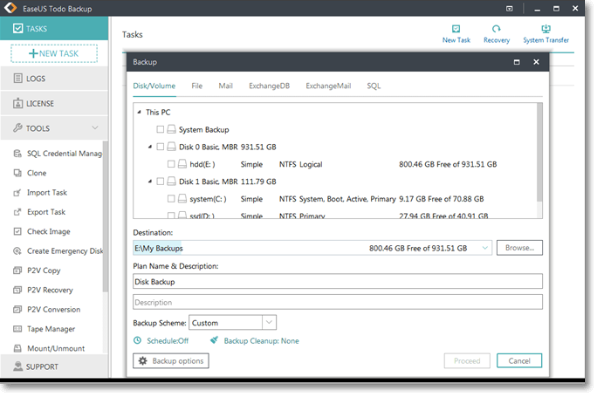 Step 2. Select a backup location to preserve the disk backup image or file backup image you're creating. Click "Proceed".
Step 3. Wait until the software finishes the backup task, during which no error message indicates that EaseUS Todo Backup can perfectly replace the built-in program.
Fix 2. Manually delete all old backups in the backup location
Old backups may cause an interruption of backup software. So, let's try to remove all the existing backup files or folders by deleting or transferring them to another drive, and do the backup again.
After then, use some antivirus software you trusted to scan and remove malicious software and viruses from both your source disk and destination disk. Try to create the backup again.
Fix 3. Run chkdsk to check disk errors
Step 1. Press Windows Key + X simultaneously, type cmd and click "OK" to open Command Prompt.
Step 2. Type the command chkdsk D: /f /r /x and hit enter. (d is the drive letter of the hard disk you wish to fix errors on it)
Chkdsk will work hard to locate the bad sectors on the selected drive first, and recover readable information and fix the disk errors.