Why do you need to backup Windows 7 system
Windows 7 has been released and many people have upgraded or freshly installed it, they may enjoy the new features of Windows 7. Though Windows 7 provides many new features, it cannot 100% protect your system and files.
Many personal computer users have experienced system crash or data loss, for example, hardware conflict, bad ram, hard disk drives overload, viruses attack, software conflict, etc. If your system is crashed and then you will realize that you really need backup software after suffering the great pain to sacrifice your precious weekends or dating time to reinstall your operating system.
Windows 7 system backup and restore with backup software
This article will introduce how to do Windows 7 backup and restore with Windows backup software - EaseUS Todo Backup, with which you can backup system partition to quickly get the system up and running in the event of a system crash or hardware failure. Meanwhile, EaseUS backup software is useful if you want to upgrade the older smaller hard disk without reinstalling the operating system and applications once again. Besides, It offers to Recover to dissimilar hardware which makes it possible to restore their operating system to another PC of different configurations to facilitate their life.
Besides backup to an image and disk clone, this backup has other useful features, such as log management, image compression, image splitting, backup priority, email notification, bootable disk as well as other more features to make your life convenient.
How to do Windows 7 system backup and restore
As you know there is a hidden "System Reserved" partition before the Windows 7 system partition, which contains files for booting a computer. When you do Windows 7 system backup and restore, you should backup both system partition and this "System Reserved" partition.

To explore the content of "System Reserved" partition, you may use another free partition management software - EaseUS Partition Master Home Edition.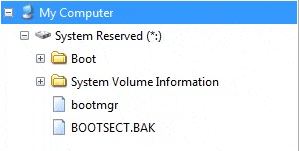 How to backup Windows 7
You might be limited by Windows 7 built-in backup utility. Don't worry, EaseUS Todo Backup will allow you to do the complete backup job.
Step 1. On your Windows 7 computer, download and install EaseUS Todo Backup. To back up your entire Windows 7 operating system, choose "System Backup" to start.
Step 2. The software will automatically select all your Microsoft Windows 7 related files and detect an available backup location for you. Here, if you've prepared a backup storage device for the Windows 7 system image, click "Browse" in the "Destination" area.
This is where you can freely choose a backup location on your own. It can be a local hard disk, an external HDD, USB memory stick or even a Network drive, a Cloud storage device, etc.
Step 3. Meanwhile, EaseUS Windows 7 backup software provides customers with more advanced backup options.
Turn on "Schedule", and you can set an automatic Windows 7 backup task by daily, monthly...or upon an event.
In the "Backup options", to avoid the large backup image files occupying disk space too quickly, you can compress the backup image to an ideal level.
Step 4. After making all the necessary settings for backing up the Windows 7 system, click "Proceed" to execute the backup task at once.