A Windows 10 automatic backup is a backup plan created within the Windows 10 operating system that will automatically save copies of your important files on a schedule that you set. This is a convenient way to create backups; you don't have to remember to do it manually every time.
Backing up your computer files is important in case of a hardware failure or data loss. If you don't have a backup, you may lose all of your important files, which can be very frustrating. An automatic backup can help prevent this from happening.
Can I Create A Windows 10 Automatic Backup with Built-in Tools?
Yes, you can create a Windows 10 automatic backup with built-in tools. There are two built-in tools that you can use: File History and Backup and Restore (Windows 7).
File History is a feature in Windows 10 that automatically backs up your files on a schedule. It's quick and easy to set up; you just need to choose the folders you want to back up and select how often you want the backups to run.
Backup and Restore (Windows 7) is another tool that you can use to create an automatic backup. This tool is available in Windows 7/8/8.1/10/11. To use it, you first need to create a system image backup, which is a complete backup of your computer. Once you've created the system image, you can create a scheduled backup that will automatically run at the specified time and frequency.
Both File History and Backup and Restore (Windows 7) are good options for creating an automatic backup. However, if you're looking for the most comprehensive backup solution, we recommend using a third-party backup tool.
Third-Party Windows 10 Automatic Backup Software - EaseUS Todo Backup
There is plenty of free backup software for Windows, among which we recommend you use EaseUS Todo Backup as the tool to create an automatic backup. There are many factors to consider when choosing backup software. Here are some of the most important criteria:
Ease of use
Functionality
Compatibility
Pricing
EaseUS Todo Backup perfectly meets the above criteria. Most users think it has the clearest and simplest UI (user interface) design and is very easy to start with. What's more, it provides users with a wide range of backup features to meet all users' needs. In the aspect of compatibility, EaseUS Todo Backup is fully compatible with Windows 7/8/8.1/10 and the latest Windows 11. Most importantly, if you only want to create an automatic backup with EaseUS Todo Backup, you don't need to pay a penny.
🏆Key Takeaways
1. Fully backs up a computer: files, folders, systems, disks, and partitions
2. Completely free backup and restore tool
3. Extensive backup options: scheduled backup, automatic backup, incremental and differential backup
4. Flexible backup destination choices: local drive, cloud, and NAS
5. Add clone and system transfer function in the Paid version
EaseUS Todo Backup also offers many other features, such as file compression, email notifications, and encryption. In all, if you're looking for a comprehensive and easy-to-use backup solution, we recommend using EaseUS Todo Backup.
How to Create Windows 10 Automatic Backup?
As EaseUS Todo Backup is the handiest tool for Windows 10 users to create a backup, in this part, we will take it as an example to show you how to create automatic backups. Don't worry if you prefer using Windows built-in File History. We will attach a referral link for you to check.
Now download EaseUS Todo Backup from the button below, and follow the step-by-step guide to see how to create Windows 10 automatic backup.
Step 1. For the first time you use EaseUS Todo Backup to back up files, click Create backup on the home screen and then mouse click the big question mark to select backup contents.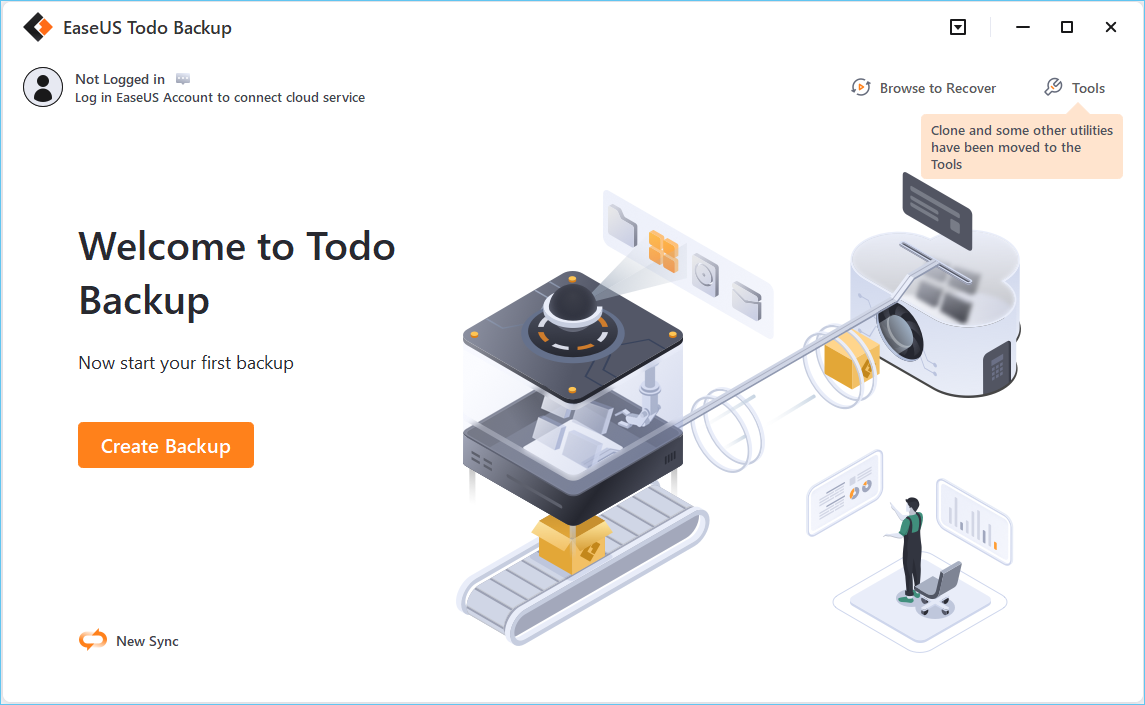 Step 2. Since you're going to back up files and folders on your computer, go on with the "File" backup mode, where you can select pictures, videos, documents and all other types of files to back up.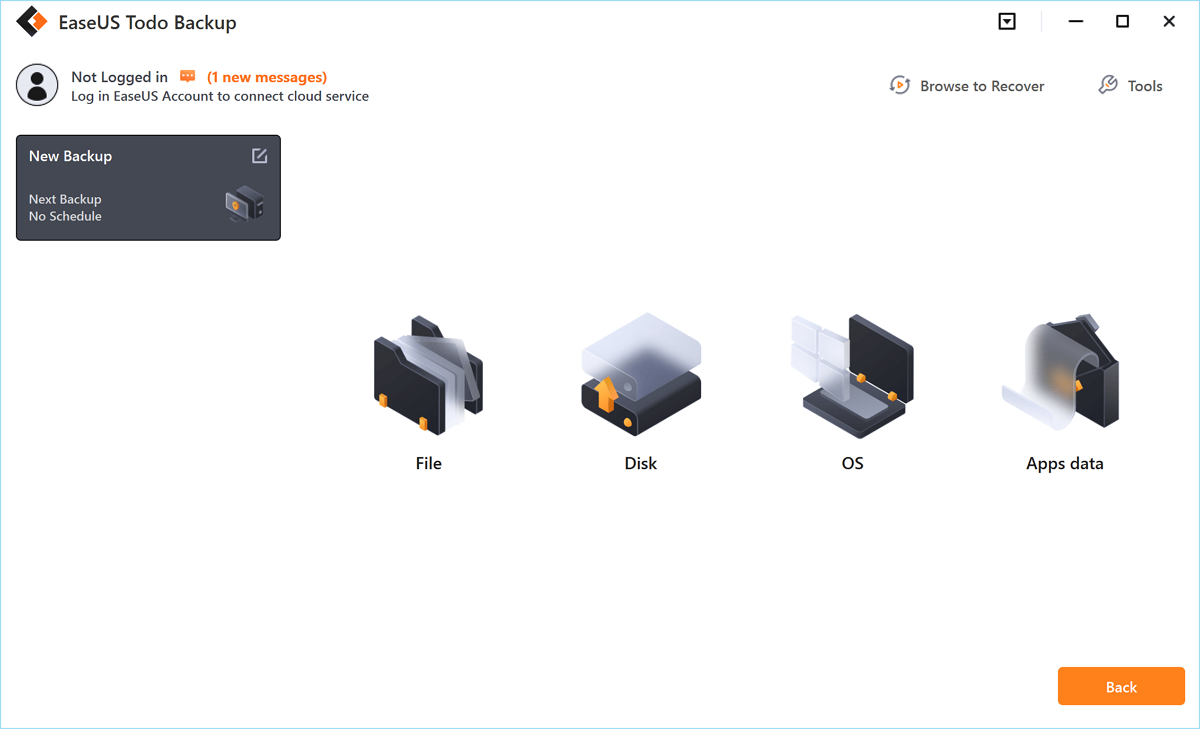 Step 3. Follow the paths to locate the files, folders or directories you want to back up, select them all and click "OK".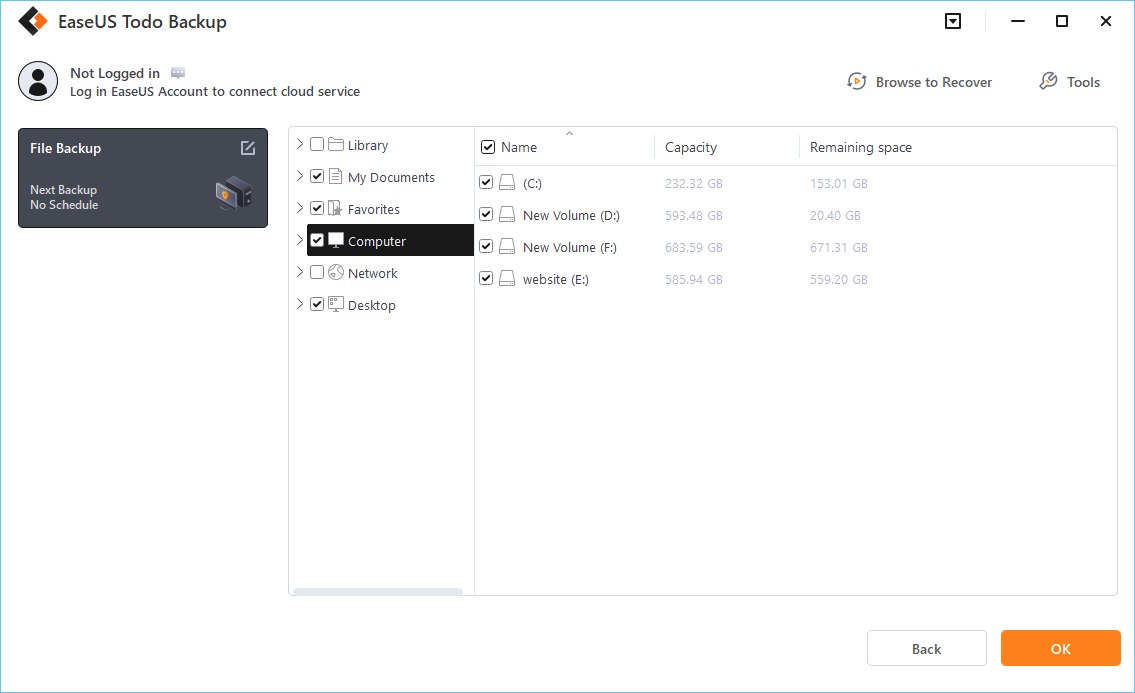 Step 4. Now you need to select a backup location to save and retain the backup.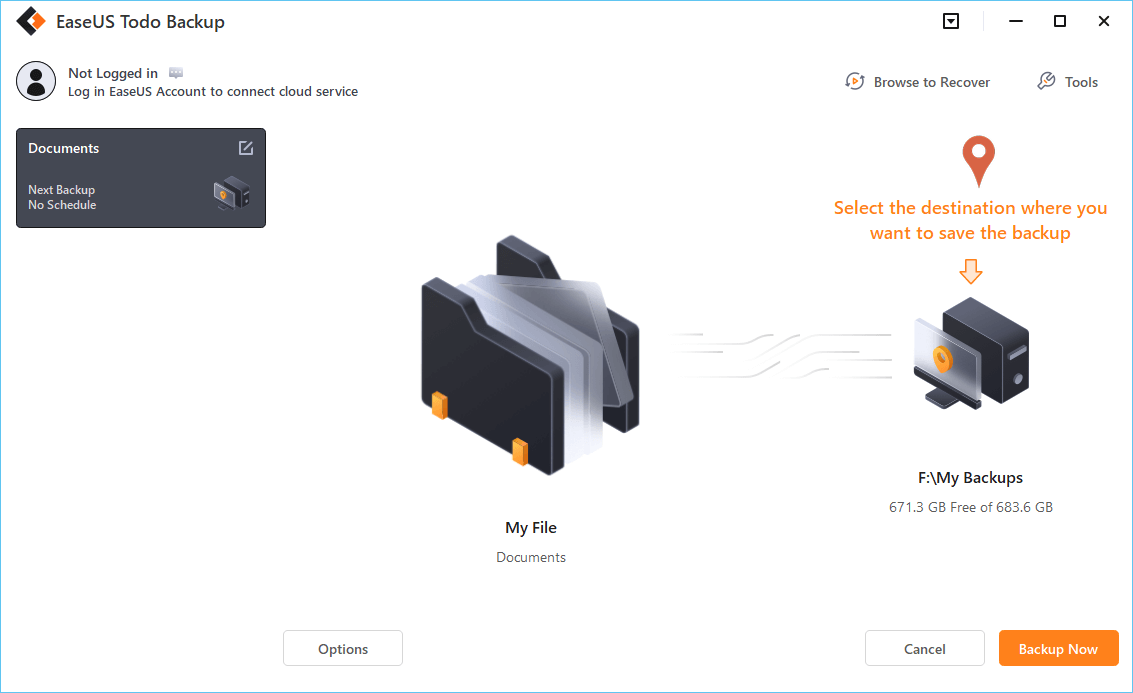 Step 5. EaseUS Todo Backup allows users to save the backup files to every device that is handy for you, like a local hard drive, external USB drive, SD card, network drive, or a NAS drive, plus a cloud drive of the EaseUS brand. We personally recommend users to choose the cloud drive prior to a physical drive to save important backups due to the greater accessibility, flexibility and safety.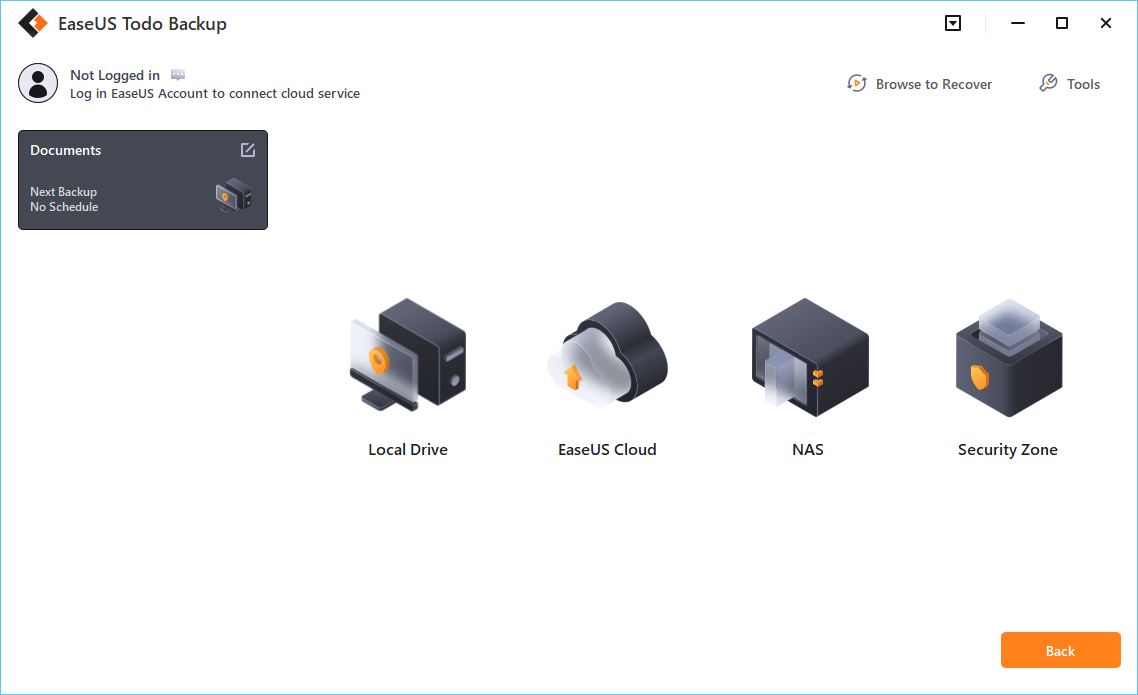 To be able to access to EaseUS cloud, all you need is an email registration and login.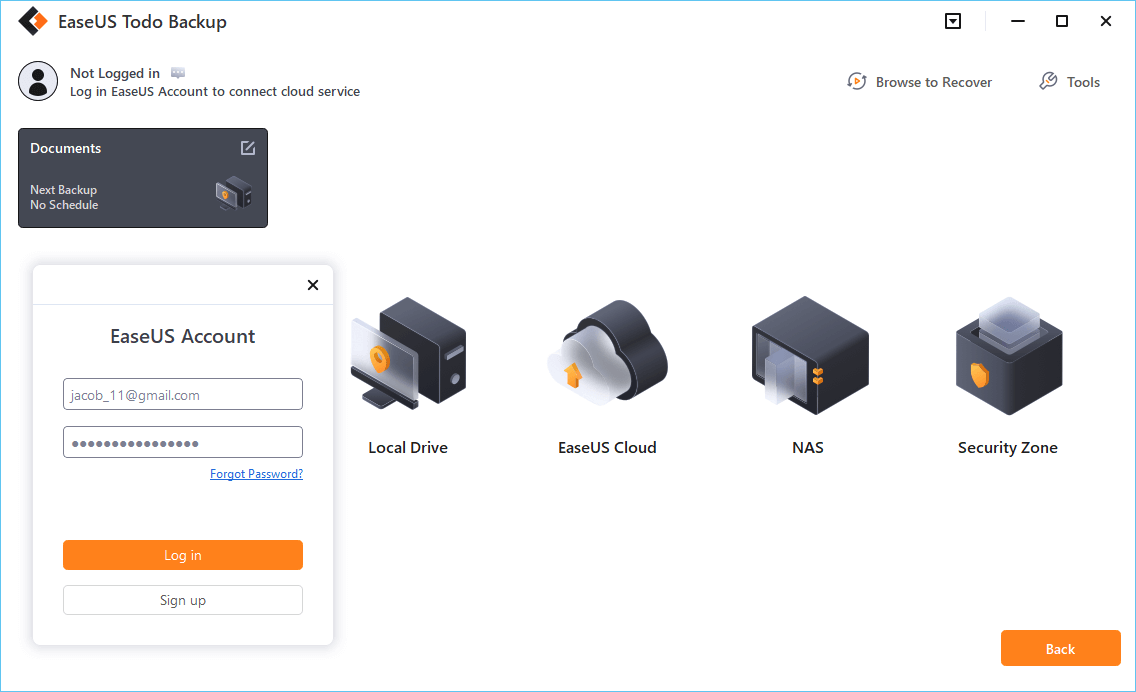 Step 6. If you're interested in an automatic and intelligent backup schedule for the next file backup task, go on with the "Options" setting. There you can encrypt a confidential file backup, compress the backup image size, or customize a backup scheme to tell the software in what time to start the next backup. 
Customize an advanced and automatic backup task here: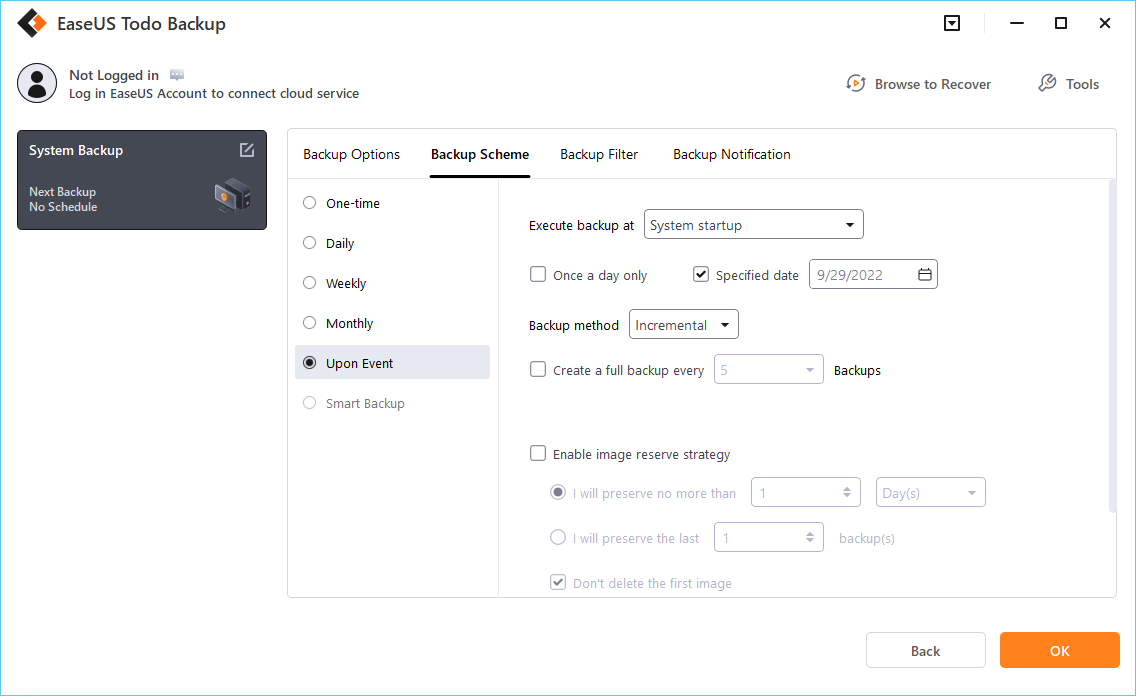 Step 7. Click "Backup Now" to start the file backup process. Your completed backup files are visible on the left area in a card style.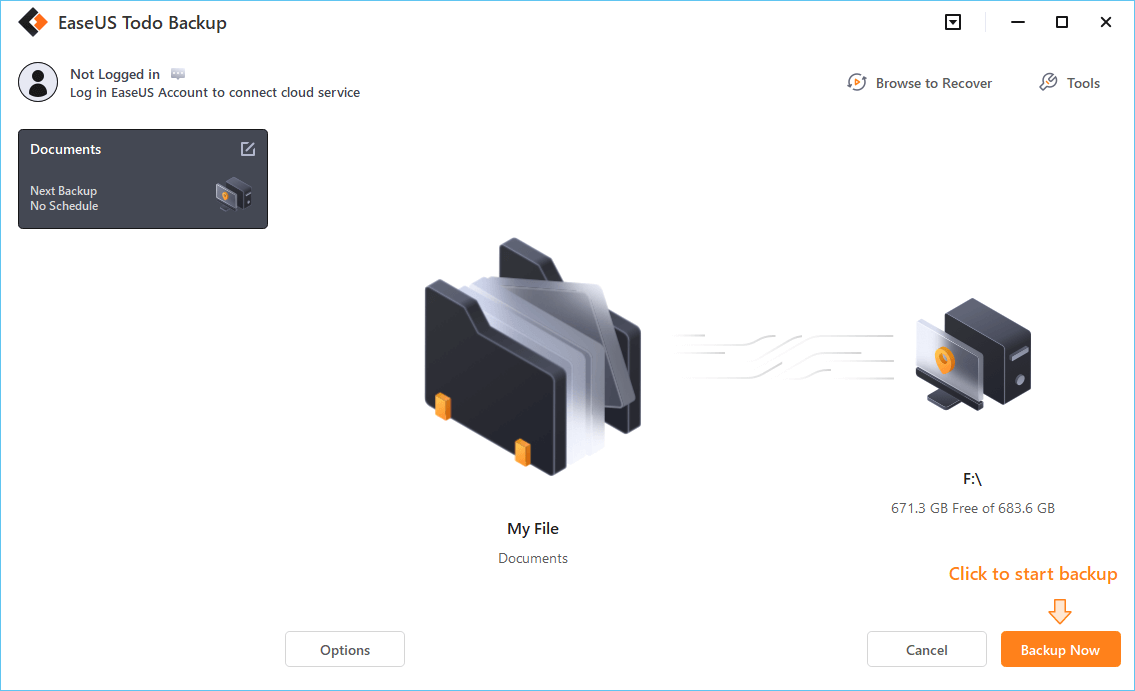 FAQs
1. How do I automatically Backup my files to an external hard drive Windows 10?
You have two choices to automatically backup files to an external hard drive. One uses the built-in File History, and the other uses third-party backup software - EaseUS Todo Backup.
File History backs up the content on your Desktop, Music, Documents, Pictures, and Videos folders. To set up the automatic backup plan, you need to insert your backup drive into your computer, then turn on the File History backup. It will start to backup files with the default schedule. You can also click the Advanced settings to change the plan.
On EaseUS Todo Backup, click the option on the left corner to set the automatic backup schedule after choosing what to back up and where to save the backup file.
2. How do I turn on automatic backups?
Follow the steps below to enable automatic backups:
1. Go to Settings > Update & Security.
2. Click Backup on the left panel, and then click More options.
3. Under Back up using File History, turn on Save copies of files automatically.
The Bottom Line
Hope this guide helps. If you have any ideas or suggestions about Windows 10 automatic backup, feel free to leave a comment below and let us know. And don't forget to try EaseUS Todo Backup if you need a comprehensive and reliable backup solution!
Updated by Gemma
Gemma is member of EaseUS team and has been committed to creating valuable content in fields about file recovery, partition management, and data backup etc for many years. She loves to help users solve various types of computer related issues.
Taking everything into consideration, we can say that EaseUS Todo Backup Home can offer you a little extra sense of security with a set of advanced tools. The interface provides quick adaptation, every process guiding you all the way through so you don't get stuck or further damage your system rather than keeping it safe.

 Read More

EaseUS Todo Backup Free lets you create backups of your important files or your entire computer through its streamlined interface. Just choose the backup type you'd like to get started, and let the program do the reset.

 Read More

EaseUS includes all the features I expect from backup software like versioning, incremental backups, and scheduling. For more advanced users, EaseUS allows you to install a pre-boot environment onto your hard drive so you can use it to restore files without burning a CD or putting it on an external USB drive.

 Read More

EaseUS Todo Backup
Smart backup tool for your files and entire computer in Windows 10/8/7.
Install Windows on Multiple Computers at Once? No Problem!
Learn how to install Windows 11/10/7 and special programs/software on a batch of computers. Use 10 minutes to do the 10 hours work without making a single mistake!
Get Free Solution!