Volume Shadow Copy Service not working in Windows 10, help!
"Hi guys, does anyone know how to use Volume Shadow Copy Service to copy and backup specific files in Windows 10? Shadow Copy Service shows errors in Windows 10 and I can't use it to copy and backup files.
I restarted the computer again, still, nothing worked. If you know a way to help me backup files as soon as possible or how to repair VSS back to work again, please let me know. Thanks!"
Shadow Copy, known as Volume Snapshot Service/Volume Shadow Copy Service/VSS, is a Windows built-in tool that allows users to manually or automatically backup copies or snapshots of computer files or volumes. So when VSS fails to work or stops working for copying and backing up files in Windows, what will you do? Will you take another way to backup files or just find a way repair and fix not working Shadow Copy Service? Here in the below, you'll find 2 quick fixes and 3 reliable methods to backup files and repair Volume Shadow Copy Service not working issue in Windows 10. Just follow offered methods and make VSS work again in Windows 10 now.
Quick Fix 1. Try Shadow Copy Service alternative software to back up Windows 10
Professional Shadow Copy Service alternative software - EaseUS Todo Backup Free supports you to free backup Windows 10 files, hard drive and even system within 3 simple steps. You may directly free download, install and apply it to free backup your Windows 10 data now:
Step 1. Install and run EaseUS Todo Backup on your Windows 10 PC or laptop.
Step 2. Click the left top icon and expand the tool pane, select System Backup.
If you want to backup Windows 10 files or a whole disk partition on Windows 10, click File Backup or Disk/Partition Backup.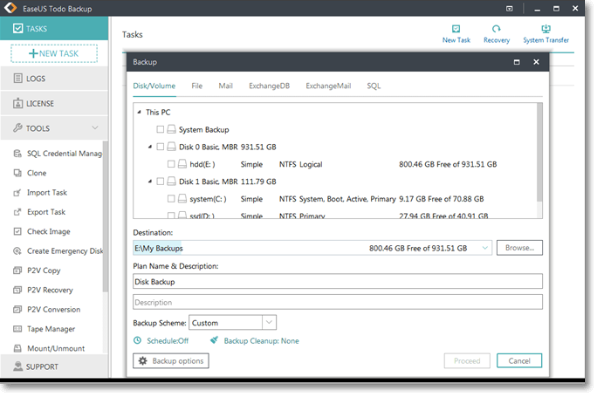 Step 3. Choose Windows 10 system and select the destination - a hard drive partition on your PC, a network drive, or even a cloud account to save your Windows 10 system image.
Then click Proceed to execute the Windows 10 system backup operation.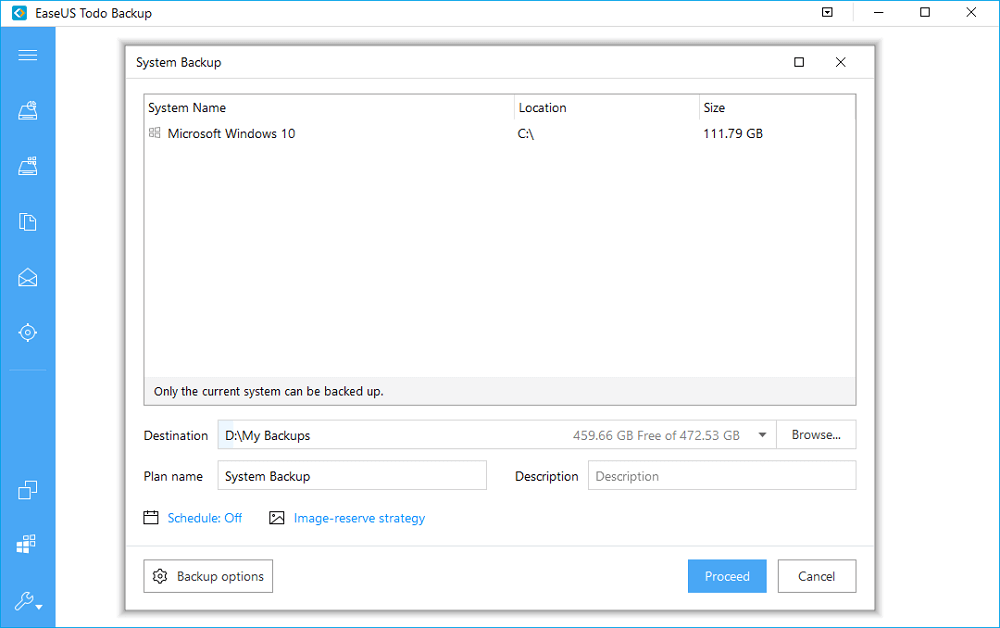 Quick Fix 2. Manually enable Volume Shadow Copy Service in Windows 10
If Shadow Copy Service is disabled in Windows 10, showing like below state, you'll need to follow below steps to enable it manually so to make it work again then:
1. Right-click blank area on Taskbar and select "Task Manager".
2. Click "Services" on Task Manager.
3. Click "Open Services" at the bottom of Task Manager window;
4. Find Volume Shadow Copy, if it shows as "Disabled", right-click on it and select "Automatic" at the Startup type column on General.
5. Click "Apply" and then click Start, finally click OK to enable Shadow copy and make it run on your PC.
Manually fix Shadow Copy service error in Windows 10
If these two quick fixes don't work, just follow the next 3 methods to get your problem with Shadow Copy service solved in Windows 10 now.
Method 1. Increase the space available on system drive and one the drive with previous version (Shadow Copy) enabled
1. Click "Start" and then click My Computer/This PC.
2. Click "Shadow Copies" tab > Click the volume that has Shadow Copies enabled, click "Settings".
3. In Storage Area, click "Details" and compare Used and Maximum Size columns to determine whether disk space is low.
4. If it is, use Disk Management tool extend volume size on the system drive and the drive with Shadow Copy.
Method 2. Reduce the size of Event Log to a maximum of 64 MB
1. Click "Start" > click "Administrative Tools", and then click "Event Viewer".
2. In the console tree, click any "Event Log" that is larger than 64 MB.
3. Click "Properties" > On the "General" tab, in Maximum log size, specify a log size of 64000 kilobytes or less.
4. Click "Clear Log" to put the new setting into effect.
If you want to retain the information currently in the log, click Yes when a message appears asking if you want to save the original log before clearing it, and then click OK.
Method 3. Disable Directory Service access auditing
1. Click "Start" > "Server Management" > "Advanced Management" > "Group Policy Management".
2. Navigate to: /Forest/Domains/your domain/Domain Controllers, and then right-click "Small Business Server Auditing Policy".
3. Click "Edit" to open Group Policy Object Editor and navigate to: Computer Configuration/Windows Settings/Security Settings/Local Policies/Audit Policy.
4. Double-click "Audit directory service access".
5. Clear the "Success" and "Failure" boxes if they are checked.
6. Click "Start", open "Command Prompt", and then type: gpupdate /Force to refresh the policy setting.