What is tape backup
The tape in "tape backup" is different from the tape being put in a walkman for listening in early years. Here this tape I am talking is a device used by enterprises to store important data in the form of tiny magnetic fields that can also be read and erased. Just like other storage devices, it can be both readable and writable.
Tape enjoys great popularity in medium and large enterprises because of its large capacity and long service life which can save a large amount of money. In fact, tape backup is considered an old data storage method comparing with disk backup, not so flexible and desirable. However, speaking of scalability of performance, security, and reliability, tape backup is definitely better than disk backup.
Tape backup software for Windows Server users
Backup is very important to companies with large valuable data produced every day. Wonder where to put all these backups you made? Backing up data is very crucial and where they can be stored also crucial. Data backups put in tapes is no stranger to those server users and it's really common. Performing tape backup may sound hard, but it would be simple and easy with the right tape backup software - EaseUS Todo Backup.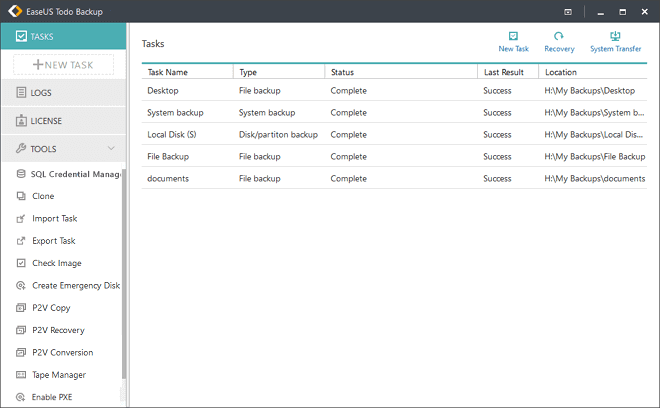 It is mature backup software with different editions to satisfy all kinds of needs coming for our users. The server version with more advanced features is designed for enterprise backup solution: support main Windows Server system; back up disk/partition/files/system state to protect users' data and get rid of disaster; transfer system to another PC with no reinstallation; network data backup to protect electronic data; different backup types - full, incremental, differential backup and so on.
Back up data with EaseUS Todo Backup to tapes
It is just like doing disk backup to do tape backup with EaseUS Todo Backup Server Edition. Free download EaseUS Todo Backup Server trial version and run it on your Server.
Follow the tutorial to backup Server, and set tape as your destination and make relevant settings if you like.