Problems with SyncToy 2.1
"I'm looking for a good equivalent to Microsoft SyncToy for synchronizing folders on Windows 10 PC. I used to use SyncToy from the Microsoft site with Windows 7 but had some problems with Windows 10 I recently upgraded. It seems not go compatible with the latest OS version. Do you currently use it on Windows 10 with no problems? Is there any other comparable free syncing program that works like SyncToy 2.1 alternative for Windows 10? What's your recommendation?"
Problems with SyncToy 2.1 vary from being unable to install to poorly working on different Windows operating system. Errors related to it occur when a program mishandles the file during use, and most commonly people will experience program lock-ups, slow PC performance, system freezes, startup or shutdown problems even though SyncToy is actually an ideal application that creating backup copies of files and folders.
How to solve SyncToy 2.1 not working smoothly with Windows 10?
We strongly suggest against fixing SyncToy 2.1 manually and making it work perfectly with users' Windows 10 computers, especially for people who know little about the specified knowledge. So the best way out is to find a reliable and powerful backup application that surpasses the initial choice. EaseUS Todo Backup can be the best SyncToy 2.1 alternative which is recognized as the top 1 files backup program around the world. Above all, it's free and goes 100% compatible with Windows 10. You can use the free imaging software to backup all your values on Windows 10 including system, disk data, files like documents, photos, music, videos and more.
Set task scheduler for automatic backup with EaseUS Todo Backup Free
Being similar with the accessibility to SyncToy 2.1 task scheduler, EaseUS free backup software exceeds in scheduling backup tasks to enable automatic Windows image backup. For your convenience, now set task scheduler for a complete backup with the amazing backup solution.
Step 1. Launch EaseUS Todo Backup, choose one of the backup options among File Backup, System Backup or Mail Backup.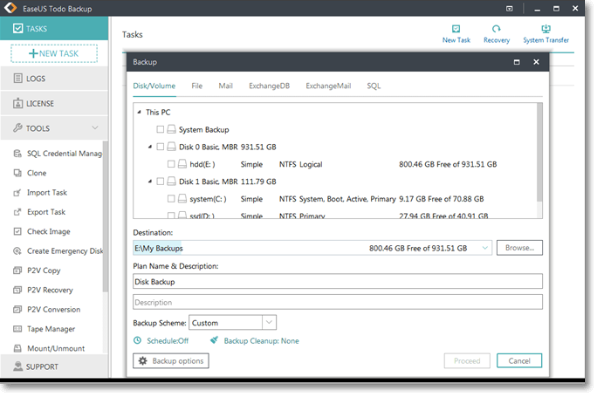 Step 2. Click schedule and it will pop up Schedule window. The backup utility supports an automatic backup with time intervals, and there are options to do an one-time, daily, weekly, monthly and upon event backup.