SQL Server 2005 automatic backup in Windows
Microsoft SQL Server 2005 is a database server that uses specialized programming languages to facilitate communication between your website and your stored data. SQL Server Management Studio is a suite of database management tools that allows you to perform necessary routine operations on your database. SQL Server 2005 automatic backup is a basic operation that should be done regularly. Fortunately, SQL Server Management Studio provides a straightforward process for scheduling an SQL server backup.
1. Start SQL Management Studio by clicking on "Start" and then "All Programs." Click on "Microsoft SQL Server," and then click on "SQL Management Studio."
2. Enter your credentials in the "Connect" dialog box. Click on "Connect."
3. Click on the "Object Explorer" window, and then click on the small plus sign beside "Databases."
4. Right-click on the database that you want to back up. Click on "Tasks" and then "Back Up."
5. Type the desired name of the backup in the "Back Up Database" dialog box in the "DatabaseName" box. Click on the "Add" button under the "Destination" box.
6. Click on "Browse" when the "Select Back Up Destination" dialog window appears. Specify a destination on the disk to which to save the backup. Click on "OK."
7. Click on the "Script" tab, and then click on "Script Action to Job."
8. Click on "Steps" in the "New Job" dialog box that appears. In the "Schedules" tab located within the "Steps" page, click on "New."
9. Specify the job schedule by clicking within the calender that appears, and then type the name of the new job in the "Name" box. Click on "OK."
SQL Server 2005 automatic backup software
EaseUS Todo Backup Advanced Server, professional SQL Server schedule backup software, can help you backup SQL Server 2008, 2005 automatically. It can aslo backup Exchange Server 2007/2010/ 2003.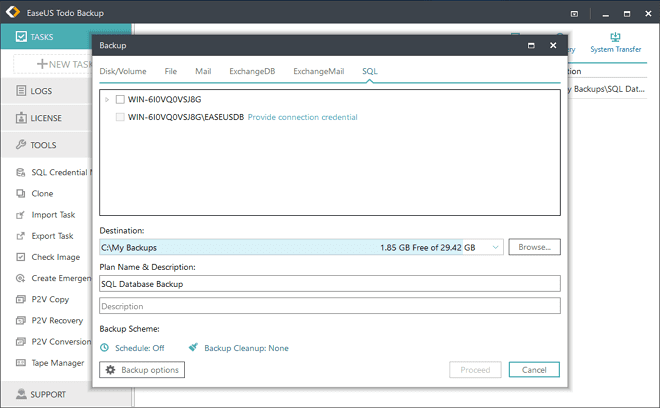 Details for MS-SQL Server 2008 schedule backup.
This is a useful tool which simplify SQL schedule backup very much. Choose it, you save time and energy very much.