Backups help ensure that your system and files aren't permanently lost or damaged. Windows 10 is coming with two different built-in backup utilities: File History and Windows Backup and Restore. Both of the two programs are available for automatic backup. So, you don't have to remember to back up your files and system manually. However, in some cases, Windows 10's built-in backup tools might not help. This page shows you how to set up or schedule automatic backups in Windows 10 with a powerful third-party backup and recovery software when it happens.
Why you need to set up automatic backups in Windows 10 with third-party tools
Usually, when you configure automatic backups in Windows 10 using File History and Windows Backup and Restore, the programs will automatically backup the whole computer including operating system, programs, files, documents, settings and all on your schedules. So, you can easily and quickly restore everything if something terrible happens.
However, due to some errors and limitations, Windows 10's built-in backup tools are not helpful to manage automatic backups in Windows 10 at any time. They might stop working, fail to perform scheduled backups, cause low disk space on system backup drive because of system recovery folder huge and grow and become useful when the computer fails or fails to boot correctly. For all these potential risks, we recommend you to set up and manage automatic backups with a reliable third-party Windows 10 backup and recovery software.
What is the best tool to schedule and manage automatic backups in Windows 10
Here, EaseUS Windows backup software can be your best choice. Being powerful, safe and easy-to-use, it is a perfect backup strategy that can provide convenience, save your backup time and energy. Compared with Windows 10's built-in backup tools, it has many flexible and advanced backup features. First, it allows you to choose the backup destination. Except for internal hard drive, you are also enabled to backup Windows 10 system and data to NAS, Network, external hard drives, cloud and other storage devices. And second, the program allows you to compress the backup image. It is helpful to save disk space. And third, it can help you schedule automatic backups in Windows 10 with simple clicks.
Now you can download EaseUS Windows schedule backup software and schedule one or more automatic backups to backup files and system daily, weekly, monthly, at a certain time or upon an event in Windows 10. And these backups will be your important defense in case something catastrophic happens to your computers, like a hard drive failure, a malware infection, or someone accidentally deleting something important.
How to configure and manage automatic backups in Windows 10
Install EaseUS Todo Backup and follow the guidelines below to set an automatic backup plan in Windows 10. If you need to back up files or disk partition, select the relative backup mode - File Backup or Disk/Partition Backup. Here we'll take how to back up Windows 10 system as an example to show you how to use this software and set up automatic backup plan:
Step 1. To backup only Windows 10 on your computer, please directly choose the option "System Backup".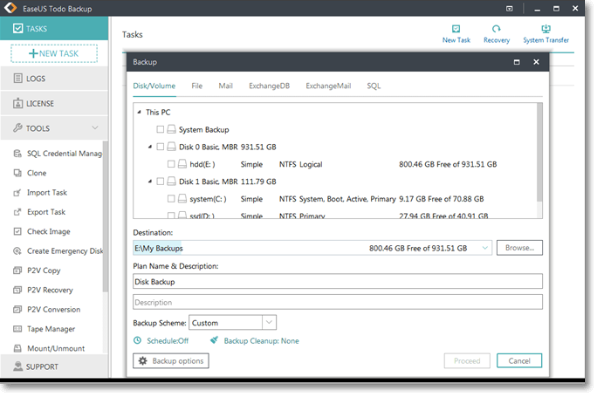 Step 2. Now the new window pops up, where you can customize your own Windows 10 backup by choosing a backup location(HDD, USB hard disk, network drives, Cloud drives...), adding a plan name and text description to it.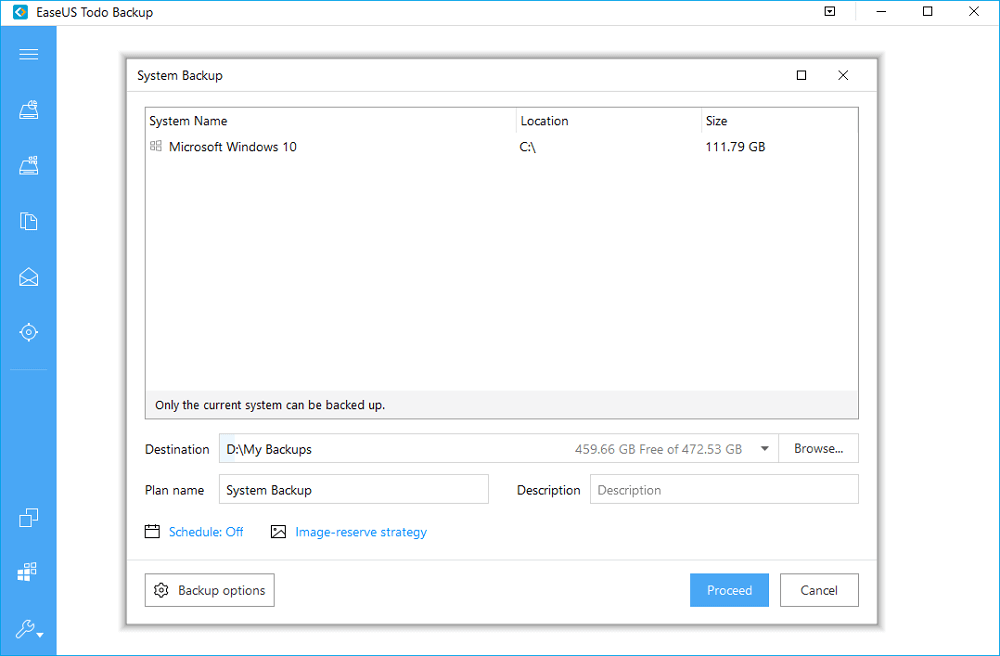 Since it's about backing up OS, it's significant to turn on the "Schedule", where you can enable an automatic Windows 10 backup at a set time like daily, monthly...or upon an event, telling the Windows 10 backup to start when system startup, system shutdown, user logon or user log off.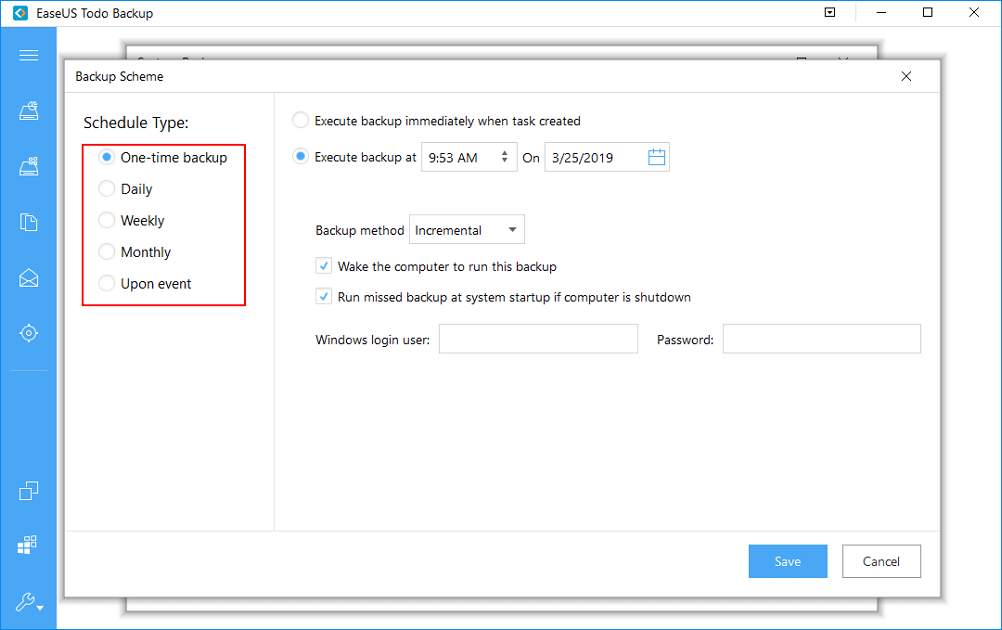 Step 3. Once all the basic settings were made, click "Proceed". Wait for a while you will create a full Windows 10 backup to protect your system from unexpected disasters.