PAGE CONTENT:
Part 1: Replace a System Disk

Method 1: Replace the Hard Disk without Reinstalling OS 
Method 2: Replace the Hard Disk and Clean Install Windows
Part 2: Replace a Data Disk
Part 1: How to Replace a System Disk
When it comes to replacing a hard drive which contains your operating system, you get two ways out. If you want to continue to use your old operating system, you can follow Method 1 to clone the disk and then replace the primary hard drive, while if you want to reinstall the OS to avoid any software related problems that may exist on your previous hard drive, you can follow Method 2 to install the new hard drive directly and then perform a fresh install on Windows 10 on your computer.
Method 1: Clone the System Disk and Perform Hard Drive Replacement
If you are satisfied with your current operating system and just intend to switch to a newer or bigger HDD/SSD, you can do it by cloning your old system disk to the new one and then replace the original hard drive. By doing so, you can use your computer directly without installing the OS after you perform the hard drive replacement. To clone a hard drive safely, you will need EaseUS Todo Backup, which is a professional and 100% secure software for disk/partition clone and data backup (disk/partition backup, system backup, file backup, and email backup.) With the help of this tool, you can easily replace your hard drive without losing data and reinstalling OS.
Video tutorial - How to clone and replace a hard drive
The advantages of using this method:
You can clone your OS, installed programs, and other data from your old hard drive to the new one all at once
You can use your computer directly without reinstalling OS after replacing the hard drive
You can keep all your data safe and make all your existing software ready for use
Step 1: Launch EaseUS Todo Backup and click "Clone".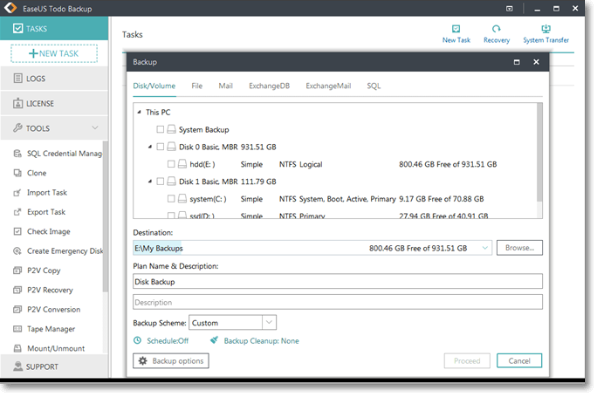 Step 2: Select the source disk which contains the operating system.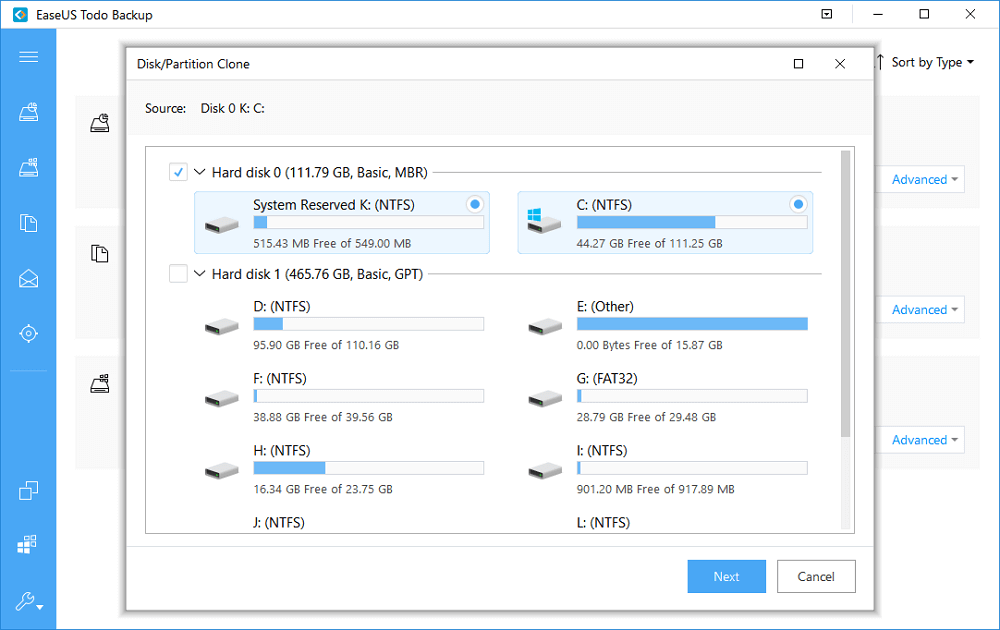 Step 3: Choose the destination disk.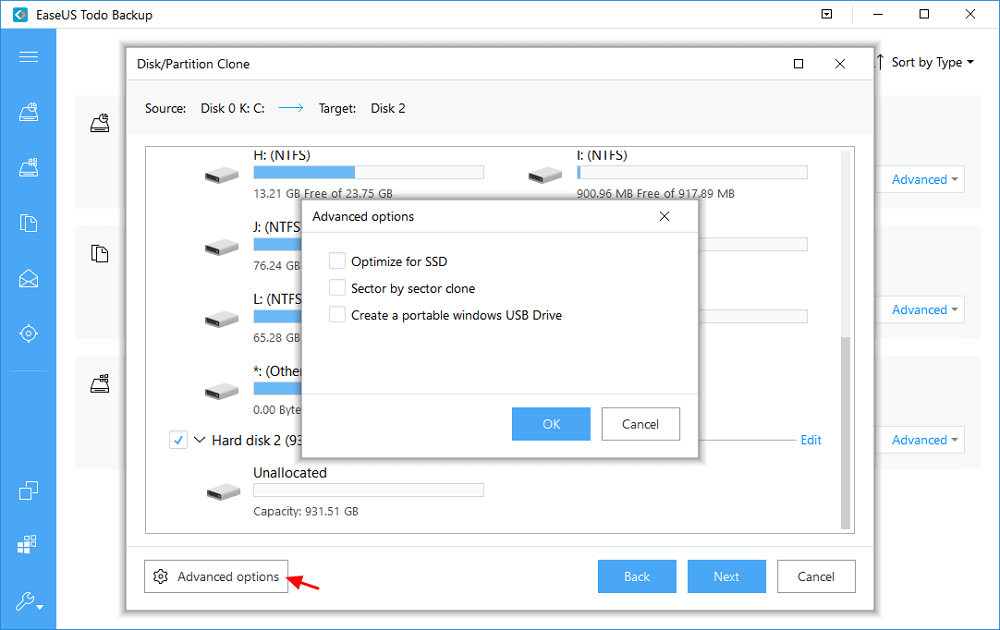 Advanced options:
These advanced settings can help you clone a drive more stable and smoothly in some special case. However, without these advanced settings, EaseUS Todo backup can still give you an exact and intact clone.
Optimize for SSD - If the destination disk is an SSD, checking this option will ensure sector alignment in the process.
Sector by sector clone - A sector by sector clone ensures that the destination hard disk/partition is exactly the same as the source hard disk/partition. It will clone all the sectors if the option is checked, even if the sector is blank. As a result, the target will be equal in size to the disk being cloned after the process. This option is found in the same step where you choose the destination hard disk/partition both in the Disk clone and Partition clone wizard.
Create a Portable Windows USB drive - This option ensures that the cloned USB system disk is able to boot normally.
Step 4: Preview and save the changes and the software will start to clone your system disk.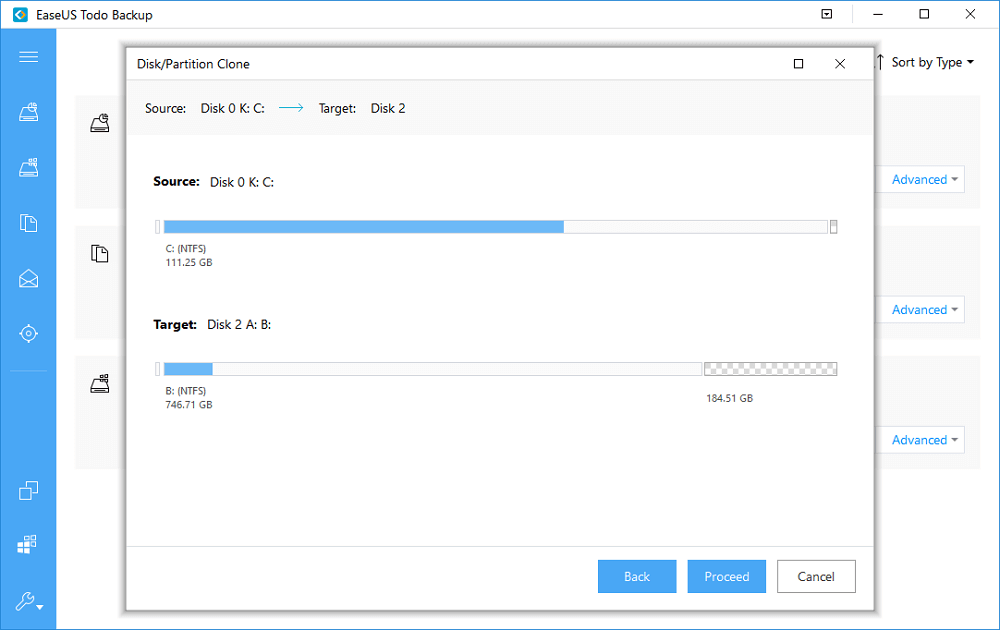 After you migrate the important files from your old hard drive to the new one, now you can replace the old disk and get a well-performed computer again.
How to replace a hard drive manually:
Tools you will need:
A micro screwdriver
The new hard drive
An antistatic device
 Warning

The static electricity can damage electrical components, including computer hard drive. Thus, do remember to ground yourself with an antistatic device (for example, an antistatic wrist strap) while operating.
Step 1: Shut down the computer and disconnect all the external cables, including the power cable.
Step 2: Open the case and unplug the ribbon cable, also known as the multi-wire planar cable, and the power cable from the old hard drive.
Step 3: Use a micro screwdriver to remove the screws holding the hard drive in place, and then gently slip it out.
Step 4: Secure the new hard drive in place with the original screws and then reattach the ribbon and power cables.
Step 5: Put the housing back on, reattach the external cables, and then restart the computer.
Since you change the old drive to the new one directly, you don't need to restart the computer to set it to boot from the new disk in BIOS.
Method 2: Install a New Hard Drive and Clean Install Windows
However, as mentioned above, if you prefer to replace the system disk on your computer and use a brand new operating system, you can follow the tip on how to manually replace a hard drive (provided above) first, and then learn how to clean install Windows 10.
Part 2: How to Replace a Data Disk
If the hard drive you want to replace is a data disk, things become much easier. (Since the detailed steps to replace the hard drive manually has been introduced already in Part 1, these steps won't be repeated in this part. )
If you don't want to keep any data on your original disk, just perform the hard disk replacement by following the detailed steps presented in Part 1 to get things done.
While if you want to retain the files and folders on your old hard drive, you can either:
Copy the files you want to keep to another disk
Uninstall the old hard drive and install the new one
Then copy the data back to the new drive
Or
Back up the disk/partition/folder/file you need with EaseUS file backup software
Replace the hard drive
Format the disk
Restore the backup file to your new disk
With the EaseUS tool to help you back up and restore your data, you can save a lot of time if you have a huge amount of files to copy. Besides, it's a better choice if you don't want to lose any data, which may happen during the copy process. Don't hesitate to give it a try.
After following this guide, you have brought your computer into a new life. Enjoy the improved performance of your computer right now!
The Final Words
If you replace a hard drive on your computer due to a hardware failure, you may want to know how to recover data from a corrupted hard drive. While if you want to do it because your computer becomes sluggish, you can learn other tips on how to make your computer run faster from the related article. Hope it can help!