Sometimes one of the important Windows 10 system files can get missed or corrupted due to issues like sudden power drops, hardware malfunctions, virus attack, a hard disk approaching its "death" and so on. And then, you may get messages from Windows about missing DLL files, it cannot start because some of its files are corrupted or missing or have other indications that there is a problem. As a result, you will have problems with your computer. At this moment, you should repair system files in Windows 10 to fix the problem. Here we will introduce you how to do this job with third-party Windows 10 backup and restore software or System File Checker.
Repair corrupted system files with Windows 10 backup and restore software
Compared with any other tools, system recovery is your first choice to repair missing or corrupted system files in Windows 10. Here EaseUS Windows backup software can help. It allows you to back up Windows 10 system, and restore it to an earlier state later. It is the most efficient and easiest way to fix system corruption problems.
To backup system in Windows 10, please follow these steps:
1. Launch EaseUS Windows 10 backup software and then choose the "System Backup" option.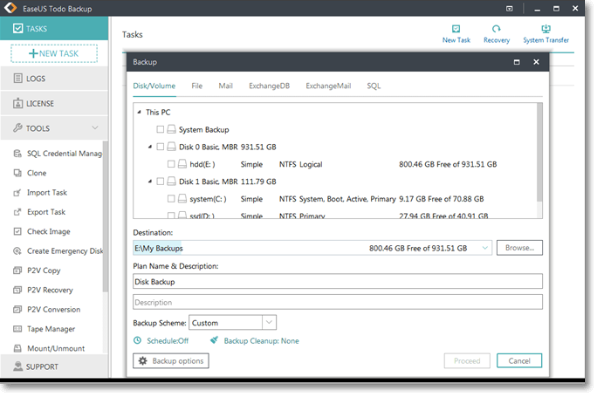 2. The software will then automatically recognize your operating system. And what you need to do here is to perfect the Destination, Plan name, and Description.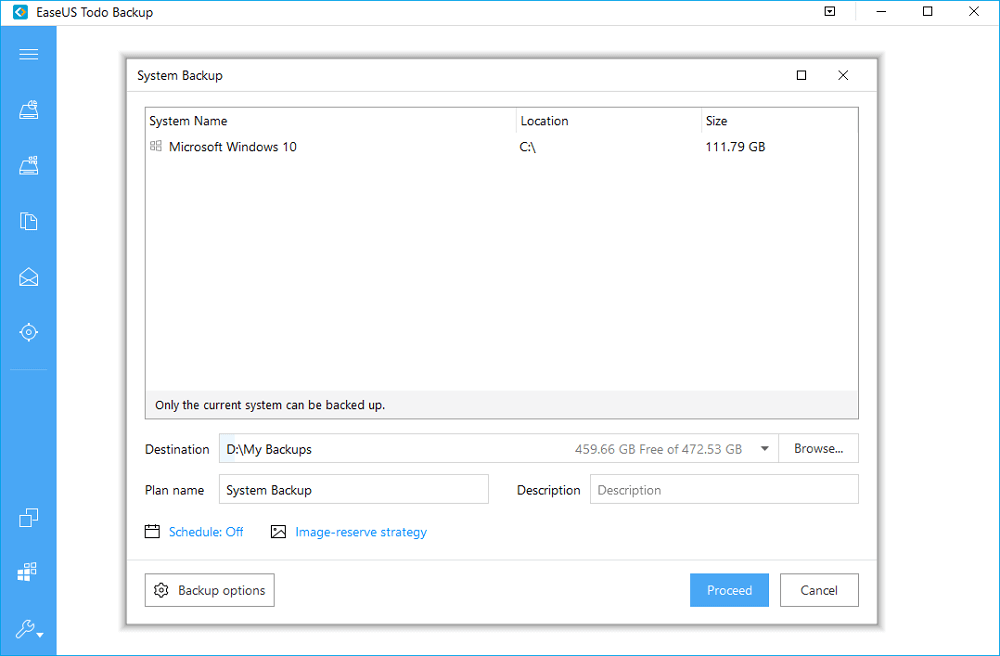 Note:
Destination - Click the folder icon to modify your backup destination.
Plan name and Description - An accurate plan name and appropriate description can help you find the needed image file easily.
You'd better create the backup file to an external storage device or in some other drives. If not, there may be a risk of the backup file getting corrupted or destroyed.
3. Click Proceed to start Windows 10 system backup.
Repair missing or corrupted Windows 10 system files with SFC
SFC (System File Checker) is a command-line utility in Windows that allows users to scan for corruptions in Windows system files and restore corrupted files. It can scan all the Windows protected system files on your computer, identifies those that are corrupt or missing and tries to replace incorrect or damaged versions with copies from a backup cache or from an installation disk or folder. Here's the guide about how to use it to repair missing or corrupted system files in Windows 10:
1. Right-click the Start button and select "Command Prompt (Admin)".
2. Type "sfc /scannow" into the Command Prompt window and press Enter to run a full system scan.
Leave the Command Prompt to run – this may take between 5-10 minutes. After the process is finished at 100%, if everything goes well, you would get the message 'Windows Resource Protection did not find any integrity violations.' If you see a message 'Windows Resource Protection found corrupt files and successfully repaired them', it tells you that you have successfully repaired missing or corrupted system files in Windows 10 with SFC.