Are you ready to upgrade the traditional hard disk drive to today's prevalent solid state drive? Or perhaps your current hard disk is out of storage and needs a larger replacement? Nowadays, a majority of people have the demand, but how to make the sophisticated migrating task easier to be achieved or more trouble saved? Some commercial OS migration software will do, and the most popular one is Paragon's Migrate OS to SSD.
Paragon Migrate OS to SSD is very useful when you decide to upgrade to SSD without reinstalling Windows operating system. It's the energy-saving choice by upgrading to SSD. However, Paragon charges its customers a considerate amount of money, which stops some of them from purchasing in a regular way. They find themselves Paragon Migrate OS to SSD 4.4 crack, serial, keygen, the latest version on the internet, without noticing the danger and risks by using the warez.
Paragon Migrate OS to SSD 4.0 Crack Is NOT Recommended
If you're taking risks to download and crack Paragon Migrate OS to SSD 4.0 to migrate Windows OS, system files, data, applications and other information to SSD, suspend it. Think about it twice, why do you take the risk? Will you be happy to see the result of a Windows boot up failure? Won't you get insane that your new SSD infected by the virus? It's clear that any cracked software is very likely to disappoint us, destroy the data on the hard drive without our notice. You'll end up paying more than the original price of the copyrighted copy.
EaseUS Todo Backup - The Best Alternate for Paragon
Unwilling to purchase the paid-for OS migration software? Is there some alternative for Paragon's Migrate OS to SSD 4.0 crack? Yes, and the alternative does better in migrating data and Windows system from one hard drive to another more efficiently. EaseUS Todo Backup is well known to people around the world, which is the best disk cloning and OS migrating software. Most of all, the feature of "migrate os to SSD" making it popular among home users and business users.
Why not turn to EaseUS Todo Backup? The copyrighted software promises your OS migration from HDD to SSD safe, and its professional technical staff is standing by 24x7 to assist you a worry-free, risk-free and hassle-free experience of Windows OS transfer.
Follow the guide behind, you can start an entire hard disk cloning or a single partition cloning with Windows OS from one drive to another, including a solid-state drive.
 Tip

If you are trying to clone a Windows system to a new HDD or SSD disk, empty the disk in advance. One more thing that you can do is to convert your HDD/SSD disk to MBR or GPT - exact the same as your current system disk, which will allow you to effortlessly boot system after cloning Windows system.
Let's see how to clone your current Windows OS to a new HDD/SSD without reinstallation Windows OS now:
Step 1. Connect the new HDD/SSD to your PC
Step 2. Run EaseUS Todo Backup to start system cloning
Select "System Clone" on the left tool panel by clicking the icon at the left top corner.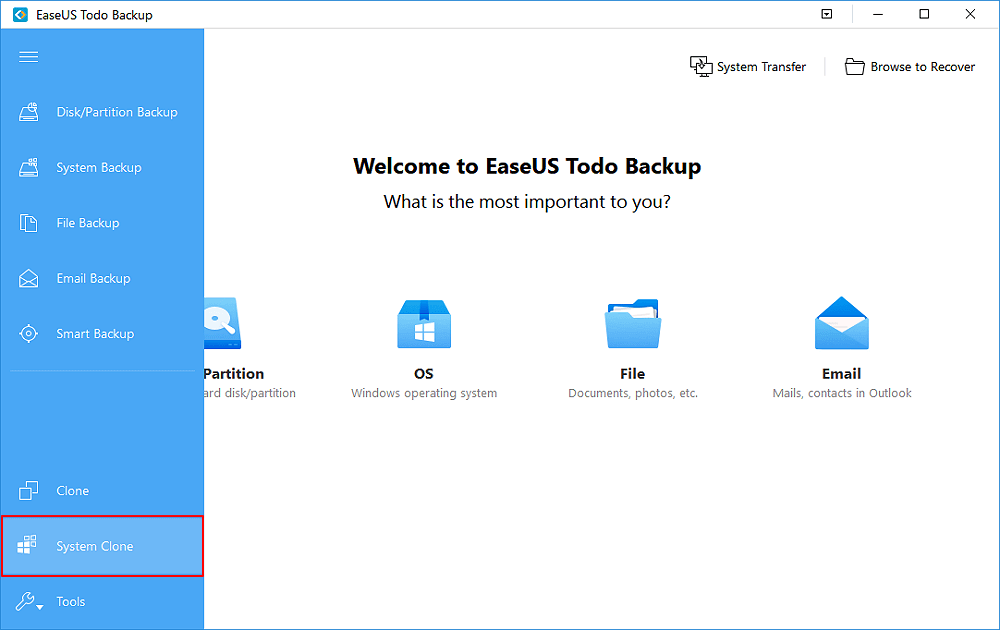 Step 3. Choose the destination disk - HDD/SSD to save Windows system
Choose the new HDD or SSD as your target disk for saving the cloned Windows system.
Then click "Proceed" to start cloning Windows system to HDD/SSD now.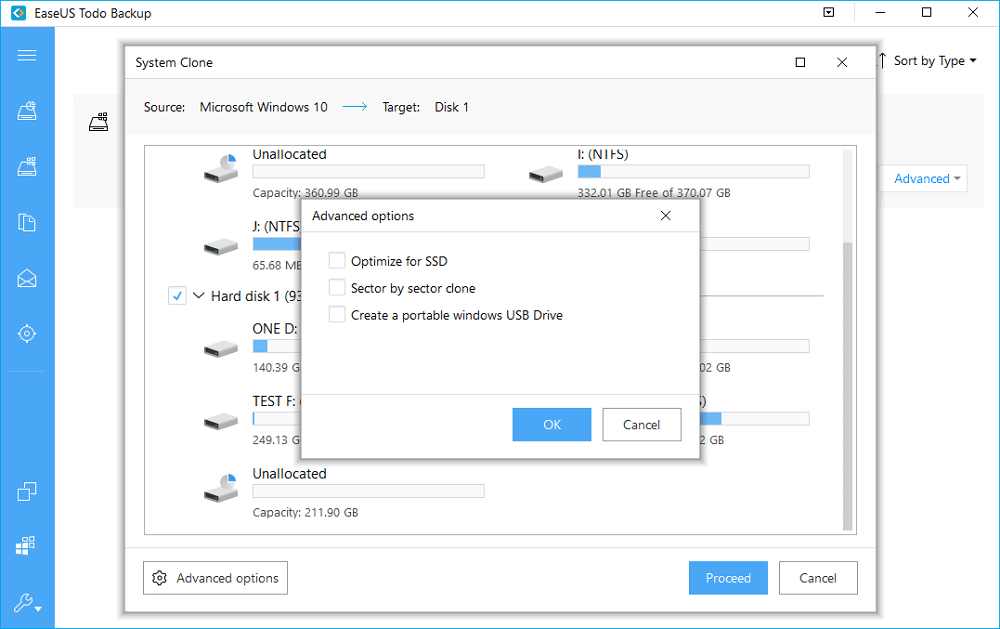 After this, insert your new HDD or SSD into your computer and reboot PC, change the boot order to set computer boot from new HDD/SSD with cloned Windows 10 system:
Restart PC and press F2 or F8 to enter BIOS settings.
In the Boot option, select new HDD/SSD as the new boot drive and save all the changes.
Exit BIOS and restart the computer, you should be able to see the Windows system running on your new disk without any problems.
100% of people found this article helpful.
Frequently Asked Questions
Why choose EaseUS Todo Backup?

"The easiest way to protect your data and system files." —techradar

"EaseUS Todo Backup Free is one of the most popular free data backup applications available. This software offers a myriad of features and is extremely user-friendly. It provides a full system backup, meaning you can back up your entire operating system." —TopTenReviews

"EaseUS ToDo Backup Home is a great backup program, well suited to the home and SMB space." —PCWorld
What is the difference between Clone and Backup? In what cases should I use Clone?

Clone will copy one disk to another or one partition to another (unallocated space is also supported). Usually, this option is used to upgrade the current disk by creating an identical copy. Backup will generate a .PBD image file containing the selected files or system that can be restored from the .PBD image if needed.
What is the difference between System Backup and Disk Backup?

System Backup will auto-select the system boot related partition(s) as the backup source to make sure the system image can be restored properly. Disk/Partition Backup will allow you to manually select a whole disk or speficy a certain partition as the backup source. You will get the same backup result as System Backup if you manually select the system and boot partitions with the Disk/Partition Backup option.
As a computer newbie, what features should I use to protect my computer?

You can use System Backup to back up the system and boot partitions, use Disk/Partition backup to back up the data partition and add plans to run an automatic backup. If you use the computer frequently or have software that may cause boot failure of the computer, we would suggest you back up the computer every 1 to 2 days. For other situations, you can backup the computer once a week. In addition, you can schedule File Backup to back up the files which are changed frequently.
What kind of storage service should I use to save my backup images?

EaseUS Todo Backup can save backup images to internal disks, external disks, network drives, or free cloud(Google Drive, Dropbox, and OneDrive) and CD/DVD. It is suggested to save the images to the internal/external/network drives to save time as those kinds of disks have a better read-write speed. It is suggested NOT to save the image on the source disk, because once the disk is damaged, all the files on the disk will become unavailable and you will be unable to restore the image.
As a company network administrator, what features should I use to protect our internal computers?

It is recommended that you use the SQL Backup feature to back up your company's SQL server and Exchange Backup feature to back up the Exchange server. In addition, you can execute System Backup to back up the system and boot partitions on every computer and set a plan to execute the backup once a day or twice a week to ensure that the computer can be restored timely when it has boot issues. File Backup feature can be used to back up important user data. If there are a large quantity of computers, you can purchase EaseUS Backup Center to manage the backups on the client computers centrally.
About EaseUS Todo Backup
Be it a file, system, partition, or disk, EaseUS Todo Backup will help you back up or clone the item and provide you with multiple backup plans.